High five!
The recipe has been added to your shopping list.
Easy pork noodles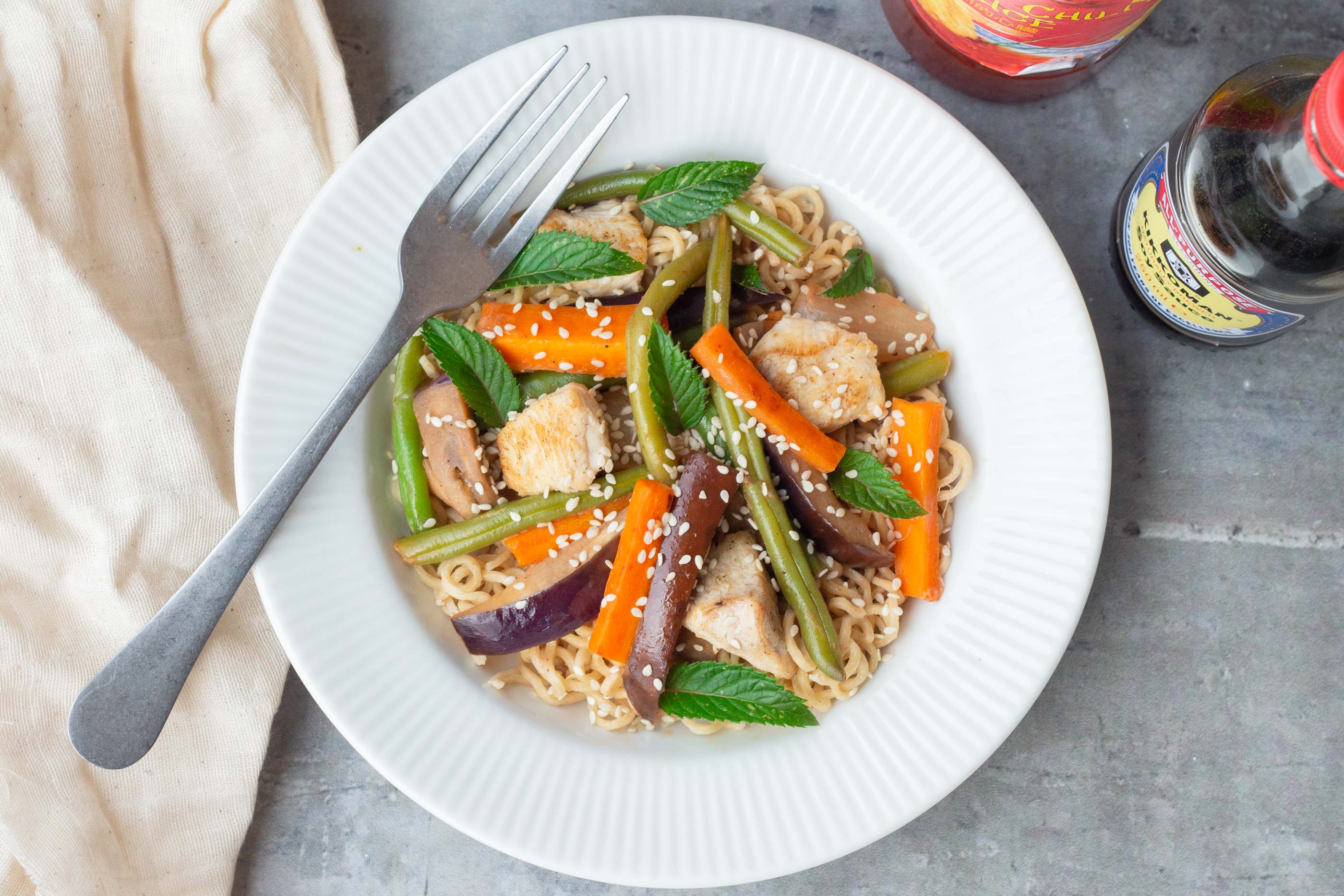 Ingredients
( 2 adults and 2 kids )
250 grams

wholewheat noodles

300 grams

carrots

*

1

aubergine

1

onion

1 clove

garlic

400 grams

pork strips

200 grams

frozen beans

5 tbsp

soy sauce

1

lime

3 tbsp

sweet chilli sauce

50 ml

water

40 grams

sesame seeds

olive oil
ADD TO SHOPPING LIST
ADD TO MEAL PLAN
*
= Good to know - click the ingredient

= See the recipe - click the ingredient
We're nuts for noodles! They're super quick to make, and can be switched up in endless ways. This version features pork and plenty of veggies - if you have other veggies in your fridge, like cabbage or bell peppers, you can happily chuck them in here as well. Enjoy!
Directions
1. Cook the noodles according to the packet, then blanch with cold water.
2. Peel the carrots, rinse the aubergine and cut both into palatable strips. Cut the onion into wedges, split the layers and finely chop the garlic. If you picked up pork chops, cut them into thin strips.
3. Flash fry onion, garlic and pork strips in some olive oil in a wok or deep pan, for about a minute while stirring. Add carrot, aubergine and beans, and let cook for another few minutes over high heat - until the veggies have gotten a bit of a sear, but still have some crunch. Add soy sauce, the juice of the lime, sweet chilli sauce and water. Start with a little bit of chilli sauce, have a taste and add more as needed, if you want a spicier dish.
4. Roast the sesame seeds on a dry pan - pop a lid or some tin foil over the pan, as the seeds can be some boisterous little poppers when they get hot. Let cool on a plate after browning them lightly.
5. Mix the noodles with meat and veggies and serve with roasted sesame seeds on top, and some extra soy sauce and chilli sauce for those who may want it.
6. Enjoy!
Tip
Tasks for kids in the kitchen: Let your kids help cut the carrots and aubergine into strips.
Share your tips and comments