High five!
The recipe has been added to your shopping list.
Easy ovenbaked tenderloin with root vegetables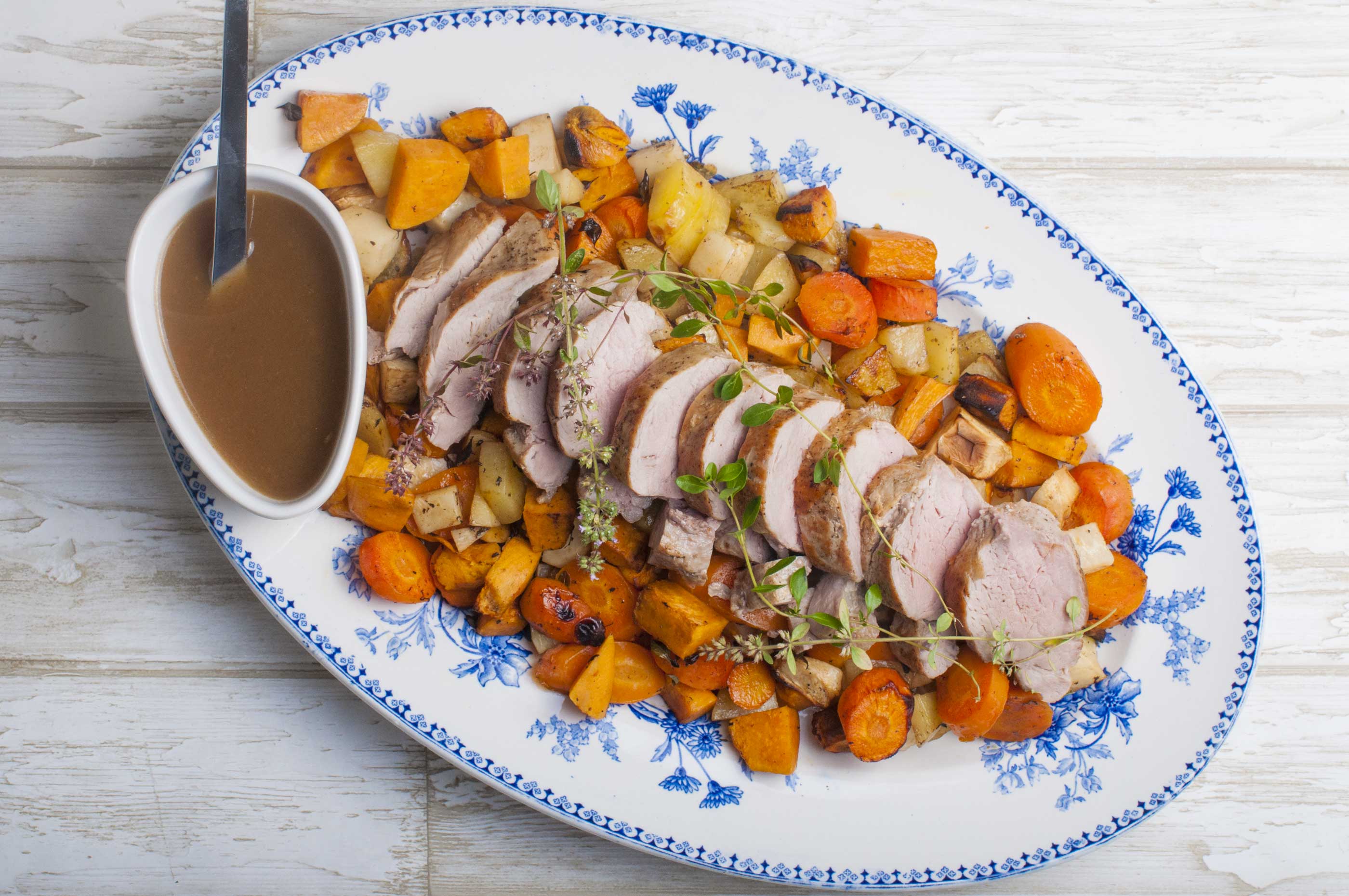 Ingredients
( 2 adults and 2 kids )
300 grams

carrots

*

300 grams

sweet potato

500 grams

potatoes

1 tbsp

acacia honey

*

4 tbsp

balsamic vinegar

0.5 tbsp

dried oregano

300 ml

water

1

pork tenderloin

1 cube

chicken stock

olive oil

salt

pepper

corn flour
ADD TO SHOPPING LIST
ADD TO MEAL PLAN
*
= Good to know - click the ingredient

= See the recipe - click the ingredient
An easy and yummy recipe with tenderloin and root vegetables, that's largely happy just relaxing in the oven. All you need to do is prep the veggies, sear the tenderloin and thicken the gravy at the end, and dinner is served. Enjoy!
Directions
1. Preheat the oven to 200 degrees convection and start by prepping your veggies. Peel carrots, sweet potatoes and potatoes. Dice the veggies and pop them into a casserole tin. Turn the veggies in honey, balsamic vinegar, oregano and a healthy dash of olive oil. Season with salt and pepper and add the water.
2. Trim the tenderloin by removing the fat and biggest tendons with your best and sharpest knife. Remember to mind your lovely fingers as you do!
3. Season the tenderloin with salt and pepper and quickly sear the tenderloin with a bit of olive oil on a piping hot pan. Pop the tenderloin on top of the veggies and chuck the lot into the oven for about 35 minutes, until the tenderloin is cooked through or vaguely pink - depending on your preference.
4. Remove the tenderloin from the oven and cover it on a chopping board. Crank the oven up to 250 and pour the roasting juices from the casserole tin into a saucepan through a sieve. Pop the tin with the veggies back in the oven and let them get a bit of colour while the tenderloin rests and you sort out the gravy.
5. Bring the gravy to the boil and add the crumbled stock cube. Thicken the gravy with corn flour or flour mixed with a touch of water. Bring the gravy back to the boil and taste. If you like, add a bit more stock, salt, pepper, or honey to taste.
6. Slice the tenderloin and remove the veggies from the oven. Serve the tenderloin with baked veggies and the delicious gravy. Enjoy!
Tip
If you have celeriac, parsnip, parsley root or other root vegetables to hand, you can chuck those in as well. In this case, just cut down slightly on some of the other veggies used.
Share your tips and comments