High five!
The recipe has been added to your shopping list.
Easy noodle salad with ham and soy sauce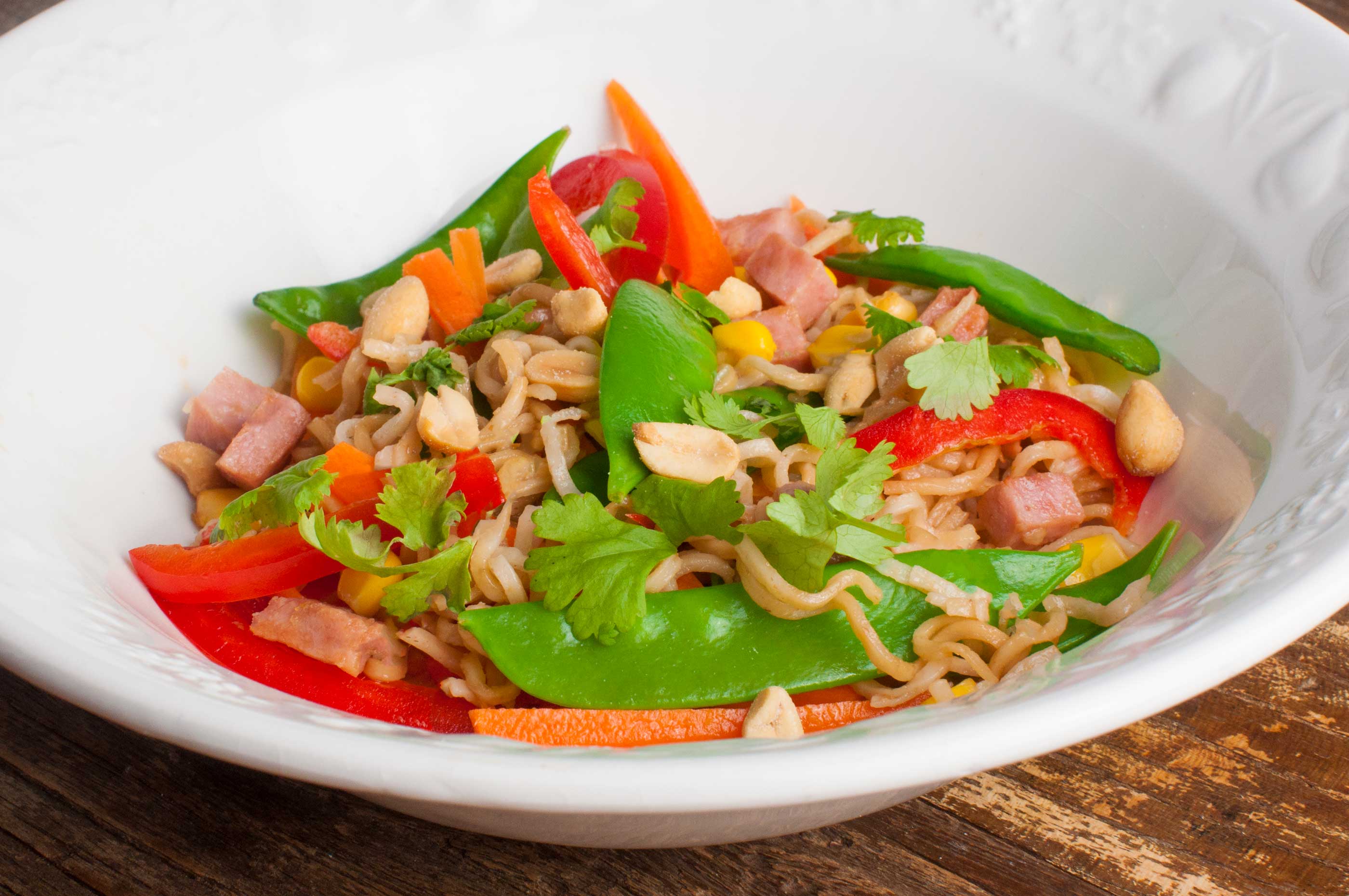 Ingredients
( 2 adults and 2 kids )
250 grams

wholewheat noodles

25 ml

soy sauce

3 tbsp

brown sugar

3 tbsp

vinegar

50 ml

water

275 grams

loose sweetcorn

200 grams

carrots

*

1

red bell pepper

150 grams

sugarsnap peas

200 grams

diced ham

50 grams

peanuts
ADD TO SHOPPING LIST
ADD TO MEAL PLAN
*
= Good to know - click the ingredient

= See the recipe - click the ingredient
This noodle salad is really easy! And it tastes great, so it's a win-win! You just need to boil the noodles, mix a quick marinade and mix with prepped veggies and diced ham. Simples, right? Enjoy!
Directions
1. Cook the noodles according to the packet and blanch with cold water in a sieve or colander.
2. Beat soy sauce, brown sugar, vinegar and water in a small saucepan. Bring to the boil and let simmer for about five minutes, until it's thickened slightly. Have a taste - you want the taste half sweet, half sour. Let the sauce cool.
3. Drain the sweetcorn, peel carrots and cut into strips. Clean and rinse the bell pepper and cut into strips. Rinse sugarsnap peas or blanch them for about 30 seconds and rinse with cold water, if the package says so.
4. Mix the noodles with ham, veggies and the marinade, and top with peanuts and optionally a sprinkle of herbs, if you have some to hand. Do avoid herb sprinkles for kids younger than 3.
5. Enjoy!
Share your tips and comments