High five!
The recipe has been added to your shopping list.
Easy mozzarella chicken in tomato sauce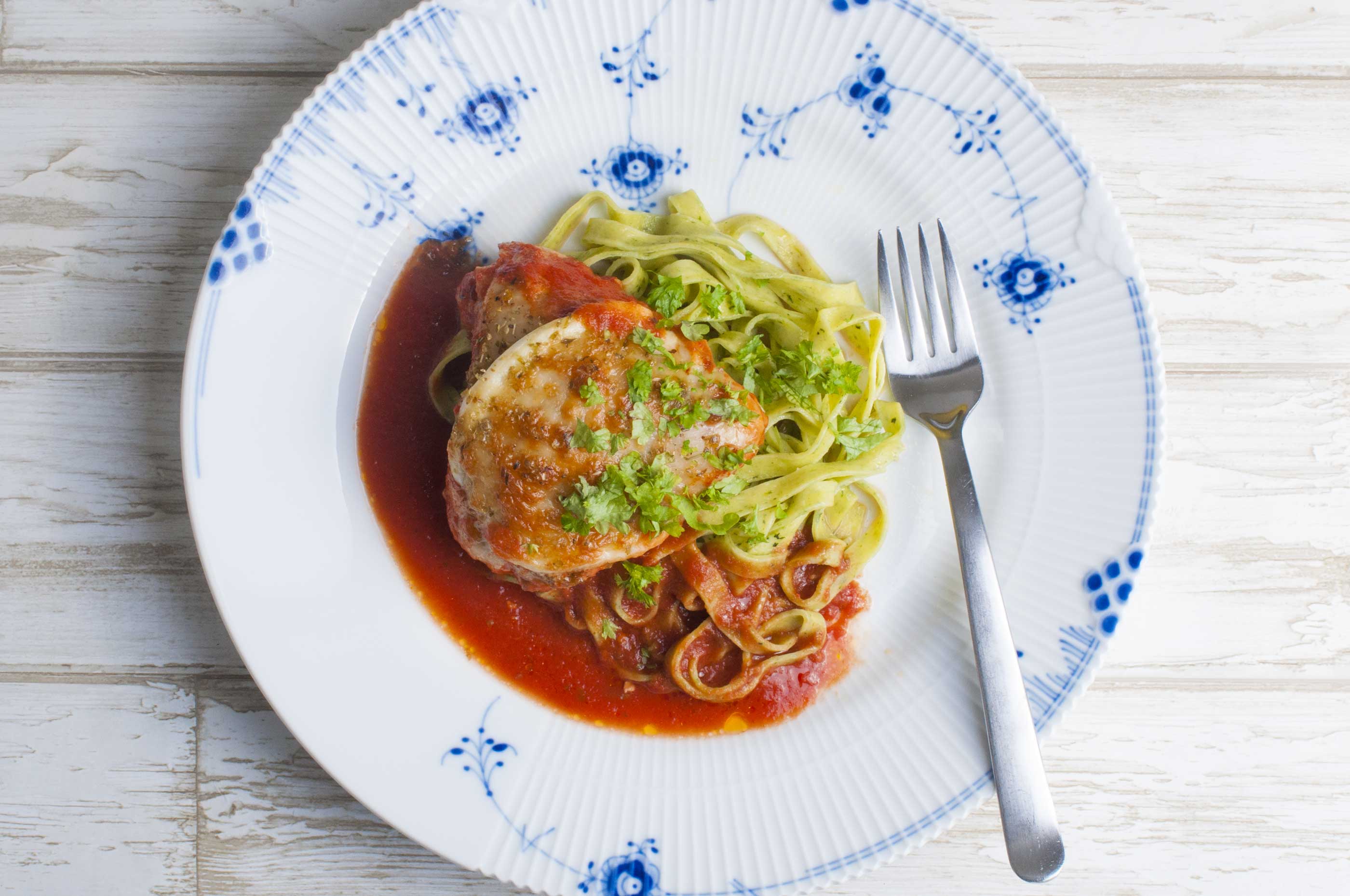 Ingredients
( 2 adults and 2 kids )
1 can

chopped tomatoes

200 ml

water

70 grams

tomato purée

1 tbsp

dried oregano

4

chicken thighs

1 ball

mozzarella

1 packet

fresh spinach pasta

salt

pepper
ADD TO SHOPPING LIST
ADD TO MEAL PLAN
*
= Good to know - click the ingredient

= See the recipe - click the ingredient
This recipe really is an absolute piece of cake! Blend the ingredients for the tomato sauce, pour it in a tray, and place chicken topped with mozzerella into it. Then all there's left to do is pop the tray in the oven and leave it to mind itself, leaving you free to play a few rounds of Monopoly with the kids. Enjoy!
Directions
1. Preheat the oven to 200 degrees convection.
2. Blend the chopped tomatoes, water, tomato purée and oregano with a hand blender. Add salt and pepper to taste and pour the tomato sauce in a casserole tin or oven-safe tray.
3. Place the chicken pieces in the tray, season with salt and pepper and top with sliced mozzarella. Sprinkle a bit of oregano across the top as well, if desired.
4. Bake the chicken for approx. 40 minutes, until the cheese is golden and the chicken is cooked through.
5. Boil the pasta in a pot with plenty of salted water when the chicken is almost ready. Serve the chicken with pasta, tomato sauce that's been stirred to mix in the roasting juices, and an optional sprinkle of fresh herbs, if you have any lying about. Do avoid herb sprinkles if you're cooking for kids younger than 3.
6. Enjoy!
Tip
We've figured one piece of chicken per person - if your lot is hungrier than that, remember to add more to the shopping list!
Share your tips and comments