High five!
The recipe has been added to your shopping list.
Easy Halloween layer cake with raspberries and chocolate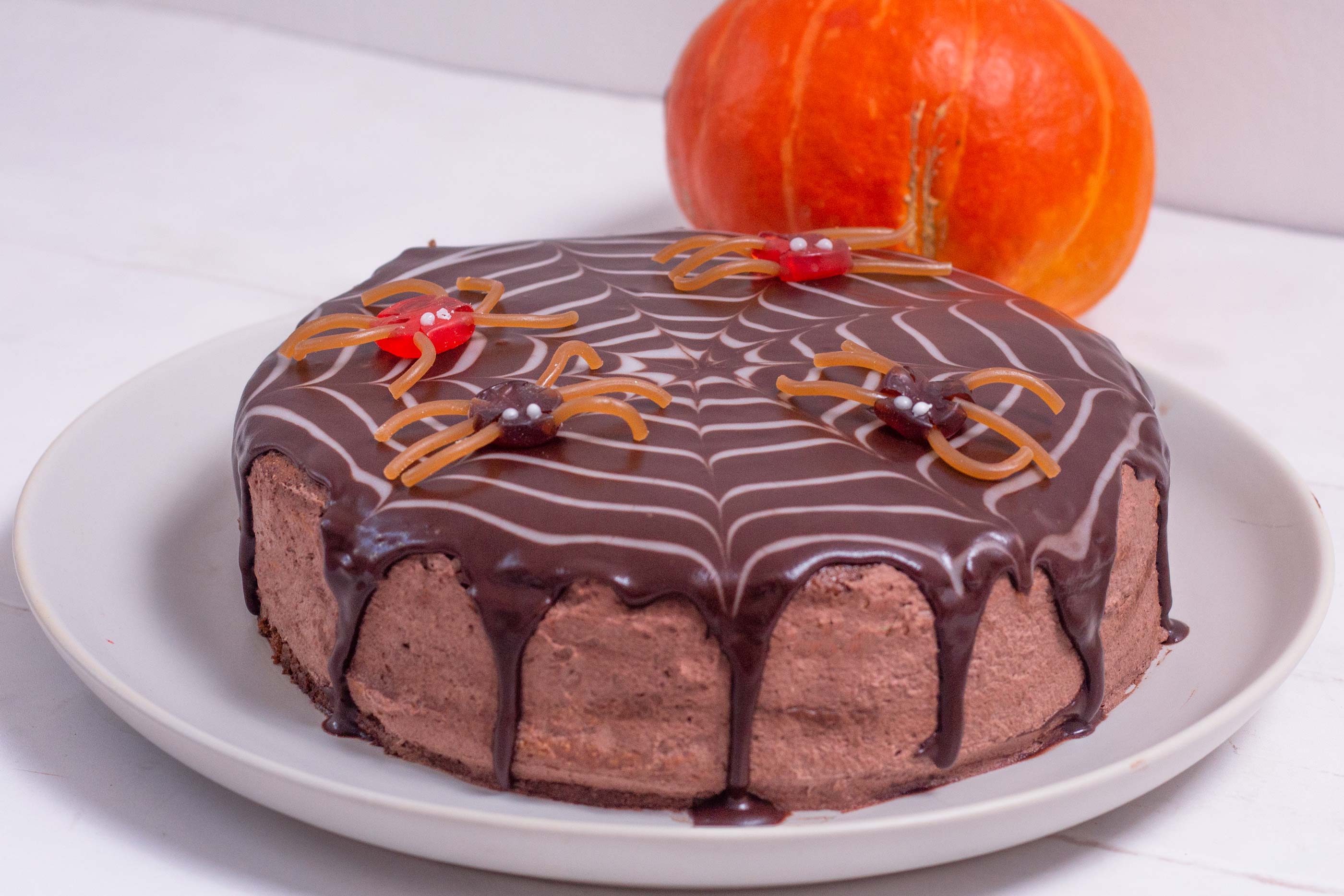 Ingredients
( 1 )
Cake

800 ml

whipping cream

3 tbsp

cocoa powder

1 tbsp

acacia honey

*

4

banana

5

cake bases

-

200 grams

raspberry jam

Decoration

50 grams

powdered sugar

1 tbsp

cocoa powder

50 grams

round liquorice

2

liquorice laces

1

toothpick
ADD TO SHOPPING LIST
*
= Good to know - click the ingredient

= See the recipe - click the ingredient
This cake may seem a bit advanced, but it's actually just a layer cake with Halloween decorations. It's super tasty, and making the spider decorations is time spent well with the kids. Enjoy!
Directions
1. Gently whisk the cream - we don't want it stiff yet. Sift the cocoa powder into the whipped cream, add the honey, then keep whisking until it stays.
2. Peel the bananas, and slice them 0.5 cm thick.
3. Place a cake base on a tray. Spread on a layer of raspberry jam. Spread a thin layer of whipped cream on top, and finish with bananas. Pop another cake base on top, and repeat for four more layers. Spread the rest of the whipped cream along the sides with a spatula - you'll need to bust out your Bake Off skills and make it as smooth as possible!
4. Make white icing by mixing a few drops of boiling water with powdered sugar. Continue until the consistency is soft, but not too runny. You only want it to run a tiny bit as you decorate. Pour a quarter of the white icing into a freezer bag, and stir the cocoa powder into the rest.
5. Spread the chocolate icing on top - it's fine for it to run down the sides a little. Cut a small hole in the corner of the bag of white icing, and make the sweetest spider web!
6. Start in the centre of the cake, and apply the white icing in an outwards spiral. Now carefully draw lines in the icing with a toothpick, from the centre and outwards, like in the picture. And there's a perfect spiderweb!
7. Cut the liquorice lace into pieces about 5-7 cm long. Make three cuts on both sides of your round liquorices, and pop in the bits of liquorice laces to look like spider legs. If you have leftover icing, you can use it to make little eyes.
8. Pop the cake in the fridge, and serve it when your spooky guests arrive!
9. Enjoy!
Tip
Tasks for kids in the family: Let your kids help whip the cream. They can of course help make decorations as well.
Share your tips and comments