High five!
The recipe has been added to your shopping list.
Easy bolognese with hidden courgette and fresh pasta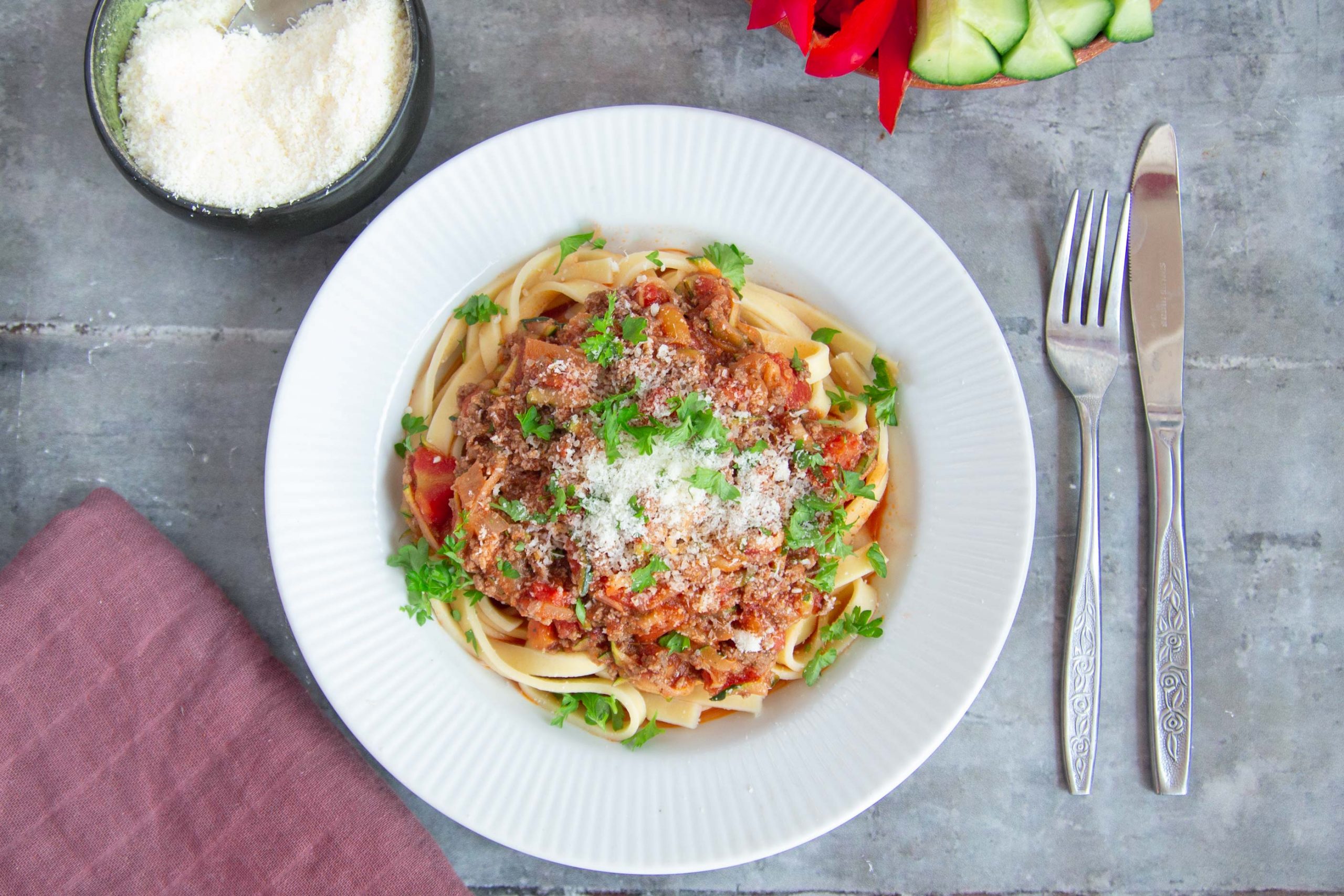 Ingredients
Freezer friendly
( 2 adults and 2 kids )
1

onion

1 clove

garlic

400 grams

beef mince

1

courgette

1 can

chopped tomatoes

36 grams

tomato purée

1 tbsp

dried oregano

100 ml

water

wholewheat spaghetti

1

red bell pepper

0.5

cucumber

100 grams

grated parmesan

salt

pepper

olive oil
ADD TO SHOPPING LIST
ADD TO MEAL PLAN
*
= Good to know - click the ingredient

= See the recipe - click the ingredient
We've made a super easy bolognese with hidden courgette, which we're serving with fresh pasta, grated cheese and snack veggies. The recipe is extra simple, so the kids can have their very own cooking day. Enjoy!
Directions
1. Chop onion and garlic. Use a knife, or give both a spin in a mini chopper. Sweat onion and garlic in some oil in a deep pan or pot. Add the beef mince and let it sear while you stir.
2. Meanwhile, rinse the courgette and grate on the coarse side of a grater, then add it to the mince. Stir well.
3. Add chipped tomatoes, tomato purée, oregano and water and mix well. Let the bolognese simmer as long as you have time for - it only gets better the longer it's left to simmer away. If needed, add a bit more water as it cooks down.
4. Meanwhile, cook the pasta according to the packet.
5. Rinse the bell pepper, remove the seeds and cut into sticks. Rinse the cucumber and cut into sticks as well.
6. Season the bolognese with salt and pepper and serve in deep plates topped with parmesan, and perhaps a herb garnish if you have some to hand. You can happily use regular grated cheese in place of parmesan (or both!). Serve with bell pepper and cucumber sticks for snack veggies.
7. Enjoy!
Tip
Tasks for kids in the kitchen: Let your kids help rinse and grate the courgette - do keep an eye out, so the tiniest fingers don't get too close to the grater. The kids can also rinse the bell pepper and cucumber, and cut both into sticks for snack veggies - and they're champion tasters!
Share your tips and comments