High five!
The recipe has been added to your shopping list.
Duck breast in red curry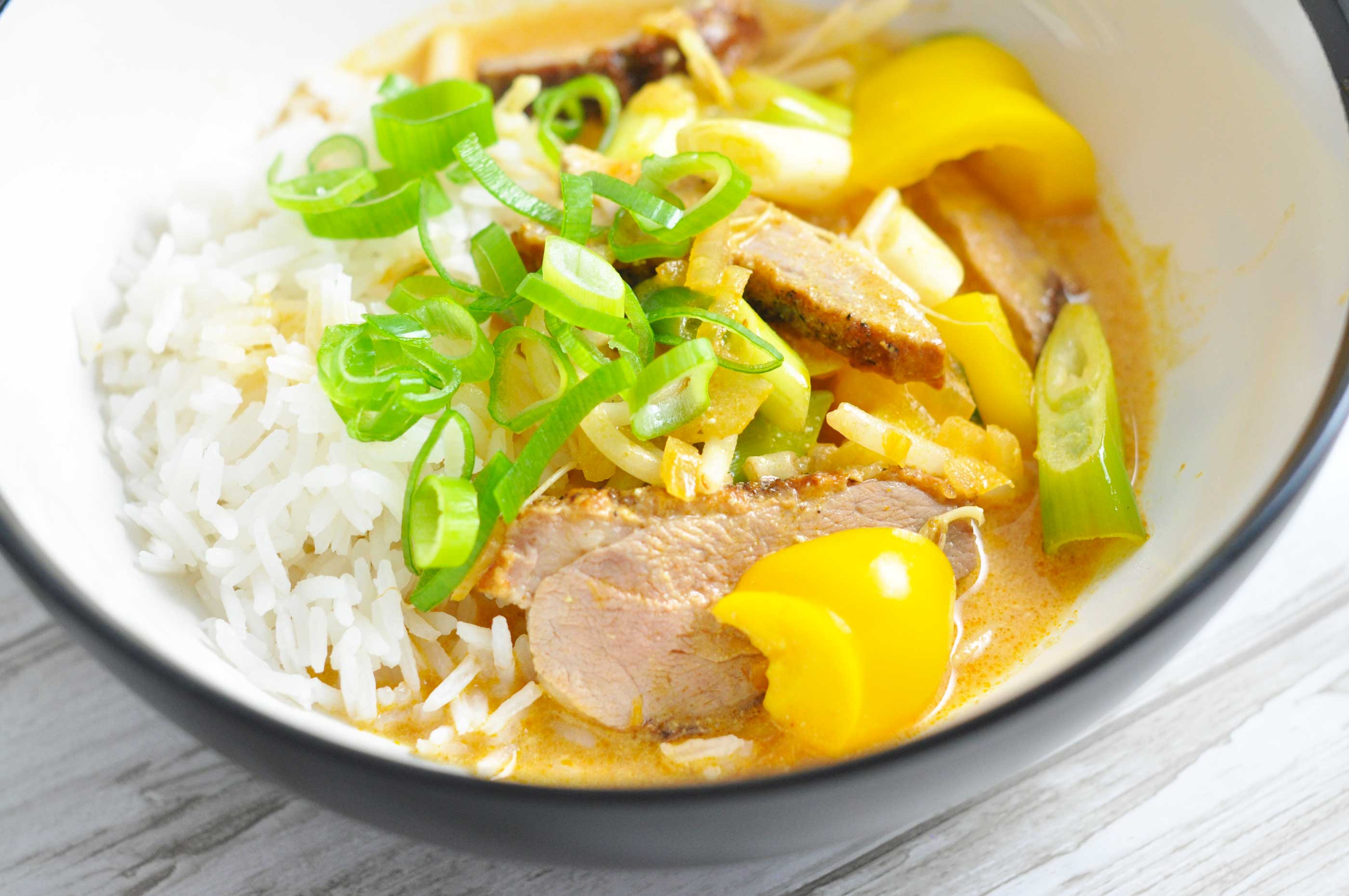 Ingredients
( 2 adults and 2 kids )
wholegrain rice

3

duck breast

1

onion

2 tsp

red curry paste

400 ml

coconut milk

500 ml

water

1 cube

chicken stock

75 grams

beansprouts

1

yellow bell pepper

4

spring onions

salt

pepper
ADD TO SHOPPING LIST
*
= Good to know - click the ingredient

= See the recipe - click the ingredient
Duck breast is always tasty - and that includes in Asian dishes! This recipe calls for cooking a bit of extra duck breast, so you have some for tomorrow too. The rest of the duck breast goes in a delicious noodle salad. But you can of course just cook what you need for today, if you're just making this one dish. Enjoy!
Directions
1. Boil the rice according to the packet.
2. Score the duck breast into fine diamonds. Season well with salt and pepper and place the breasts on a cold pan wth the fat-side down. Remember to wash your hands, knife and cutting board! Switch the hob on to medium heat and let the duck breasts cook for approx. 10 minutes on the skin side, before flipping them and cooking them the last 5 minutes on the other side. Remove from the pan, save the grease and let the duck breasts rest on a cutting board, before cutting half into bite-sized chunks and saving the rest for tomorrow! You don't want the duck breast rare, but it's allowed to have a pink centre.
3. Warm a bit of the duck fat in a wok or deep pan. Add diced onion and curry paste and cook for a few minutes while stirring. Add coconut milk, water and chicken stock and let the lot simmer for a few minutes.
4. Wash the bean sprouts. Roughly dice the bell pepper, diagonally slice the spring onion and save some of the green top for garnish. Add the sliced duck breast along with bell peppers and spring onion and warm up, so the meat is warm all the way through, but with some bite still left in the veggies. Just before serving, add the bean sprouts. Add a bit more curry paste to taste, if you feel the need for more fire on your tongue!
5. Serve with piping hot rice and some chopped spring onion tops for garnish. Enjoy!
Tip
Remember to save half the duck for a tasty noodle salad tomorrow. If you have leftover curry paste, you can dole it out into small pots or bags with about 2 teaspoons in each and freeze them. That way you make sure it doesn't go off in your fridge, and you only need to thaw one packet the next time you need curry paste.
Share your tips and comments