High five!
The recipe has been added to your shopping list.
Doner with chicken and creme fraiche dressing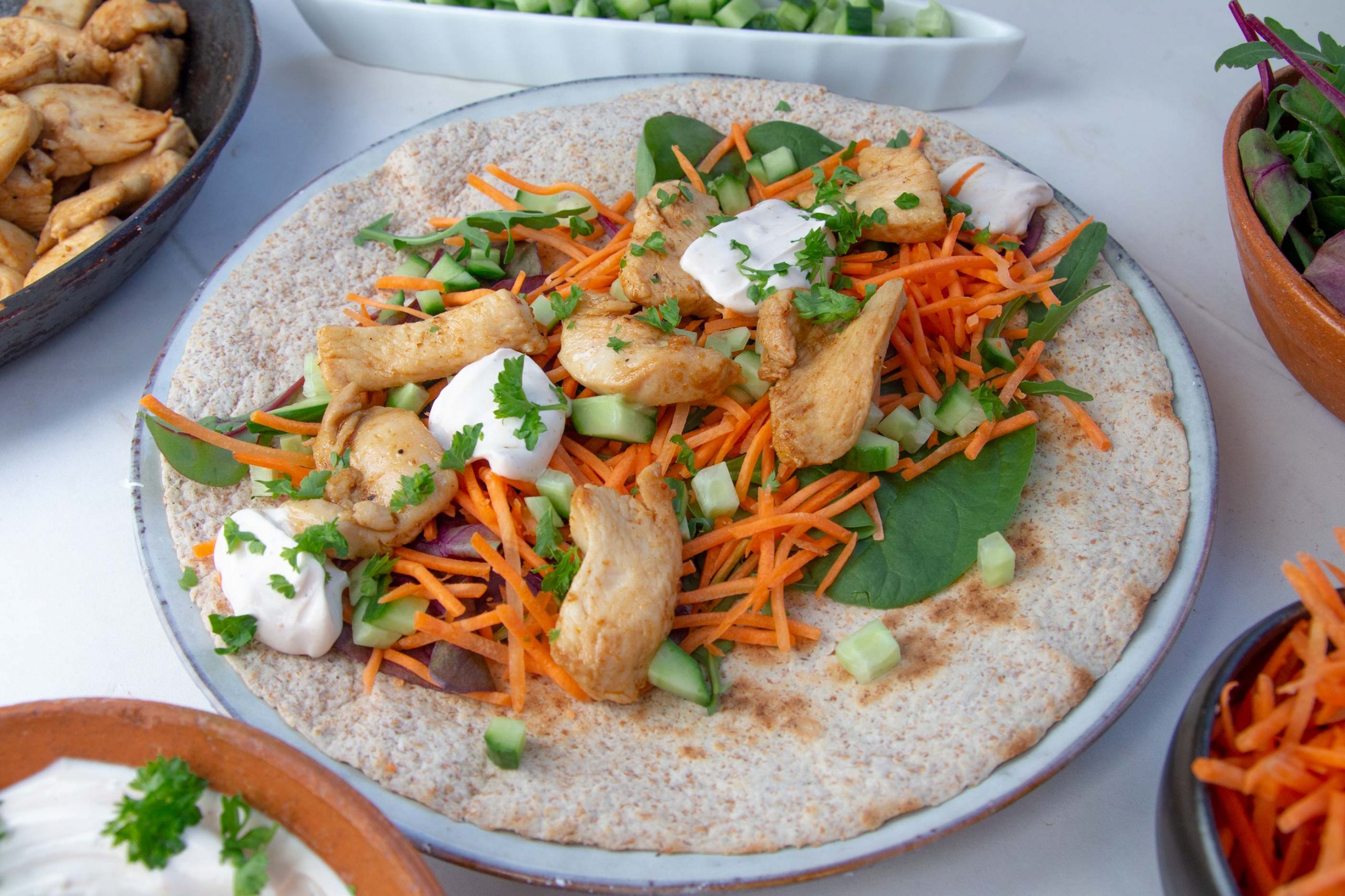 Ingredients
( 2 adults and 2 kids )
Chicken filling

1 tsp

cumin

1 tsp

dried coriander

1 tsp

curry

450 grams

chicken fillet

1 clove

garlic

1 tbsp

olive oil

0.5 tsp

salt

Trimmings

70 grams

lettuce mix

0.5

cucumber

400 grams

grated carrot

1 clove

garlic

200 ml

creme fraiche 18%

1 tbsp

ketchup

8

flatbreads or tortillas

pepper

tin foil
ADD TO SHOPPING LIST
ADD TO MEAL PLAN
*
= Good to know - click the ingredient

= See the recipe - click the ingredient
We've made a super easy and flavourful chicken doner with veggies and creme fraiche dressing. We've used pre-cut veggies to make this recipe extra easy, so the kids can have a cooking day of their own - or assist mum and dad in the kitchen. Enjoy!
Directions
Chicken
1. Roast cumin, coriander and curry on a dry pan, until it's nice and fragrant. Let the spices cool a bit while you prep the chicken.
2. Finely dice the meat. Remember to always wash hands and utensils after handling raw meat - and keep it separate from the veggies.
3. Mix the spices with diced chicken, pressed garlic, olive oil and a pinch of salt in a freezer bag. Now massage your spice mix into the chicken and leave it to speed-marinate.
4. Cook the meat on a hot, dry pan - there's plenty of oil in our marinade. You want the meat cooked through, with a lil' sear. Set aside and cover with tin foil.
Everything else
5. Rinse the lettuce if needed. Rinse and dice the cucumber - the easiest way is to halve the cucumber lengthways and place the flat side on the cutting board, so it doesn't roll. Plate lettuce, grated carrot and cucumber in small bowls.
6. Press garlic and mix well with creme fraiche and ketchup and season with salt and pepper.
7. Warm the flatbreads on a pan, in the oven or microwave and place all of your ingredients on the table in small bowls. Let the family assemble their own favourite wraps.
8. Enjoy!
Tip
Tasks for younger kids in the kitchen: Let your kids help marinate the chicken. They can also cut the cucumber and make the dressing.
Share your tips and comments