High five!
The recipe has been added to your shopping list.
Dinner sausage with chips, gravy and salad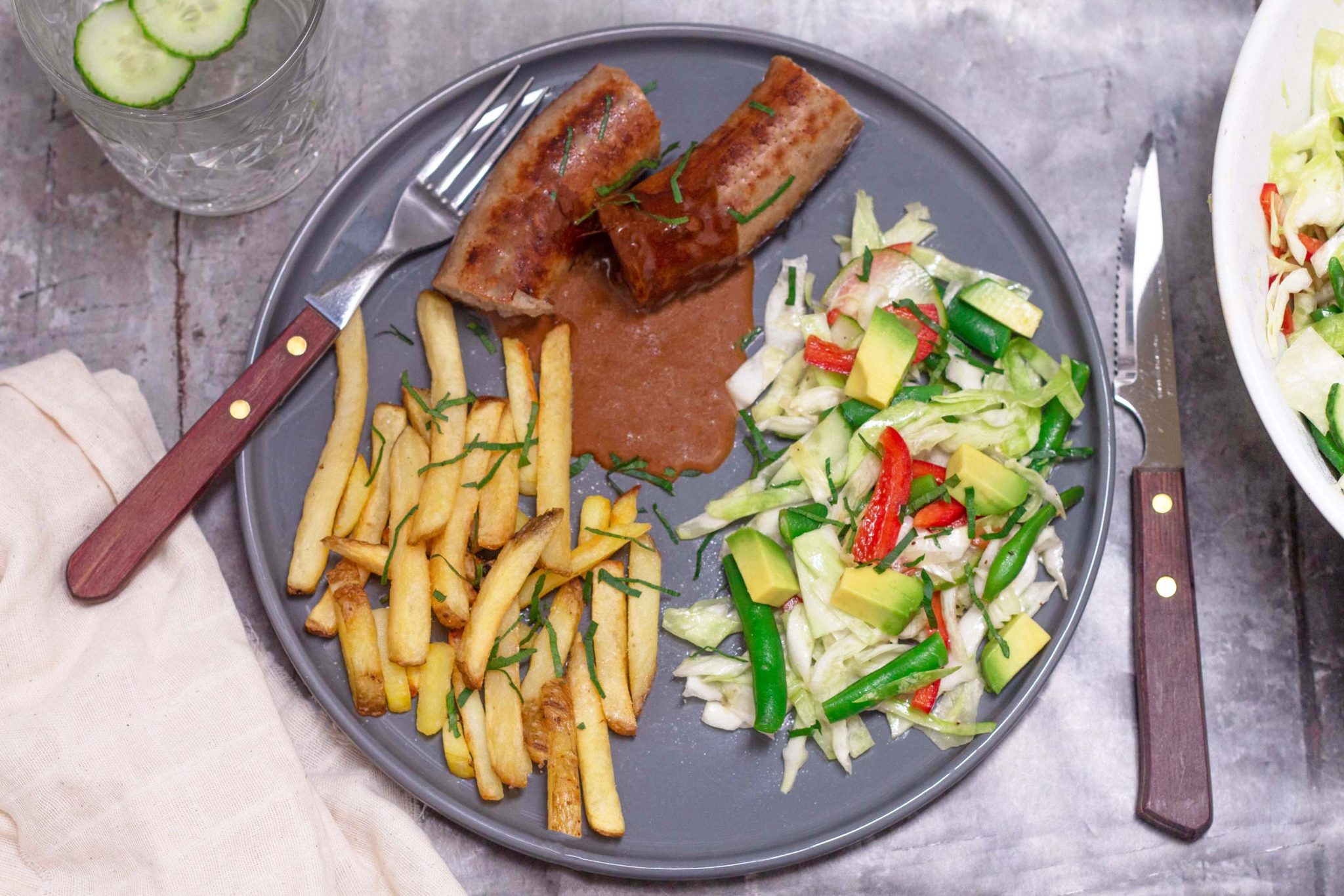 Ingredients
( 2 adults and 2 kids )
1 bag

chips

300 grams

frozen beans

1

avocado

1

red bell pepper

lettuce of your choice

500 grams

dinner sausage

- ideally medister

500 ml

milk

1

beef stock

dressing of your choice

olive oil

corn flour

gravy browning

salt

pepper
ADD TO SHOPPING LIST
ADD TO MEAL PLAN
*
= Good to know - click the ingredient

= See the recipe - click the ingredient
Sausage + chips + gravy = joy! Admittedly, there's neither kohlrabi, tofu, nor chia seeds in this recipe. But we can just about guarantee that it results in happy kids (and adults)! Make it on a Friday, or when mood calls for a classic on the dinner table. Enjoy!
Directions
1. Preheat your oven to 200 degrees convection and cook the chips according to the bag - or make your own. Click the chefs' hat and get our easy recipe.
2. Meanwhile, make the salad. Give the beans a quick boil in salted water. Drain the water and rinse the beans with cold water. Halve the avocado, remove the pit and dice the meat. Rinse and clean the bell pepper and cut into bite-sized pieces. Rinse the lettuce and mix with the veggies. Top with dressing of your choice.
3. About 20 minutes before the chips are ready, start on the dinner sausage. Fry the sausage on both sides in a bit of olive oil until cooked through.
4. Remove the sausage from the pan without cleaning it (the pan, that is - not the sausage..!) Pour milk into the pan along with crumbled stock cube and bring to the boil while stirring continuously, over low heat.
5. Stir some corn flour into water in a cup and pour onto the pan little by little, until the gravy has the consistency you like. Add gravy browning until the gravy is as brown as you remember it from your grandparents. Season to taste with salt and pepper and an optional dash of lemon and sugar.
6. Serve the dinner sausage with chips, gravy, salad, dressing, and an optional sprinkle of herbs on top, if you feel the brown cuisine needs a pop of colour.
7. Enjoy!
Tip
Tasks for kids in the kitchen: Let your kids help cut the avocado and bell pepper, and mix the salad. They can also stir the gravy and help with tasting - kids are champion tasters!
Share your tips and comments