High five!
The recipe has been added to your shopping list.
Deep pan pizza with beef and egg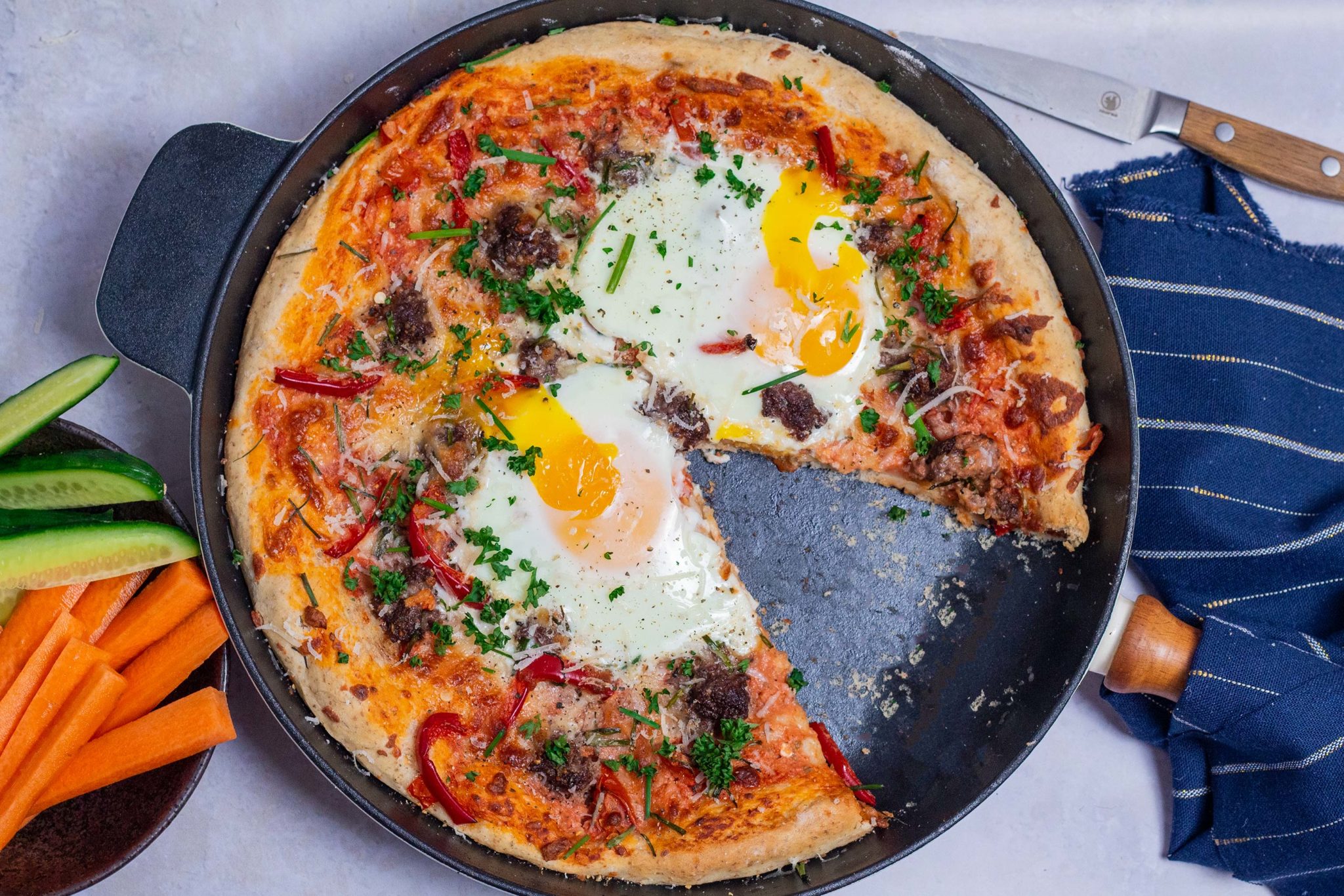 Ingredients
Freezer friendly
( 2 adults and 2 kids )
semolina or plain flour

500 grams

pizza dough

200 grams

pizza sauce

1

red bell pepper

300 grams

beef mince

0.5 tsp

salt

0.5 tbsp

paprika

100 grams

grated cheese

dried oregano

4

egg

0.5

cucumber

300 grams

carrots

*

olive oil
ADD TO SHOPPING LIST
ADD TO MEAL PLAN
*
= Good to know - click the ingredient

= See the recipe - click the ingredient
Deep pan pizza is a true American classic with a crispy and thick crust, baked in a pan. If you don't have a pan that can go in the oven, you can easily make the pizza on a baking tray. We've made a slightly alternative version with beef mince and eggs - it's super yummy. Enjoy!
Directions
1. Preheat your oven to 250 degrees non-convection with a baking tray on the bottom shelf.
2. Sprinkle some flour onto a clean tabletop and roll out two bases with a rolling pin, so they're about 25 cm in diameter - and a bit thicker than the classic pizza. If you have a pan that can go in the oven, use that - otherwise, find a baking tray and cover it with baking parchment.
3. If you're using a pan, oil it with olive oil and place the dough in the bottom. Otherwise, place the dough on a baking tray with baking parchment. Now spread the tomato sauce onto the bases - avoid putting sauce on the outermost centimetre of the dough.
4. Rinse and cut the bell pepper into thin strips. Mix the beef mince with salt and paprika. Scatter small bits of beef mince and bell pepper evenly across the pizza and finish with grated cheese and oregano on top.
5. Bake the pizzas for about 10 minutes and crack two eggs onto each pizza. Bake for another 3-5 minutes until the cheese is golden and the crust crisp. Optionally, garnish with fresh basil or other herbs, if you have some knocking about. Do avoid herb sprinkles for kids younger than 3.
6. Wash the cucumber, peel the carrots and cut both into sticks for snack veggies to serve alongside the pizzas. And remember to mind your fingers, when you take the pan out of the oven - it's CRAZY hot!
7. Enjoy!
Tip
Tasks for kids in the kitchen: Let your kids help put toppings on the pizzas. They can also cut the bell pepper into strips. For two adults and two kids, this recipe makes two pizzas. If you've entered a different amount, you'll need 200-225 grams of pizza dough for each pizza.
Share your tips and comments