High five!
The recipe has been added to your shopping list.
Crispy veg-balls with orange and beet salad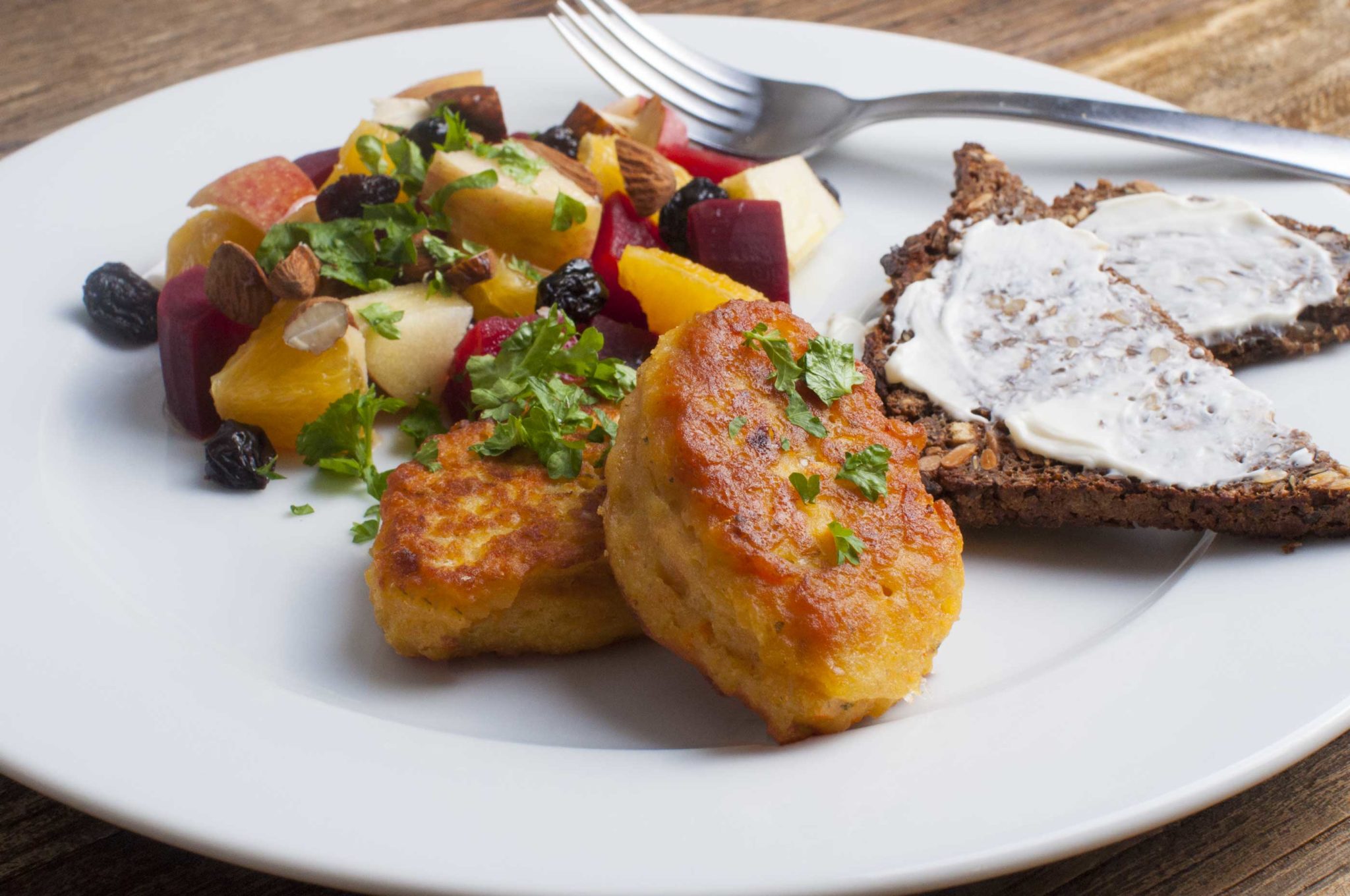 Ingredients
Freezer friendly
( 2 adults and 2 kids )
200 grams

red lentils

100 grams

carrots

*

100 grams

potatoes

1 cube

vegetable stock

1

onion

500 grams

fresh beets

*

1 tsp

salt

1

egg

50 grams

plain flour

2

apples

2

orange

50 grams

almonds

*

50 grams

raisins

*

50 ml

olive oil

0.5

lemon

2 tbsp

acacia honey

*

4 slice

rye bread

baking parchment
ADD TO SHOPPING LIST
ADD TO MEAL PLAN
*
= Good to know - click the ingredient

= See the recipe - click the ingredient
We know this might sound a bit scary for the not so veggie-versed kids, but trust us: give these non-meat balls a chance. We're serving them with a beet and orange salad. Most supermarkets will sell loose beets, but if you have beets left over, grate them into a salad later in the week. Enjoy!
Directions
1. Rinse the lentils well in a strainer. Peel carrots and potatoes and grate both on the rough side of a grater. Cook lentils, carrots and potatoes for 12-14 minutes in water with a crumbled stock cube in it.
2. Finely chop the onion and set aside. Peel and roughly dice the carrots. Cook in salted water for approx. 10 minutes, until tender. Blanch with cold water and set aside.
3. And now back to the pot of veggies. Drain as much of the water from the veggies as you can - we suggest using your hands to squeeze out the last bit - and spread the cooked vegetables on a sheet tray lined with baking parchment, so it can cool. You can even pop it outside for a minute.
4. Now stir the veggies with salt, egg, flour and onion. Mix the farce just as you would a farce with meat or fish. If the consistency is too thin, add a bit more flour, and if too firm, you can add a splash of milk.
5. We suggest cooking a little test ball to check if the seasoning is to your taste. Shape balls from the farce with a tablespoon, and fry them in olive oil on a pan.
6. Rinse and dice the apples. Peel the oranges, remove the white centre, and dice the flesh. Mix with apples and beets, and top with chopped almonds, raisins and a quick dressing thrown together from olive oil, honey, lemon and a dash of salt and pepper.
7. Serve the non-meatballs with toasted rye bread and the yummy beet salad. Enjoy!
Share your tips and comments