High five!
The recipe has been added to your shopping list.
Creamy pumpkin soup with parsnip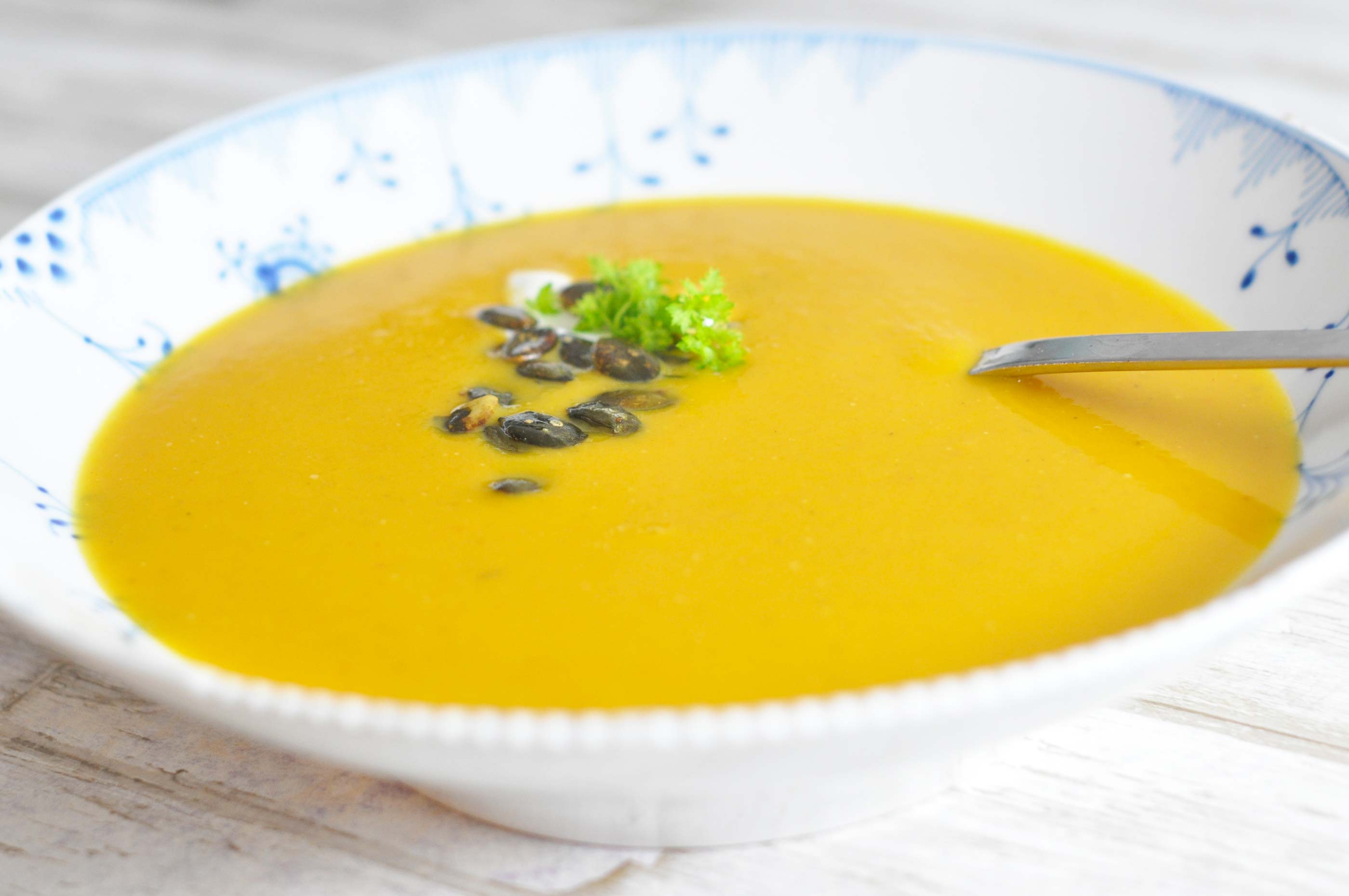 Ingredients
Freezer friendly
1

onion

1 clove

garlic

200 grams

parsnip

150 grams

potatoes

700 grams

pumpkin flesh

1 tsp

curry

1 tsp

dried thyme

1 tsp

cumin

2 tsp

red curry paste

400 ml

coconut milk

500 ml

water

1 cube

vegetable stock

50 grams

pumpkin seeds

1

wholewheat baguette

200 ml

skyr

*

salt

pepper

olive oil
ADD TO SHOPPING LIST
ADD TO MEAL PLAN
*
= Good to know - click the ingredient

= See the recipe - click the ingredient
Are you carving pumpkins for Halloween? Or do you just fancy a creamy soup with a mild and delicious flavour? Then try our quick pumpkin soup. You can use the flesh from a regular pumpkin, or use a peeled hokkaido pumpkin instead. Enjoy!
Directions
1. Roughly chop onion and garlic. Peel the parsnip and potatoes and roughly dice both. Do the same with the pumpkin flesh. If you don't have any parsnip knocking about, you can just as well use carrots.
2. Cook onion and garlic with a bit of olive oil in a pot for a few minutes. Add parsnip, potatoes, curry, dried thyme, cumin and curry paste. Let cook for an additional few minutes while stirring, and add pumpkin, coconut milk, water and vegetable stock. Let the soup simmer under lid for about 20 minutes, or until parsnips and potatoes are tender.
3. Preheat your oven to 185 degrees and roast the pumpkin seeds on a dry pan.
4. Blend the soup completely smooth with a hand blender or a regular blender. Do remember to never fill the blender more than halfway when blending hot liquids, as they can "explode" when the blender is switched on. We recommend using a dishtowel to cover the blender rather than the lid. Add salt and pepper to taste, and optionally a bit more honey, stock, and a bit of lemon if you fancy.
5. Warm the baguette and serve the soup with a dollop of skyr and pumpkin seeds on top.
6. Enjoy!
Tip
The soup can be made from the flesh you scrape out if you and the kids are carving scary pumpkins for Halloween. You can always just buy a pumpkin for the soup as well. In that case, go with hokkaido pumpkins. The pumpkins used for carving,that you'll find in the greens section of the supermarket are edible, but remember that you CAN'T eat decorative pumpkins. If in doubt, you can try tasting a little bit of the pumpkin. If it tastes bitter, spit it out and don't use it for cooking. If you have leftover coconut milk, you can freeze it in an airtight container so you have it for next time.
Share your tips and comments