High five!
The recipe has been added to your shopping list.
Creamy cauliflower soup with plaice and croutons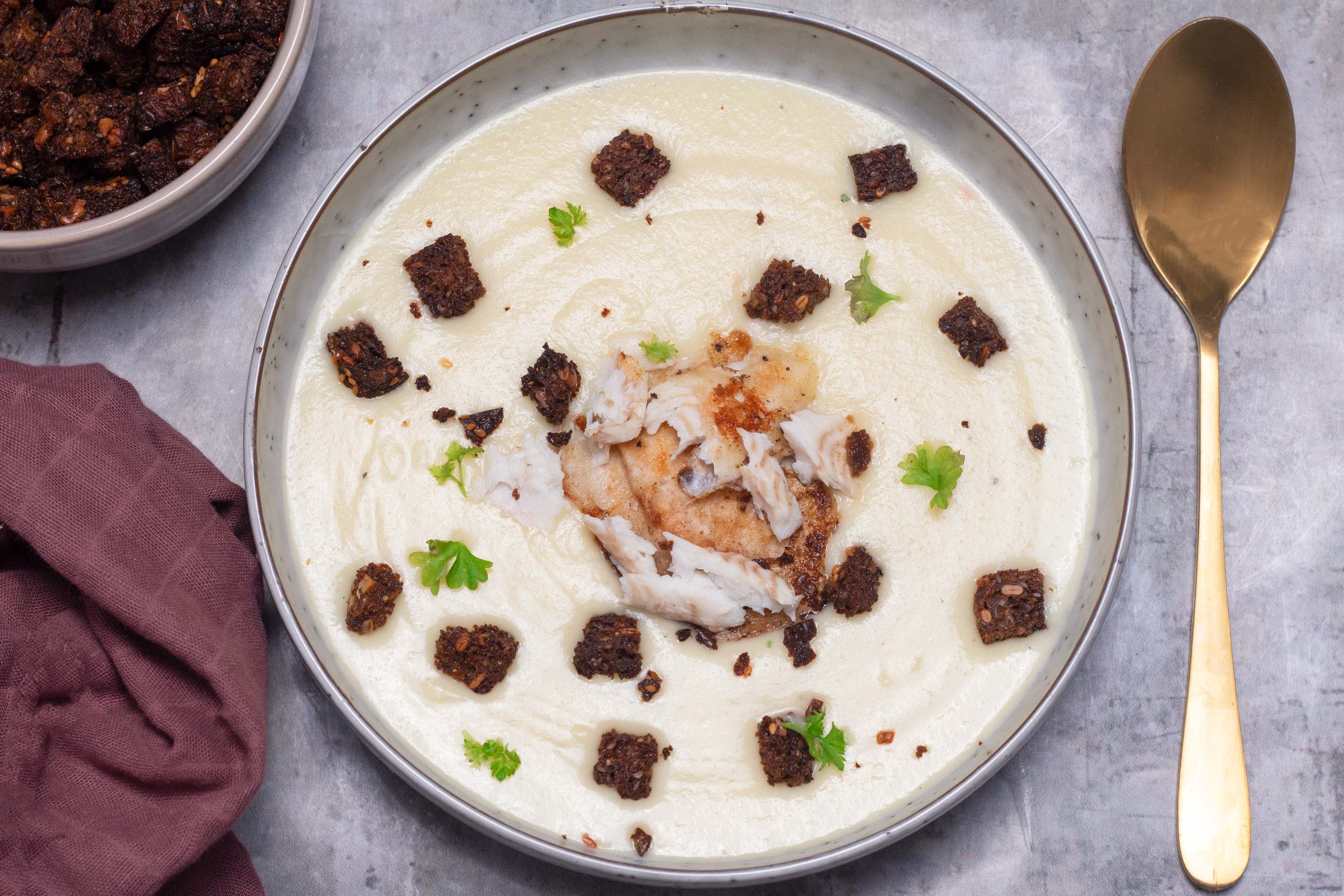 Ingredients
Freezer friendly
( 2 adults and 2 kids )
1

cauliflower

400 grams

potatoes

1.5 liter

water

2 cube

chicken stock

4 slice

rye bread

- or brown bread

280 grams

plaice fillets

200 ml

single cream 8%

1

lemon

salt

pepper

olive oil

baking parchment
ADD TO SHOPPING LIST
ADD TO MEAL PLAN
*
= Good to know - click the ingredient

= See the recipe - click the ingredient
Cauliflower soup is a delicious, creamy and mild soup, which we're topping here with rye bread croutons and pan fried plaice. We suggest making some extra rye bread croutons for the kids' packed lunches. Enjoy!
Directions
1. Preheat your oven to 220 degrees convection. Remove stem and leaves from the cauliflower. Wash and split it into small florets. Peel and roughly dice the potatoes. Pop cauliflower and potatoes into a pot, add water and stock cube, and let boil for 10-15 minutes, until the veggies are fully soft and tender when poked with a fork.
2. Meanwhile, dice the brown bread somewhat finely, and pop it onto a baking tray lined with baking parchment. Drizzle with a dash of olive oil and bake for about 10 minutes, until crispy. Sprinkle with some salt and leave to cool.
3. Season the fish with salt and pepper and cook in a bit of olive oil on a pan. Pop it on a plate and cover it with tin foil.
4. Drain half of the vegetable water into a bowl and set aside. Blend the remaining water with the veggies in a blender - or use a hand blender - and blend until the soup is smooth. Add more vegetable water if needed, if the soup is too thick.
5. Remember never to fill a blender more than halfway, when blending hot liquids. They can "explode" when the blender is switched on. Start slow, and carefully turn up the speed. We suggest popping a dishtowel on in place of the lid. After blending, pour the soup back into the pot and add cream. Season to taste with lemon, salt and pepper.
6. Serve the piping hot soup topped with fish flakes, rye bread croutons and an optional squeeze of lemon on top. Enjoy!
Tip
Tasks for kids in the kitchen: Let your kids help split the cauliflower into florets. They can also dice the bread. 
You can happily swap the single cream for milk, dairy-free substitutes - or full fat cream, if you want to spoil the family proper!
Share your tips and comments