High five!
The recipe has been added to your shopping list.
Cornflake chicken with pesto pasta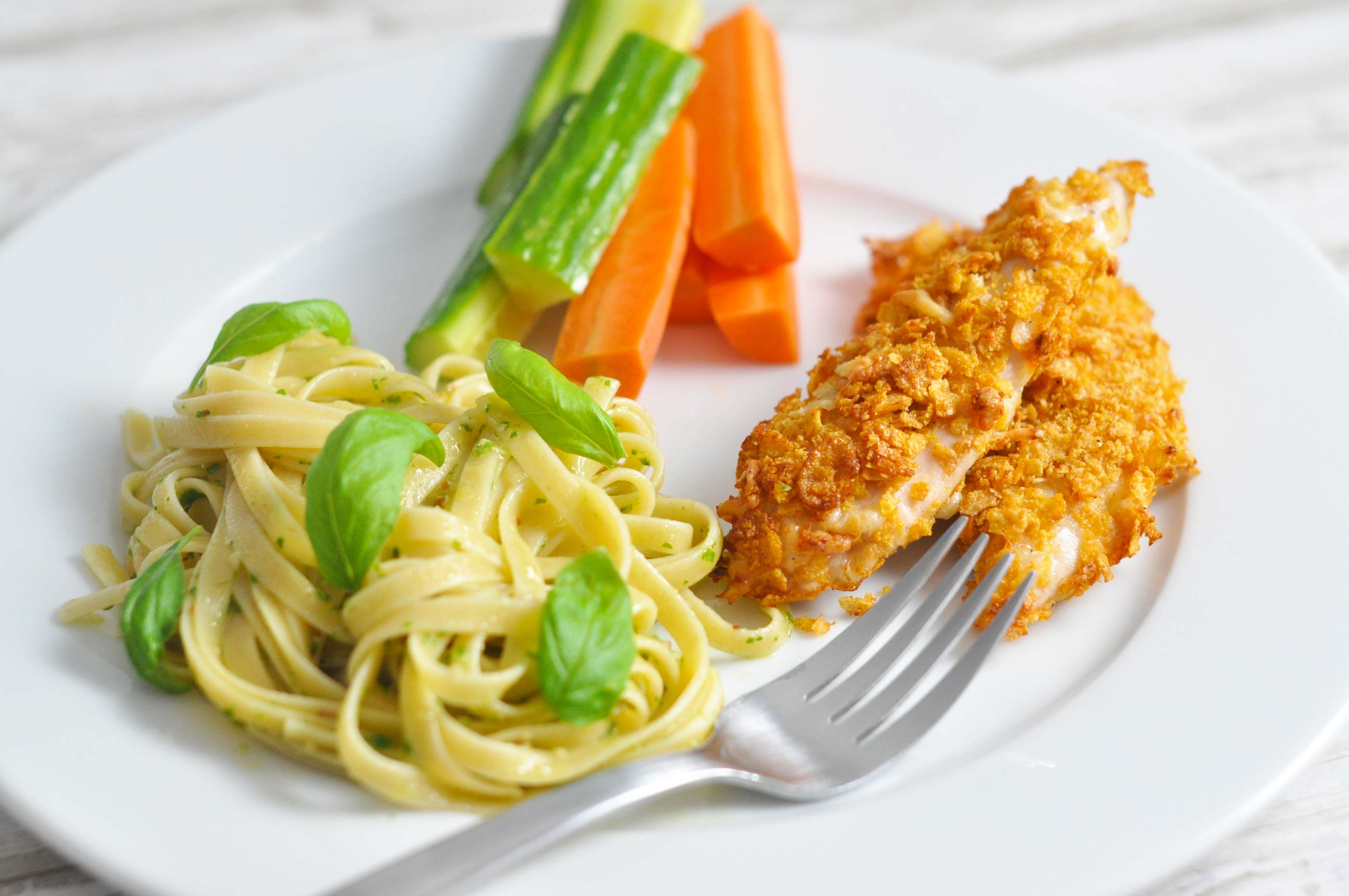 Ingredients
( 2 adults and 2 kids )
100 grams

cornflakes

50 grams

grated parmesan

1

egg

400 grams

chicken fillet

wholewheat pasta

75 grams

pesto

300 grams

carrots

*

0.5

cucumber

salt

pepper

baking parchment
ADD TO SHOPPING LIST
ADD TO MEAL PLAN
*
= Good to know - click the ingredient

= See the recipe - click the ingredient
This dish is super yummy! Chicken coated with cornflakes and parmesan and served with a quick pesto pasta. Bring the kids into the kitchen with you and get them to help - crushing cornflakes with your bare hands is pretty fun. Enjoy!
Directions
1. Preheat your oven to 220 degrees convection.
2. Crush the cornflakes in a bowl with your bare hands - or have the kids do it - and mix with parmesan, salt and pepper. The cornflakes that is, not the kids! Beat the egg in a deep plate.
3. Turn the chicken bits in egg and and coat them with the cornflake mixture. Press the chicken in well, to get the cornflakes to really stick. Pop the chicken onto a baking tray with baking parchment and sprinkle some more cornflakes over if needed. Ovencook for 20-ish minutes, until cooked through. Remember to wash your hands and utensils.
4. Cook the pasta following directions on the packet. Drain and mix with the pesto. Wash the cucumber, peel the carrots and cut both into sticks for snack veggies.
5. Serve the crispy chicken with pesto pasta and snack veggies. Enjoy!
Tip
Although you can buy grated parmesan at the supermarket, it's cheaper to buy a whole chunk and grate it yourself. And it tastes a lot better. You can go for Grana Padano instead of parmesan - it's cheaper and tastes almost exactly the same. And if you have another kind of plain cheese in the fridge, just use that! And remember to save a few bits of chicken for the kids' lunches!
Share your tips and comments