High five!
The recipe has been added to your shopping list.
Corn tortillas with beans and guacamole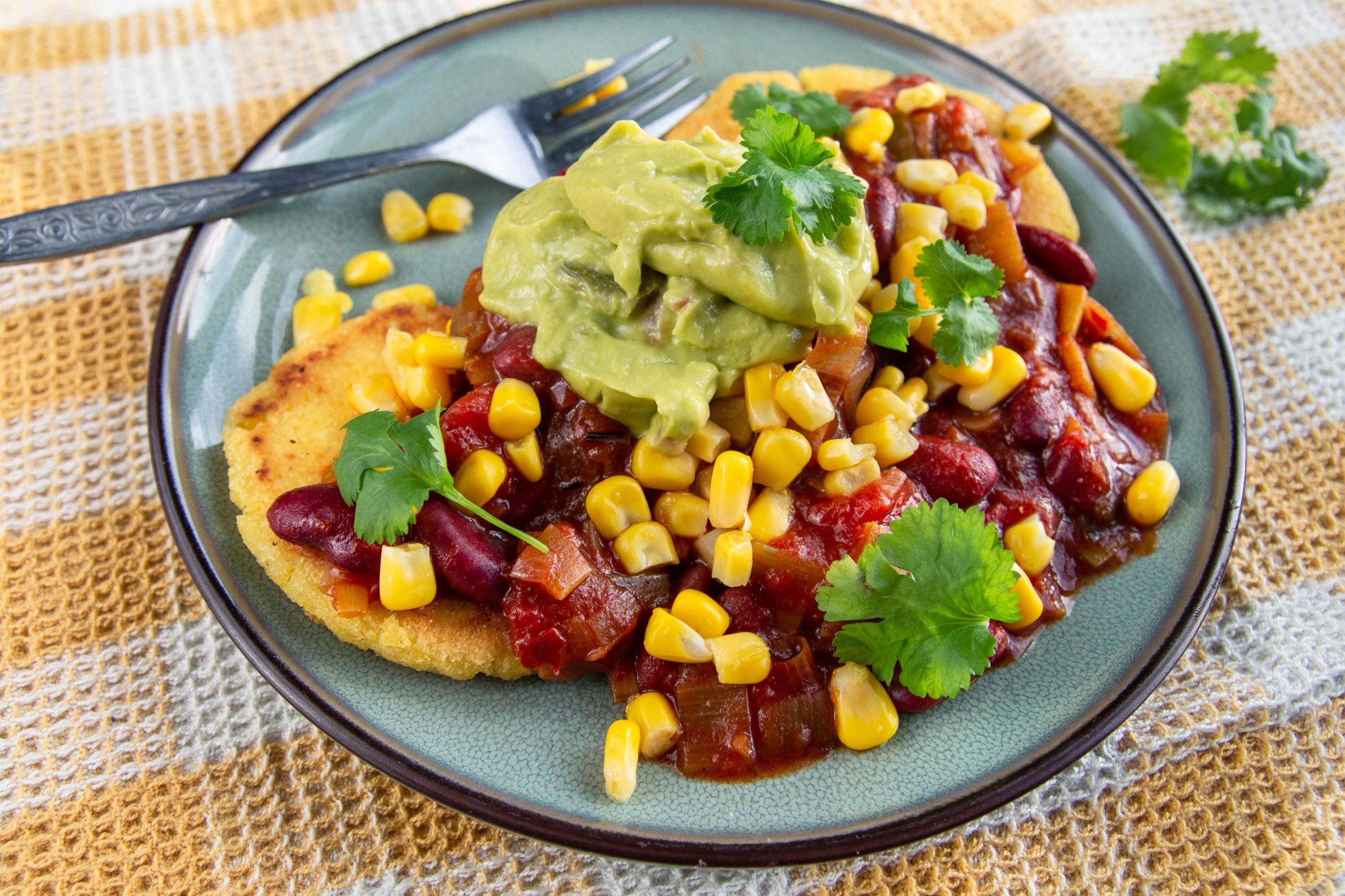 Ingredients
Freezer friendly
( 2 adults and 2 kids )
Corn tortillas

150 grams

cornflour

100 grams

plain flour

0.5 tsp

salt

1 tsp

baking powder

1 tbsp

olive oil

120 ml

water

Bean sauce

0.5

pointed cabbage

1 clove

garlic

1 tin

kidney beans

1 can

chopped tomatoes

50 grams

tomato purée

1 tsp

red curry paste

1 tsp

dried coriander

pepper

Toppings

150 grams

loose sweetcorn

200 grams

guacamole
ADD TO SHOPPING LIST
ADD TO MEAL PLAN
*
= Good to know - click the ingredient

= See the recipe - click the ingredient
Have you ever tried making your own tortillas? It's super easy - and fun! Today we're using both corn flour and plain flour to make our tortillas, and serving them in traditional Mexican style, with sweetcorn and guacamole. Look forward to this one - it's a super tasty veggie dish. Enjoy!
Directions
1. Begin with making the dough for the tortillas. Mix the dry ingredients in a bowl. Add olive oil and water and stir together. You want the dough to fully come together, so you may need to add more flour or water. Shape approx. 10 balls from the dough, and leave to rest while you make the sauce.
2. Cut pointed cabbage into thin strips. Finely chop the garlic, then sautée pointed cabbage and garlic in some olive oil in a pot or deep pan. Remove half of the lightly sautéed cabbage to use as topping come serving time. Leave the rest to keep cooking.
3. Add drained kidney beans, chopped tomatoes, tomato purée, red curry paste and ground coriander and bring the lot to the boil. Let simmer for as long as your (and the kids') patience allows. Ideally 10 minutes or more. Just remember to stir frequently, and make sure the pot doesn't cook dry.
4. Now back to the tortillas. Cut the seams of two freezer bags, so they double in size. Place one on the table, a dollop of dough on there, and the second freezer bag on top. Roll flat with a rolling pin, to about 0.5 cm thickness. Fry the tortillas on both sides on a pan with olive oil, until nice and lightly browned. Repeat until you're out of dough.
5. Season the sauce with salt and pepper, and serve the warm tortillas with sauce, sweetcorn, sautéed cabbage and guacamole on top. Enjoy!
Tip
Tasks for young kids in the kitchen: Let your kids cut pointed cabbage into strips - using a child-friendly knife. They'll also have fun helping to roll out the tortilla dough and frying them. Just beware of sputtering oil!
Share your tips and comments