High five!
The recipe has been added to your shopping list.
Cod with pea-potato mash and corn cobs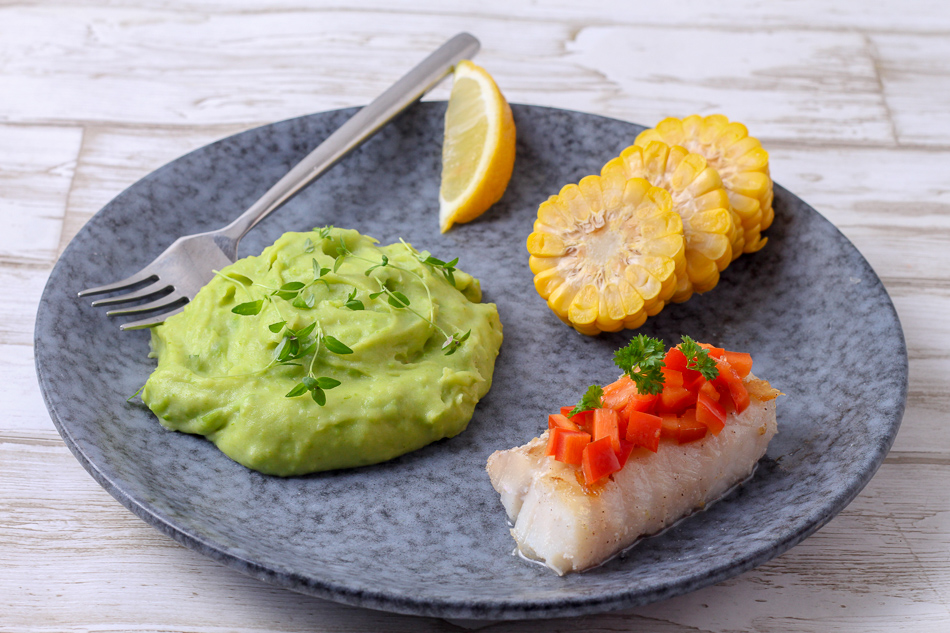 Ingredients
( 2 adults and 2 kids )
800 grams

potatoes

200 grams

fresh peas

- or frozen

400 grams

cod loins

- or cod fillets

1 clove

garlic

2

corn cob

30 grams

butter

200 ml

milk

1.5 tsp

salt

1

red bell pepper

2

tomato

1

lemon

plain flour

olive oil

pepper
ADD TO SHOPPING LIST
ADD TO MEAL PLAN
*
= Good to know - click the ingredient

= See the recipe - click the ingredient
Greens are good for your eyes, and this version is great for your palate too, even with the smallest among us, as it tastes amazing. It has a creamy consistency, and the peas give a light sweetness. You can use fresh or frozen peas. The cod has gotten a shot of garlic and been topped with crunchy red pepper and tomato!
Directions
1. Peel the potatoes and cut into smaller chunks. Cook in a pot of salted water until tender. Cook the peas for 10-15 minutes if frozen, and a couple of minutes if fresh, and then give them a good whirl in the mini chopper or food processor, to give you a smooth pea purée.
2. While the potatoes are boiling, cook the cod. Coat the cod loins in a bit of flour and cook in olive oil on a pan. Season with salt and pepper and rub a bit of fresh garlic onto the fish with a fingertip. Jiggle the pan a bit, and carefully flip the cod when it lets go of the pan and has gotten a nice sear. Once the fish splits into layers when lightly pressed with a fork, it's ready.
3. Cook corn cobs for 5-10 minutes and cut into smaller pieces. Optionally, wrap a clean dishtowel around as you cut them, as they're dead hot!
4. Drain the water from the potatoes and add butter, milk, salt and pepper. Mash with a hand blender, a whisk or a masher and finally add the pea purée. Season with salt and pepper.
5. Clean and rinse the bell peppers and tomatoes and finely dice both, to top the fish with. Serve with lemon slices and the tasty pea-potato mash.
6. Enjoy!
Tip
If you can find cod loins at the supermarket, that'll be perfect. If you can't find it fresh, you can usually find frozen ones. Cod loins are thicker pieces - a bit like tenderloins, especially tender and moist. Otherwise, just use cod fillet.
Share your tips and comments