High five!
The recipe has been added to your shopping list.
Cod with crispy parmesan topping, potatoes and dijon sauce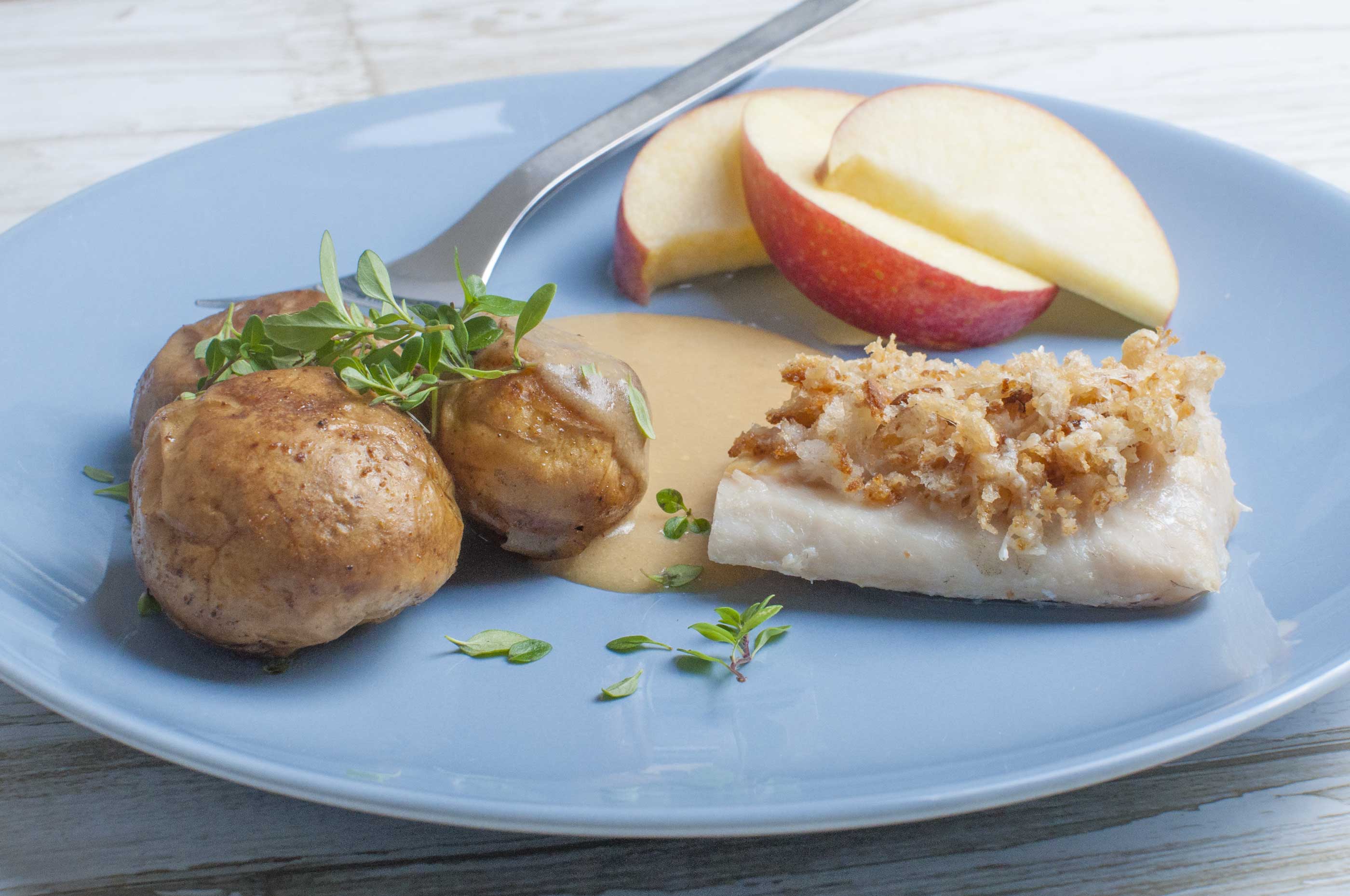 Ingredients
( 2 adults and 2 kids )
1000 grams

baby potatoes

75 grams

wholewheat bread

50 grams

grated parmesan

400 grams

cod fillet

250 ml

water

2 tbsp

dijon mustard

250 ml

single cream

1 cube

chicken stock

1 tbsp

acacia honey

*

2

apples

salt

pepper

olive oil

cornflour
ADD TO SHOPPING LIST
ADD TO MEAL PLAN
*
= Good to know - click the ingredient

= See the recipe - click the ingredient
A really easy and tasty fish dish! Cod topped with crispy breadcrumbs and parmesan, and served with potatoes and our addictive dijon sauce - which isn't too spicy at all, just delicious! We have added extra potatoes for use in our easy steak salad later in the week. Enjoy!
Directions
1. Preheat your oven to 180 degrees convection and boil the potatoes until tender in a pot of lightly salted water.
2. Rip the bread into smaller chunks. Blend it into crumbs in a mini chopper or food processor, or you can grate it on the rough side of a grating iron, if you don't have any kitchen power tools to hand. Finely grate the parmesan, if it's not already grated.
3. Fry the bread crispy with a bit of olive oil in a pan. Season with a bit of salt and pepper and mix with the parmesan. Pop the fish in an oiled casserole tin and top with the bread and parmesan mix. Bake the cod in the oven for 10-15 minutes depending on the thickness of the fillet, until cooked through. Be careful not to overcook it so it goes dry.
4. Pour water, half the mustard, and the whipping cream (or milk) onto a pan along with crumbled stock cube. Some stock cubes are quite solid and hard to dissolve, which can be solved by crumbling them into a cup of boiling water before adding it to the sauce. Heat the sauce and add more mustard to taste, as well as salt, pepper and a dash of honey. If you're using cream or a cream alternative, you won't need to thicken the sauce. If you're using milk and find that your sauce is a bit thinner than you'd like, you can thicken it with a bit of cornflour or flour stirred into a bit of water in a cup.
5. Serve the fish with the boiled potatoes, dijon sauce, and some apple sections. Enjoy!
Tip
If you have a bit of extra time on your hands, boil the potatoes with the peel on. Once boiled, cook them at high heat with a bit of olive oil in a pan, to make them crisp and nicely golden brown and even more delicious. Remember to save the rest of the cooked potatoes for our easy steak salad.
Share your tips and comments