High five!
The recipe has been added to your shopping list.
Coconut-peanut noodles with chicken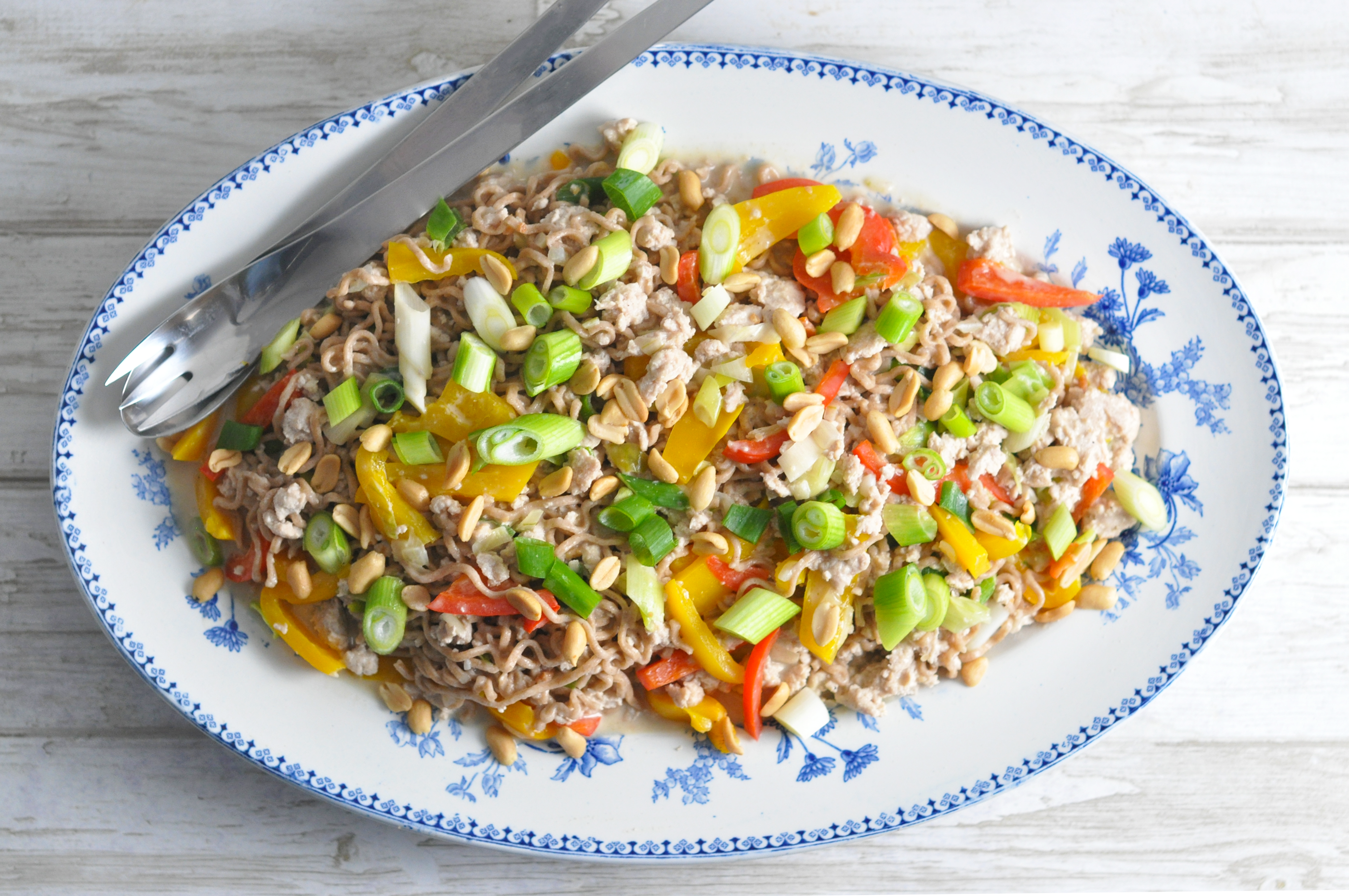 Ingredients
( 2 adults and 2 kids )
1

onion

1 clove

garlic

1

yellow bell pepper

1

red bell pepper

6

spring onions

175 grams

wholewheat noodles

400 grams

chicken mince

200 ml

coconut milk

2 tbsp

peanut butter

100 ml

water

2 tbsp

fish sauce

1

lime

25 grams

peanuts

- salted; optional.

soya

- optional

sweet chilli sauce

salt

pepper

olive oil
ADD TO SHOPPING LIST
ADD TO MEAL PLAN
*
= Good to know - click the ingredient

= See the recipe - click the ingredient
A really quick and yummy dish with noodles, chicken, coconut, peanutbutter and veg. The dish is dead quick to make, and goes great in the kids' packed lunches tomorrow. Top with sweet chilli sauce, soy sauce or absolutely anything you fancy. Enjoy!
Directions
1. Bring a pot of salted water to the boil for the noodles.
2. Finely chop onion and garlic. Rinse the bell peppers and remove the seeds. Cut the peppers into strips. Wash the shallots, remove tops and bottoms and slice diagonally.
3. Boil the noodles following directions on the packet, but take them off the hob a minute early. Drain and leave the noodles to cool slightly in the empty pot.
4. Sautée onion and garlic with a bit of olive oil in a wok or a deep pan. Add the chicken mince, season with salt and pepper and cook until it's seared on all sides.
5. Add the veg, but save half of the shallots for garnish. Sautée for about a minute and add coconut milk, peanutbutter, water and fish sauce. Stir well until the peanutbutter is dissolved, add lime juice to taste, and a bit more fish sauce if you feel it's needed.
6. Mix the noodles in with the meat, veg and sauce and pour everything onto a tray. Garnish with shallots and peanuts. Serve with some soy sauce and sweet chilli sauce, if you like.
7. Enjoy!
Tip
You can either buy the sweet chilli sauce at the supermarket, or try making your own following our easy recipe. Simply click the little chefs' hat in the ingredient list. If you have leftover coconut milk, you can absolutely freeze it in an airtight container, so you have it for next time.
Share your tips and comments