High five!
The recipe has been added to your shopping list.
Club sandwich with corn on the cob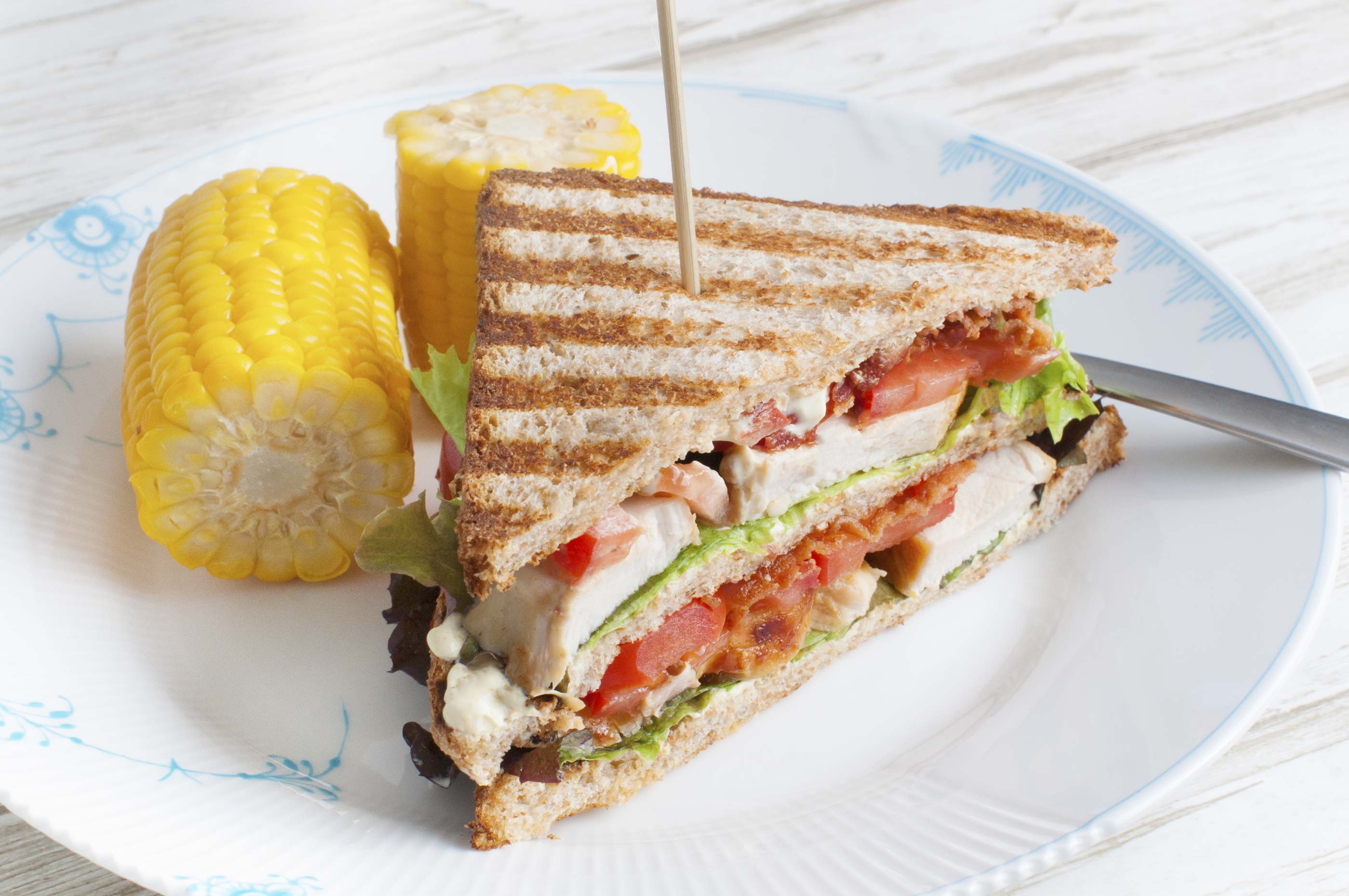 Ingredients
( 2 adults and 2 kids )
150 grams

bacon slices

600 grams

chicken fillet

4

corn cob

2

tomato

lettuce of your choice

8 slice

wholegrain sandwich bread

curry dressing or mayonnaise
ADD TO SHOPPING LIST
ADD TO MEAL PLAN
*
= Good to know - click the ingredient

= See the recipe - click the ingredient
The club sandwich is a café classic, but it's a breeze to make it yourself at home. Here we've filled the sandwiches with the classic chicken, bacon, lettuce, tomato, and of course a curry dressing. You can buy the curry dressing ready made at the supermarket or make your own following our easy recipe. Simply click the little chefs' hat in the ingredients. Note that this dish is intended for two days. Half of the chicken and bacon will be used in an easy pastasalad tomorrow.
Directions
1. Put the bacon slices in a cold pan and turn on the heat. Cook the bacon until crisp and leave it to drip off on a bit of kitchen roll. Put half aside for the pastasalad tomorrow.
2. Season the chicken fillets with salt and pepper and cook in the bacon grease left on the pan. If the fillets are very thick, or you're in a hurry, you can butterfly them before cooking, and they will cook faster. Remember to wash your hands and utensils when you've handled fresh chicken. Save half of the cooked fillets for pastasalad tomorrow.
3. While the chicken cooks, prep the rest of dinner. Cut the ends off the corn cobs and remove the leaves, and those pain-in-the-neck hairs! Split the cobs into smaller pieces and boil for 10-15 minutes in a pot of salted water. Set aside a cob or two for tomorrow as well.
4. Wash and slice the tomatoes. Rinse the lettuce and rip into nice big chunks. Toast the sandwich bread in the toaster or give it five minutes in the oven at 200 degrees convection.
5. Slice the chicken fillets and place everything on the table in small bowls and on plates. Now let the family assemble their own favourite sandwich.
6. Enjoy!
Tip
Remember to save half of the cooked chicken, some bacon, and a corn cob or two, so you have them for a ninja-quick pastasalad tomorrow!
Share your tips and comments