High five!
The recipe has been added to your shopping list.
Christmas wreath vanilla biscuits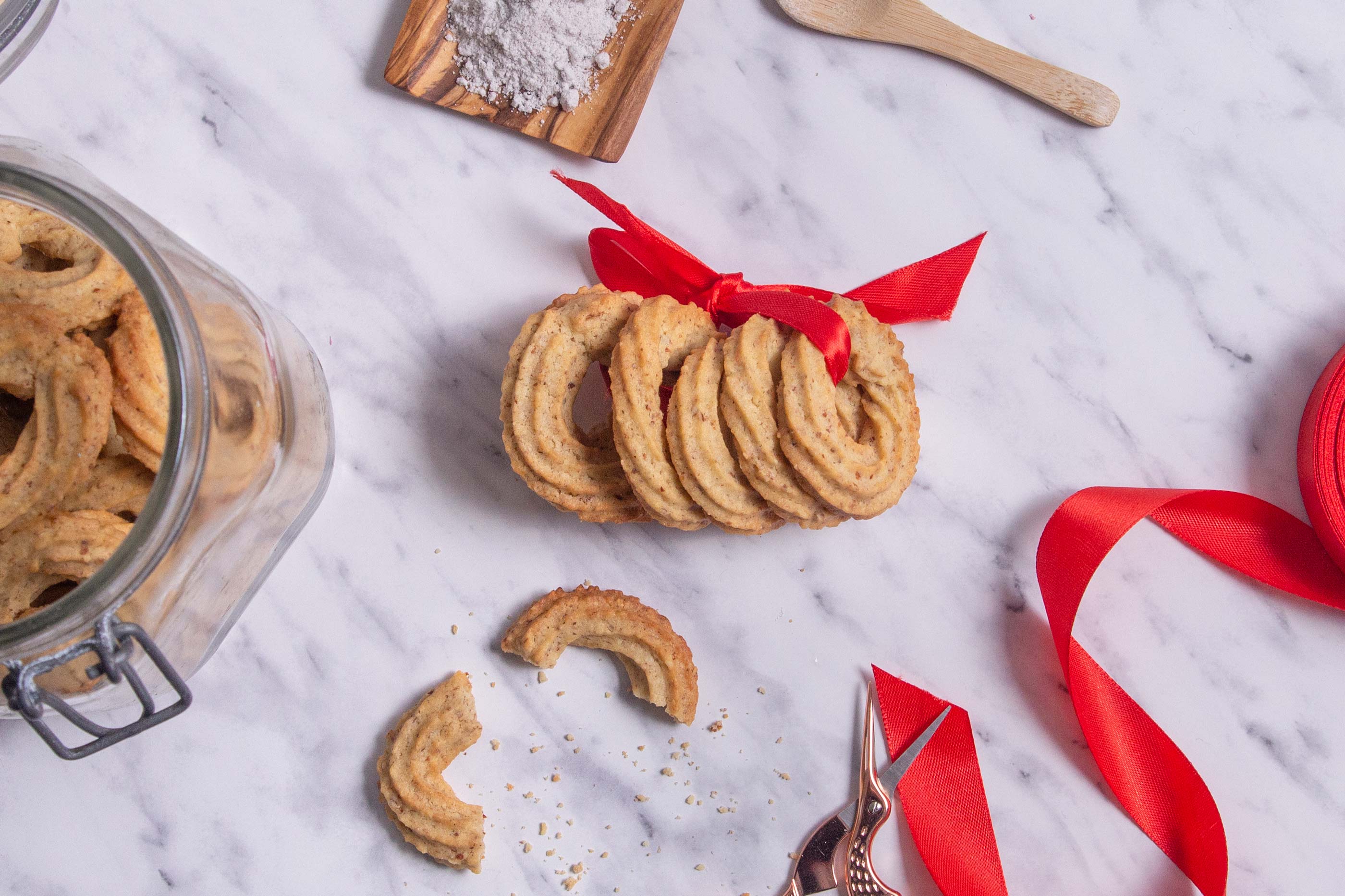 Ingredients
( approx. 30 )
200 grams

Lurpak butter

175 grams

sugar

2 tsp

vanilla sugar

1

egg

75 grams

almond flour

- or almonds

250 grams

plain flour

baking parchment

piping bag

star piping tip
ADD TO SHOPPING LIST
*
= Good to know - click the ingredient

= See the recipe - click the ingredient
These vanilla wreath biscuits are a Danish Christmas must-have - and we reckon you'll love them, too! This recipe is dead easy with only six ingredients, so it's perfect to make with the kids. It's a lovely time with the kids, and it's quite fun to squirt out the little loops! You'll find almond flour in most supermarkets - but you can always skin whole almonds and finely chop them instead. Enjoy!
Directions
1. Preheat your oven to 190 degrees convection. Take the butter out of the fridge to let it reach room temperature. If you're in a hurry, you can dice it into smaller pieces and give it 5-10 seconds in the microwave on a low power setting.
2. Whisk the soft butter well with sugar and vanilla sugar in a bowl. If you're using whole almonds, cook them for a couple of minutes in water that completely covers them - either in a pot on the stove or in the microwave on full blast. Blanch with cold water, skin them and chop them very finely into almond flour, either with a knife or a mini chopper.
3. Add the egg (ideally the biggest one in the carton) and keep whisking. Finally stir in almond and plain flour, until you have an even batter.
4. Pour the batter into a piping bag with a star tip, or use a freezer bag and cut a hole in the corner. That'll do just fine - although it won't make the wreaths look quite as wreath-y, they'll still be just as tasty.
5. Now pipe the batter into small circles, about the size of a ping pong ball, on a sheet pan lined with baking parchment. The piping bag does need a good squeeze for the batter to come out even - so if the kids are in the kitchen, they might need a bit of grownup assistance.
6. Bake the vanilla wreaths for 10-15 minutes, until they're beautifully golden and fragrant.
7. Leave to cool - and then you can finally munch away... Unless some of the biscuits are going to be wrapped in cellophane and used as a lovely little Christmas present.
8. Enjoy!
Tip
Tasks for kids in the kitchen: Let your kids help whisk the butter and sugar, and mix the ingredients. They'll also love piping the little loops!
Share your tips and comments