High five!
The recipe has been added to your shopping list.
Christmas pizza with easy meatballs, red cabbage and oranges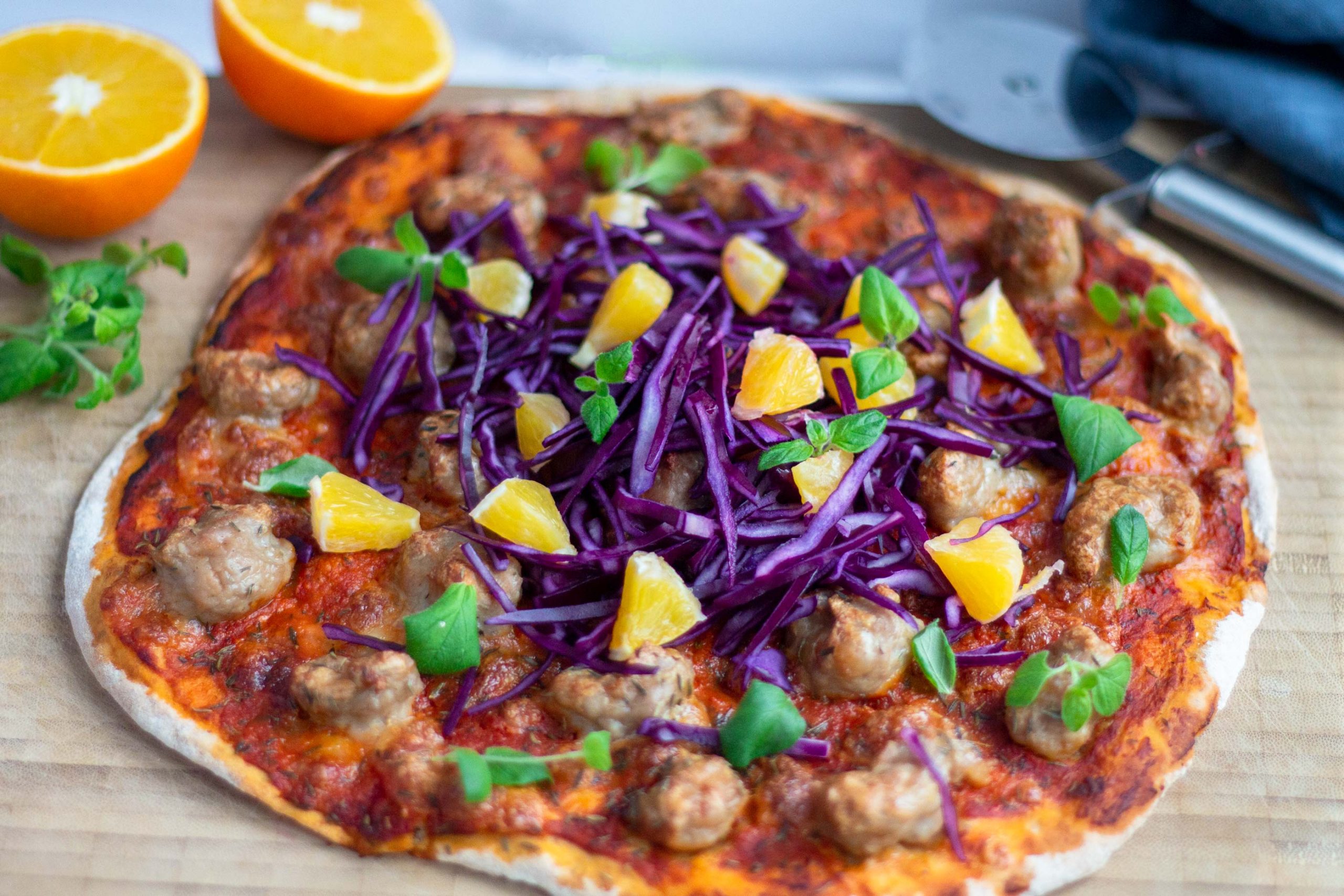 Ingredients
Freezer friendly
( 2 adults and 2 kids )
400 grams

pizza dough

280 grams

pizza sauce

400 grams

dinner sausage

150 grams

grated cheese

0.5 tbsp

dried thyme

400 grams

chopped red cabbage

2

orange

baking parchment

plain flour
ADD TO SHOPPING LIST
ADD TO MEAL PLAN
*
= Good to know - click the ingredient

= See the recipe - click the ingredient
Christmas is good – pizza is good. Christmas pizza is double good! Here's a yummy, Christmassy version of classic pizza – topping the crispy bases with easy meatballs from dinner sausage, cheese, thyme, fresh red cabbage and orange. You can also serve the red cabbage and orange on the side rather than as toppings – such as tossed in a yummy salad. Enjoy!
Directions
1. Preheat the oven to at least 250 – ideally 275 – top-bottom heat with a sheet pan on the bottom shelf. If you have a pizza stone, pop it onto the sheet pan in the cold oven before switching it on.
2. Sprinkle flour onto a tabletop and roll out the pizza dough into bases about 30 cm in diameter. Be careful not to leave them too thick! If you don't have a pizza peel to move the pizzas to the oven with, move the bases to a bit of baking parchment with your hands before you add the sauce and toppings.
3. Add sauce to the bases – leaving the outermost centimeter bare. Cut a hole in the end of the dinner sausage, and squeeze out little meatballs to spread across the pizzas, along with grated cheese and thyme. If you have dinner sausage left over, fry it whole or as meatballs on a pan with some oil and serve with the pizzas, or save for packed lunches.
4. Bake the pizzas for 10-15 minutes until the cheese is golden and the crust crispy.
5. Cut rinsed cabbage into thin strips, either with a knife or on a mandolin. Mind your fingers! Peel and cut up the oranges. Either use to top the pizzas, or toss into a side salad with dressing.
6. Serve the pizzas with cabbage and oranges. Enjoy!
Tip
Tasks for younger kids in the kitchen: Let your kids help add sauce to the bases and top the pizzas.
Share your tips and comments