High five!
The recipe has been added to your shopping list.
Christinas tasty honey-lime chicken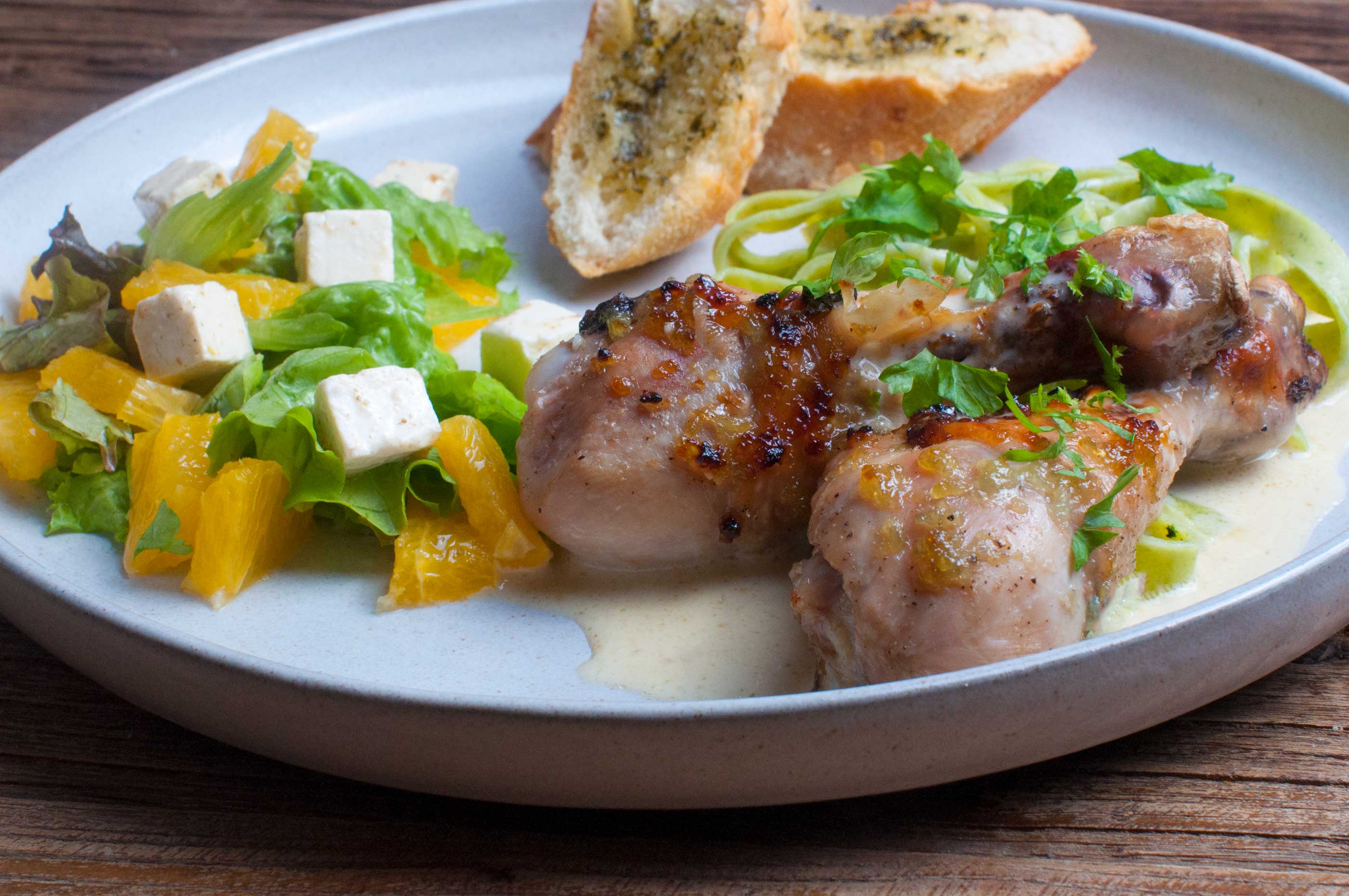 Ingredients
( 2 adults and 2 kids )
3 clove

garlic

4 tbsp

acacia honey

*

1

lime

8

chicken drumsticks

2

orange

lettuce of your choice

100 grams

feta cubes

fresh pasta

250 ml

single cream

- or double cream

1

garlic baguette

corn flour

olive oil

salt

pepper
ADD TO SHOPPING LIST
ADD TO MEAL PLAN
*
= Good to know - click the ingredient

= See the recipe - click the ingredient
This recipe won our November 2017 member recipe of the month. It was submitted by Christina, mother of 14-year old Anne-Sofie and 14-year old Emma - and it's absolutely divine! Delicious chicken thighs marinated in honey and lime and served with an orange salad, pasta, and a sauce so good you'll be tempted to drink it. Enjoy!
Directions
1. Preheat your oven to 200 degrees convection
2. Press the garlic and sautée it with a bit of olive oil in a saucepan for about 30 seconds. You don't want to brown it, just get it smelling lovely. Add the honey and freshly squeezed lime and let everything melt together.
3. Pop the chicken thighs in a casserole tin, pour over the honey-lime mix and season with salt and pepper. Leave the saucepan out for the sauce. Bake the thighs for approx. 35 minutes until lovely and golden and cooked all the way through.
4. While the chicken is relaxing in the oven, whip up a quick salad. Cut the orange into bite sized chunks and toss them in with washed lettuce and top with feta cubes.
5. Boil the pasta following the instructions on the packet. Remove the chicken from the oven and pour the roasting juices into the saucepan. Add cream, stir well and bring the lot to the boil. Thicken with some cornflour mixed with water in a cup.
6. Warm the baguette and serve the thighs with the orange salad, pasta, and the yummy sauce that makes the pasta especially creamy and delicious. Enjoy!
Tip
We think Christina should have the last word, as the story behind this recipe is really lovely: "This recipe was originally my mothers. My mother was a fantastic cook. She swore by everything homemade and from scratch, and as a child I was often with her in the kitchen, and even had my own dinner days. Sadly I lost my mother 16 years ago, so my daughters never got to know their grandmother. But they know her food, and her style of cooking, because they grew up with it." Thank you, Christina. And thank you to your mum.
Share your tips and comments