High five!
The recipe has been added to your shopping list.
Chicken with coconut and pineapple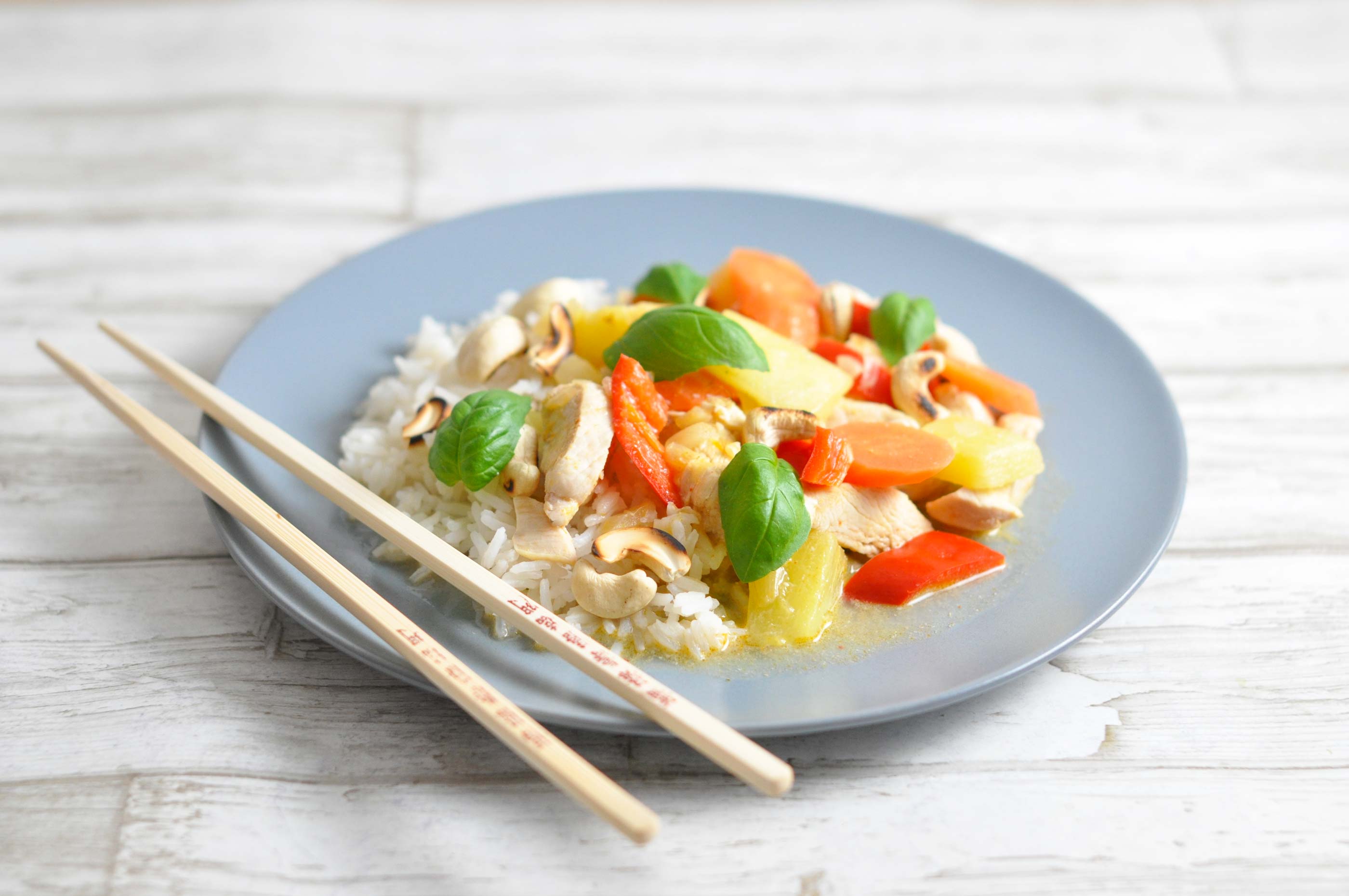 Ingredients
( 2 adults and 2 kids )
wholegrain rice

35 grams

cashews

1

onion

225 grams

carrots

*

1

red bell pepper

0.5

pineapple

400 grams

chicken fillet

2 tsp

red curry paste

200 ml

coconut milk

300 ml

water

1 cube

chicken stock

1

lime

olive oil
ADD TO SHOPPING LIST
ADD TO MEAL PLAN
*
= Good to know - click the ingredient

= See the recipe - click the ingredient
A quick and tasty dish with a hint of Asia! You can swap the chicken for any meat you like, such as pork, just as you can swap the red curry paste for green curry, if that's what you've got kicking about the fridge.
Directions
1. Boil the rice according to the packet. Roast the cashews on a dry pan and set aside.
2. Finely chop the onion. Peel the carrots and cut into bite-sized chunks. Wash the bell pepper, remove the seeds and roughly dice. Remove the peel from the pineapple and but into bite-sized chunks.
3. Cut the meat into thin strips on a separate cutting board - remember to wash utensils and hands after. Cook onion and curry paste with a bit of oil in a wok or pan for a few minutes. If you like, start with half of the curry paste - you can always add more later, if you don't feel like your cheeks are burning enough!
4. Add the meat and cook for another few minutes, until it's gotten a nice sear. Add carrots, bell pepper, coconut milk, water and chicken stock and bring the lot to the boil. Let simmer for a few minutes, until the meat is cooked through, but the veggies still have a bit of bite. Taste and add lime juice and curry paste if needed.
5. Serve the chicken with steaming hot rice, cashew nuts and a sprinkle of herbs if you have some to hand.
6. Enjoy!
Share your tips and comments