High five!
The recipe has been added to your shopping list.
Chicken wings with pasta and tomato sauce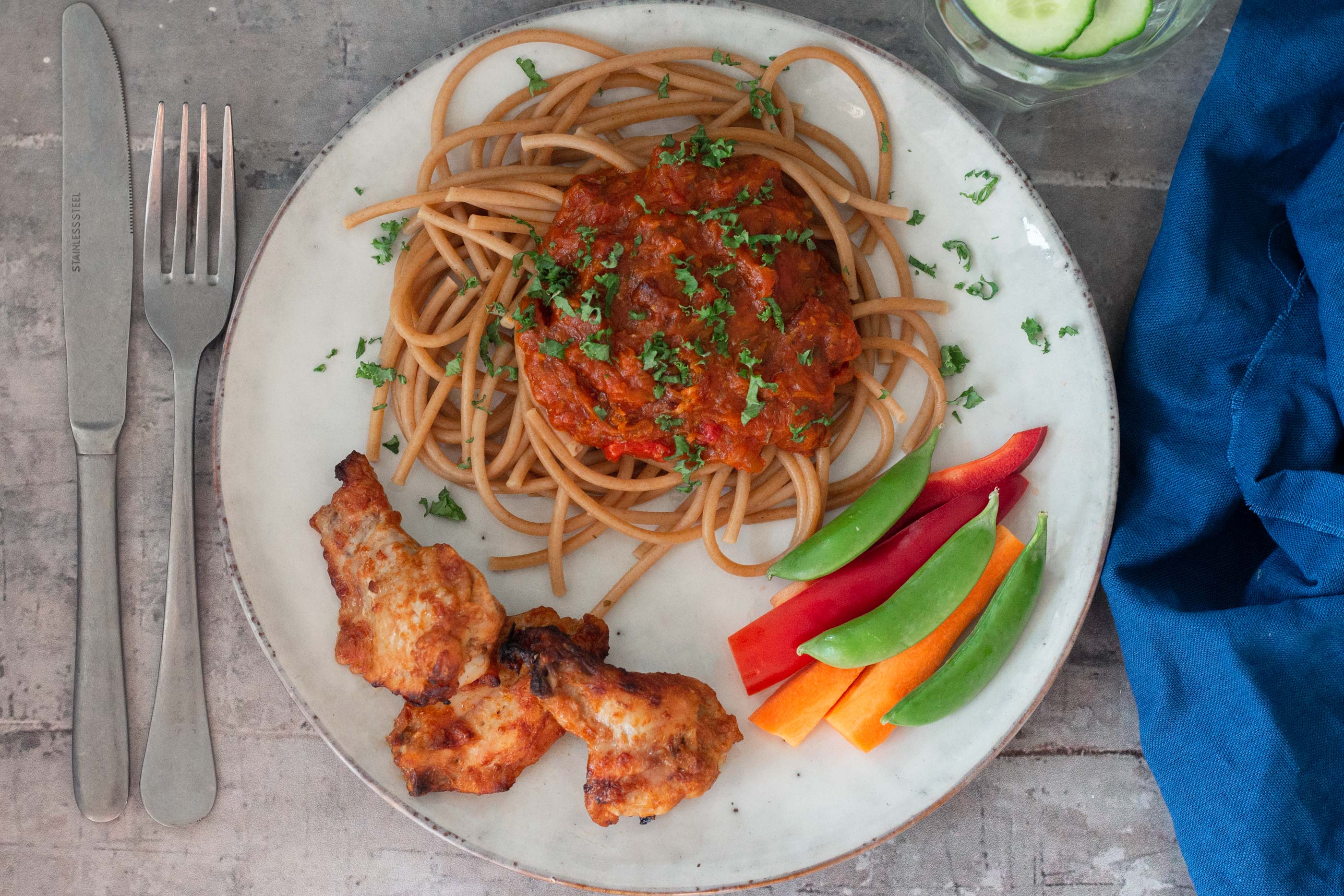 Ingredients
Freezer friendly
( 2 adults and 2 kids )
wholewheat pasta

700 grams

fresh chicken wings

- or drumsticks

Marinade

1 clove

garlic

50 ml

ketchup

1 tbsp

acacia honey

*

1 tbsp

balsamic vinegar

Tomato sauce

0.5

red bell pepper

1

onion

1 clove

garlic

1 can

chopped tomatoes

1 tbsp

paprika

1 tbsp

dried oregano

olive oil

pepper

salt

Snack veggies

300 grams

carrots

*

0.5

red bell pepper

200 grams

edamame beans

- or peas
ADD TO SHOPPING LIST
ADD TO MEAL PLAN
*
= Good to know - click the ingredient

= See the recipe - click the ingredient
Chicken wings are super tasty, and not hard at all to make at home! You can pick up marinated wings, or marinate some yourself with our yummy marinade. If you can't find chicken wings at the supermarket, just use drumsticks. We're serving them with pasta, tomato sauce and snack veggies. Enjoy!
Directions
1. Preheat your oven to 225 degrees convection - or fire up the grill, if weather permits.
2. Cook the pasta according to the packet.
3. Press or finely chop the garlic, and mix well with ketchup, honey and balsamic vinegar in a bowl. Coat the chicken wings with the marinade, and chuck them on the grill, or give them about 15 minutes in the oven, until cooked through.
4. Rinse and roughly dice the bell pepper. Finely chop onion and garlic. Now cook onion and garlic in some olive oil in a pot for a couple of minutes. Add bell pepper, and sautée until everything is cooked down a bit. Add chopped tomatoes, paprika and oregano and stir well. Pop the lid on the pot and lower the heat.
5. Let the sauce simmer for about 10 minutes, while the yummy chicken wings finish cooking. The longer the tomato sauce simmers, the softer the veggies will get. Season with salt and pepper.
6. Peel the carrots and cut into sticks along with the rest of the bell pepper, and serve as snack veggies on the side of the pasta, peas or cooked edamame beans - and of course the tasty wings and tomato sauce.
7. Enjoy!
Tip
Tasks for kids in the family: Let your kids help dice the bell pepper. They can also fix the marinade.
Share your tips and comments