High five!
The recipe has been added to your shopping list.
Chicken wings in tomato sauce with couscous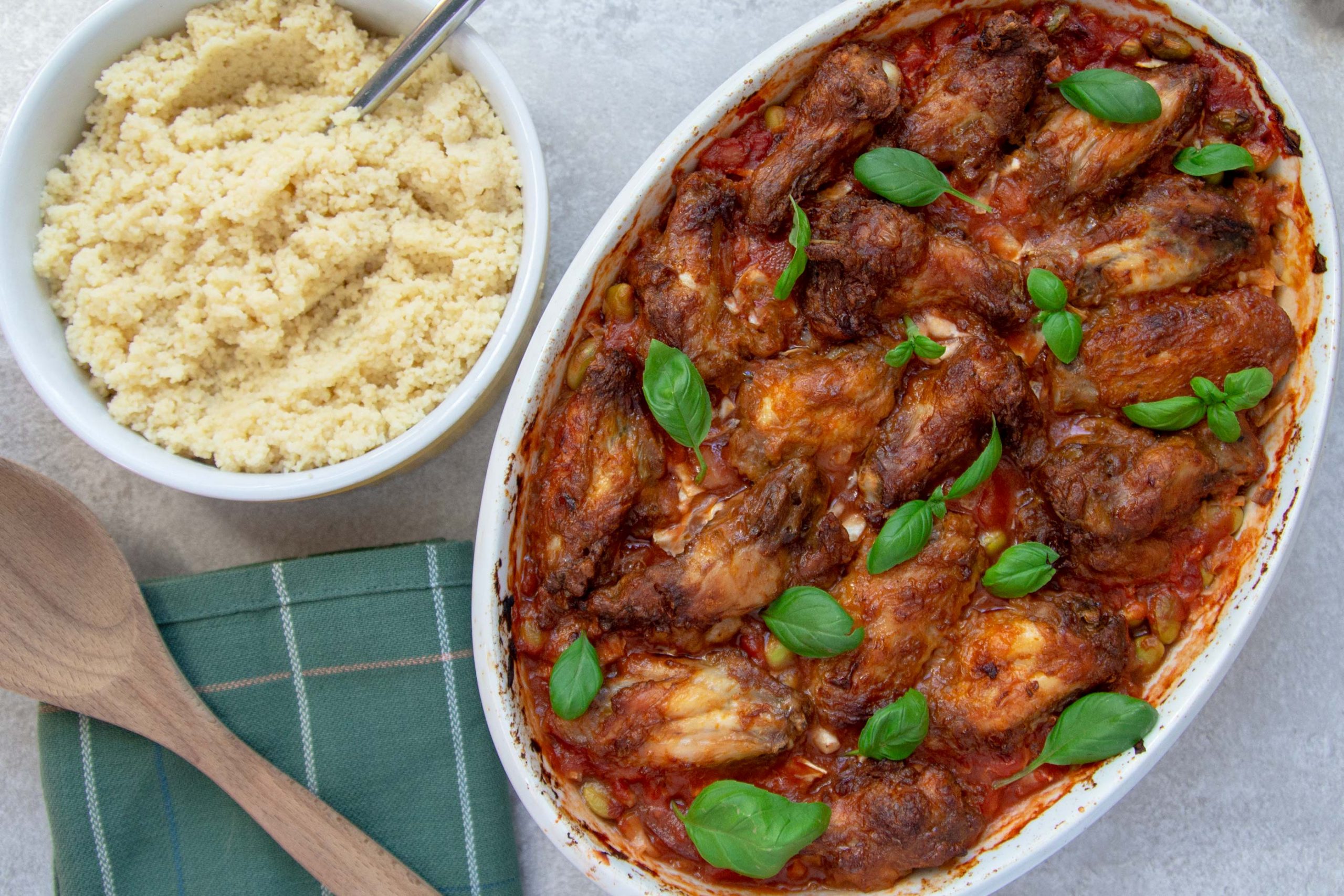 Ingredients
Freezer friendly
1 clove

garlic

300 grams

carrots

*

100 grams

frozen edamame beans

2 can

chopped tomatoes

3 tbsp

red pesto

1 tbsp

paprika

1 tbsp

dried oregano

1 tsp

salt

600 grams

barbecue chicken wings

couscous

pepper
ADD TO SHOPPING LIST
ADD TO MEAL PLAN
*
= Good to know - click the ingredient

= See the recipe - click the ingredient
This is a super easy round of dinner! The whole thing is cooked in a casserole dish in the oven, except for a quick pot of couscous. The casserole dish is filled with scrumptious chicken wings and tomato sauce. Enjoy!
Directions
1. Preheat your oven to 225 degrees fan-assisted.
2. Press the garlic. Peel the carrots and grate on the coarse side of a grater. Pop both into a casserole dish along with loose, frozen edamame beans, chopped tomatoes, pesto, paprika, oregano, salt and pepper. Mix well.
3. Place the frozen chicken wings on top - this way, they add lots of yummy flavour to the tomato sauce. Bake for about 30 minutes.
4. Meanwhile, cook couscous according to the packet.
5. Serve the yummy chicken wings with tomato sauce and couscous.
6. Enjoy!
Tip
Tasks for kids in the kitchen: Let your kids help peel the carrots. They can also press the garlic and mix the sauce.
Share your tips and comments