High five!
The recipe has been added to your shopping list.
Chicken skewers with baked potatoes and bearnaise butter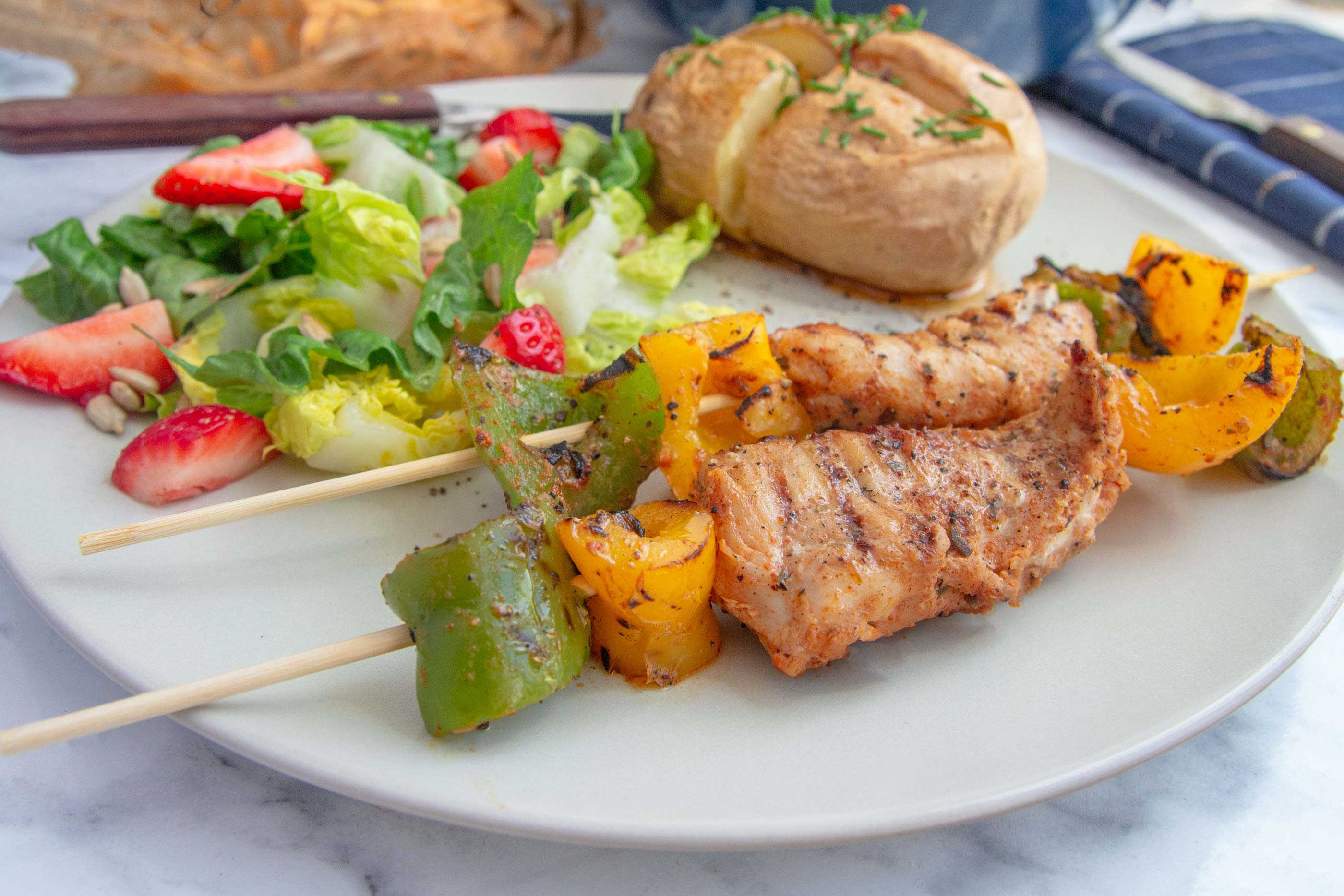 Ingredients
( 2 adults and 2 kids )
125 grams

butter

1 packet

bearnaise powder

6

baking potato

1

yellow bell pepper

1

green bell pepper

400 grams

chicken mini fillets

3 tbsp

olive oil

0.5 tbsp

paprika

0.25 tbsp

garlic powder

2 tbsp

ketchup

40 grams

sunflower seeds

*

lettuce of your choice

200 grams

strawberries

dressing of your choice

salt

pepper

baking parchment

grill skewers
ADD TO SHOPPING LIST
ADD TO MEAL PLAN
*
= Good to know - click the ingredient

= See the recipe - click the ingredient
We've put together a proper summer belter of grilled chicken skewers, baked potatoes and strawberry salad, which we're serving with a gorgeous bearnaise butter. Enjoy!
Directions
1. Preheat your oven to 250 degrees fan-assisted.
2. Dice the butter and let it soften. The butter shouldn't melt, just be soft enough that you can stir it with a spoon. Mix well with half of the bearnaise powder in a bowl. Have a taste, and add more bearnaise powder if needed. Now place the soft butter lengthways on a piece of baking parchment and roll it up into a 'sausage' shape - like a doner! Pop the butter in the freezer, while you sort the rest.
3. Scrub the potatoes so they're totally clean, and cut a cross into the top. Bake in the oven for 45 minutes (or a bit more, if the potatoes are very large), or until crispy on the outside and soft all the way through when poked with a sharp knife.
4. Rinse and dice bell peppers into pieces that fit nicely on your skewers. Prick each mini fillet a few times with a fork and pound them a bit flat with your hand. Add bell pepper and chicken to a freezer bag along with olive oil, paprika, garlic powder and ketchup, and mix everything well. Let it marinate while you make the salad and fire up the grill (weather permitting). Remember to wash hands and utensils when you're done.
5. Roast sunflower seeds on a dry pan and let cool on a plate. Mix rinsed lettuce, rinsed, sliced strawberries and sunflower seeds and top with dressing of your choice.
6. Skewer chicken and bell pepper in alternating layers. Grill or bake for 15-20 minutes, until cooked through.
7. Serve the yummy skewers with salad and baked potatoes with a slice of cold bearnaise butter in the centre. Enjoy!
Tip
Tasks for younger kids in the kitchen: Let your kids help dice the bell pepper and slice the strawberries.
Share your tips and comments