High five!
The recipe has been added to your shopping list.
Chicken satays with rice and melon salad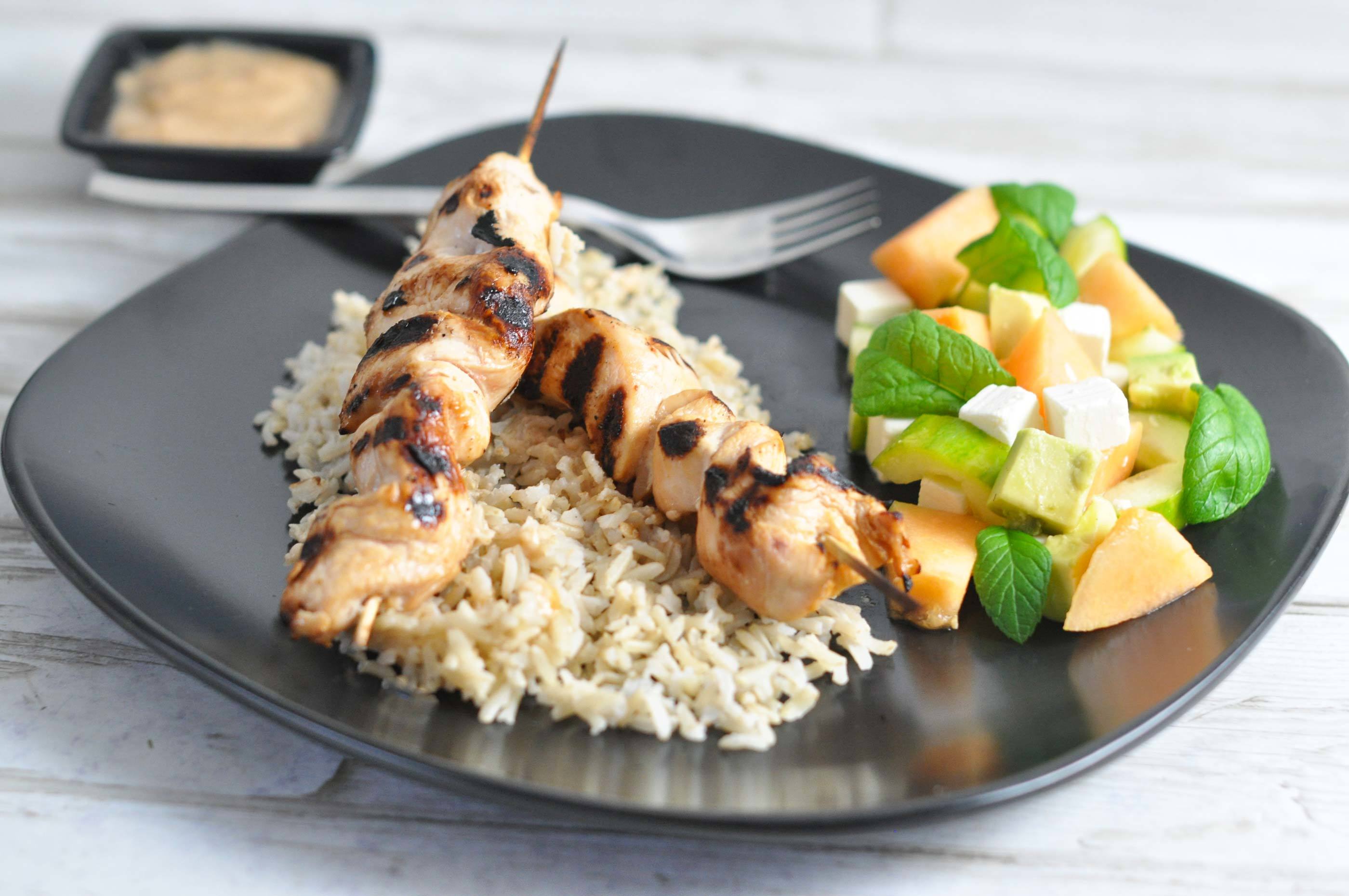 Ingredients
( 2 adults and 2 kids )
Satays

wholegrain rice

2 tbsp

soya

1 tbsp

fish sauce

1 tbsp

acacia honey

*

0.5

organic lemon

1 tbsp

olive oil

- or sesame oil

500 grams

chicken fillet

wooden skewers

Salad and peanutbutter sauce

0.5

melon

0.5

cucumber

1

avocado

0.5

lemon

100 grams

feta cubes

3 tbsp

peanut butter

200 ml

coconut milk

1 tbsp

fish sauce

1 tbsp

acacia honey

*

100 ml

water
ADD TO SHOPPING LIST
ADD TO MEAL PLAN
*
= Good to know - click the ingredient

= See the recipe - click the ingredient
Chicken skewers, or satays, are super tasty - and fun for the kids to eat. They can be cooked in the oven or on the grill, and here we've served them with a tasty peanut sauce, rice and melon salad. Enjoy!
Directions
1. Boil the rice following the directions on the packet. Fire up the grill or preheat your oven to 200 degrees. If you're grilling your skewers and you're using wooden ones, soak them in a tray of water to stop them from burning as easily.
2. Mix soya, fish sauce, acacia honey, lemon juice and olive oil. If you're using an organic lemon, you can zest it too. Pour the mix into a plastic bag along with the chicken and massage the marinade into the meat. Let it marinate while you make the peanut sauce and melon salad.
3. Remove the seeds from the melon and roughly dice it. Wash and split the cucumber, remove the seeds and roughly dice that as well. Remove the stone from the avocado, scoop out the flesh with a spoon and dice it. Mix in a bit of lemon juice to stop it from browning. Mix melon, cucumber, avocado and feta in a bowl and set aside.
4. Pop two marinated chicken fillets on each skewer. Grill them if the weather permits, or cook them in the oven on 200 degrees convection for 15-20 minutes, or until cooked through. Make sure the chicken is cooked through all the way in to the skewers.
5. Pour peanut butter, coconut milk and fish sauce in a mini chopper or food processor. Add water little by little while you blend, until the sauce has your preferred consistency. Add honey and lemon to taste - and a bit more fish sauce, if you like. Optionally you can warm the peanut sauce in a pot, but don't let it boil - it'll separate.
6. Serve the skewers with peanut sauce, rice and melon salad, and garnish with some herbs if you have any lying about. Enjoy!
Tip
You can easily save the coconut milk in an airtight container for a few days in the fridge - or freeze it. Then you have coconut milk for next time. And if you can buy sesame oil in your local supermarket, it's a perfect substitute for olive oil in Asian dishes.
Share your tips and comments