High five!
The recipe has been added to your shopping list.
Chicken meatballs, potatoes, brussels sprout salad and mango chutney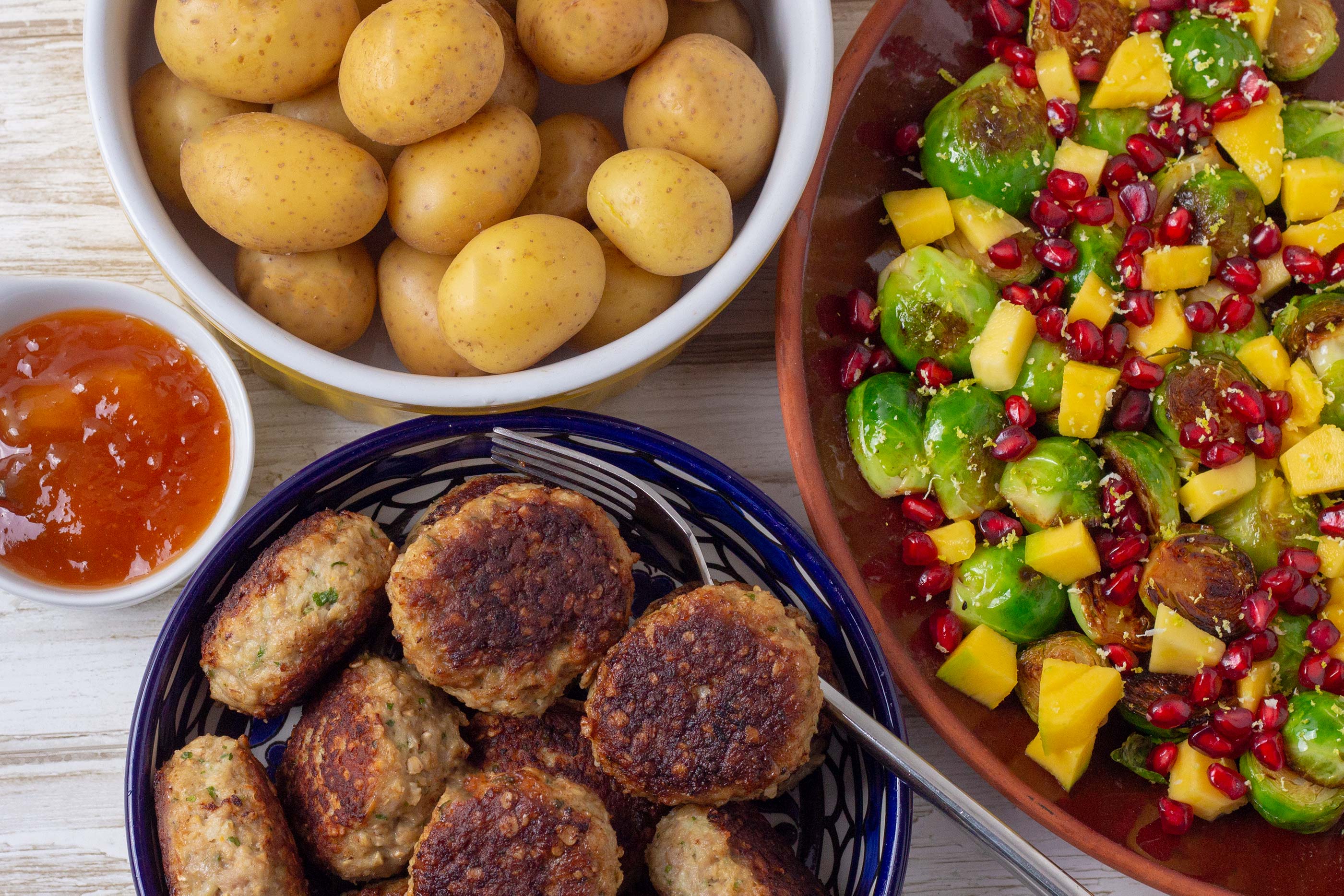 Ingredients
( 2 adults and 2 kids )
600 grams

baby potatoes

1

onion

1 clove

garlic

0.5 bunch

parsley

400 grams

chicken mince

1

egg

50 ml

milk

1.5 tbsp

plain flour

1 tsp

salt

300 grams

brussels sprouts

pomegranate seeds

1

mango

1

organic lemon

mango chutney

butter

olive oil
ADD TO SHOPPING LIST
ADD TO MEAL PLAN
*
= Good to know - click the ingredient

= See the recipe - click the ingredient
Chicken meatballs are a certain hit here at Mambeno! Brussels sprouts, on the other hand, tends to split the waters... That's why we've spiced them up a bit with some mango and pomegranate seeds, and they'll be super tasty! We've served the dish with mango chutney and potatoes. Enjoy!
Directions
1. Cook the potatoes and optionally roast them quickly in a dash of olive oil on a pan once cooked. That will give them a lovely golden surface.
2. Finely chop onion, garlic and rinsed parsley in a mini chopper or food processor. Mix with chicken mince, egg, milk, plain flour, salt and pepper. Mix everything well, until you have a firm farce. If needed, add a bit more flour if the farce is too moist. If you're unsure of the seasoning, you can cook a little test-ball on a pan.
3. Cook the meatballs in a mix of butter and olive oil until golden. While the balls are minding themselves on the pan, you can get started on the salad.
4. Wash the Brussels sprouts, remove the bottom part of the stem and halve the sprouts. Halve the pomegranate and knock the back of it with a wooden spoon and pick out the seeds if you're using the whole version. If you bought cleaned pomegranate seeds, well, we reckon it's self explanatory! Peel and dice the mango.
5. Cook the Brussels sprouts in some butter for about 5 minutes. Add honey, swirl around the pan once or twice and let the sprouts cool on a plate. Now mix the little green devils with mango and pomegranate seeds and mix with some lemon zest and juice. Season to taste with salt and pepper.
6. Serve the chicken meatballs with potatoes, Brussels sprout salad and mango chutney for dipping. Enjoy!
Tip
Tasks for kids in the kitchen: Let your kids pick out the pomegranate seeds from the shell, if you're using whole pomegranates. But remember an apron, the seeds are awful full of colour, let's say!
Share your tips and comments