High five!
The recipe has been added to your shopping list.
Chicken meatball skewers with potatoes and carrot salad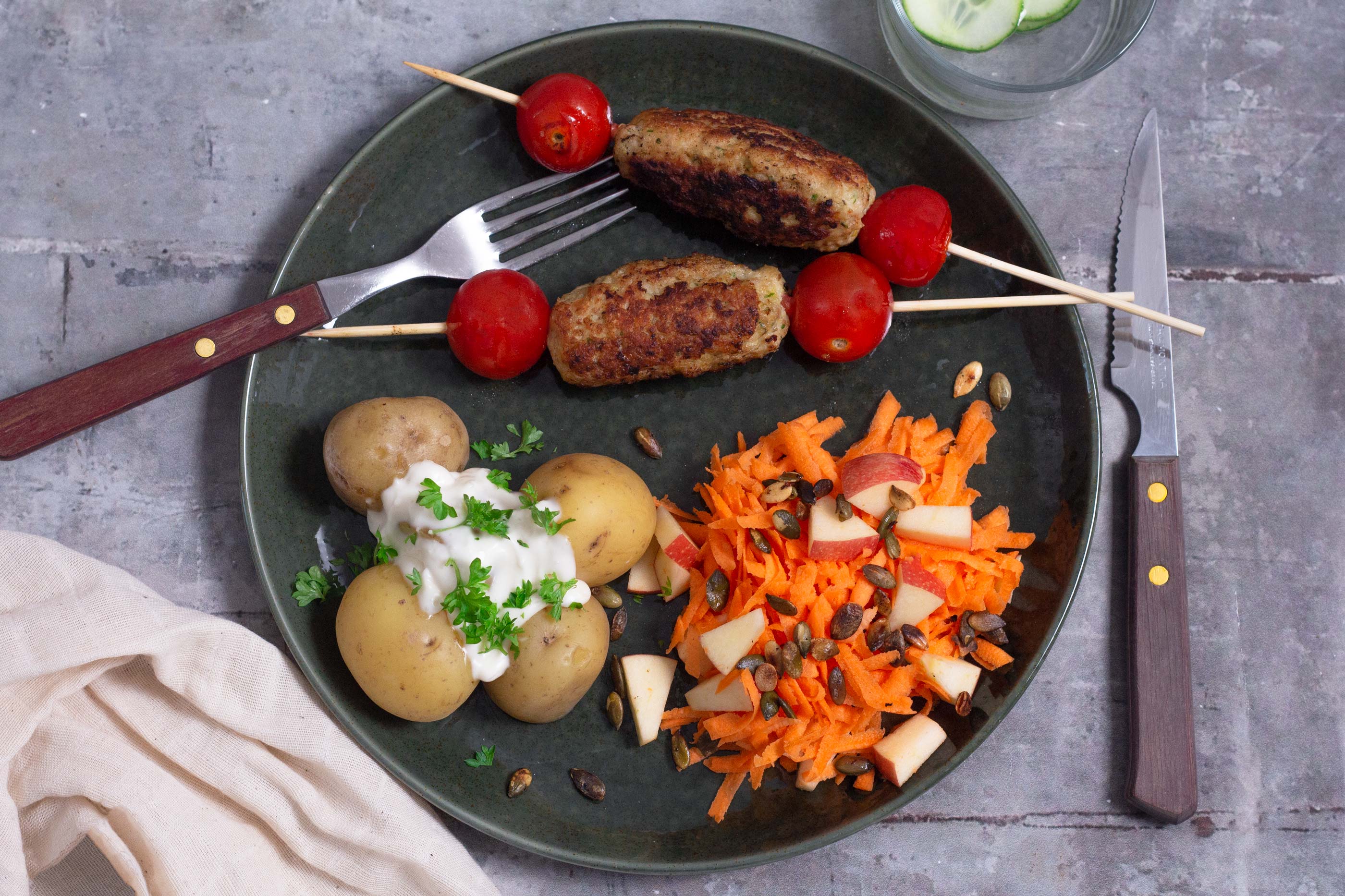 Ingredients
( 2 adults and 2 kids )
600 grams

potatoes

1 clove

garlic

1

onion

400 grams

chicken mince

0.5 tbsp

curry

1

egg

1 tsp

salt

1 tbsp

breadcrumbs

16

cherry tomatoes

50 grams

pumpkin seeds

300 grams

carrots

*

2

apples

100 grams

aioli

1

lemon

olive oil

pepper

wooden skewers

baking parchment
ADD TO SHOPPING LIST
ADD TO MEAL PLAN
*
= Good to know - click the ingredient

= See the recipe - click the ingredient
Today we've made lovely chicken meatballs and popped them on skewers with cherry tomatoes. We're serving the skewers with potatoes, carrot salad and aioli on top. Enjoy!
Directions
1. Preheat your oven to 220 degrees convection.
2. Scrub or peel the potatoes and cook in salted water until tender.
3. Very finely mince garlic and onion in a mini chopper. Mix onion, garlic, chicken, curry, egg, salt, breadcrumbs and pepper in a bowl. We suggest using your hands. Cook a little test-ball to make sure the meatballs taste just how you like them best!
4. Shape one or two small, oblong meatballs and pop them on a skewer with a cherry tomato on both ends. Make sure to squeeze the farce onto the skewers proper, so they don't fall off during cooking.
5. Place the skewers on a baking tray with baking parchment and bake for about 15 minutes, or until cooked through, but still juicy. Be mindful not to overcook them, as they can quickly go dry.
6. Roast the pumpkin seeds on a dry pan until they "pop" and go brown. Leave to cool on a plate. Peel the carrots and grate on a grater - the coarse or fine side, depending on your own preference. Mix the carrots with rinsed, finely diced apple. Finally, dress the carrot salad with lemon juice and honey.
7. Serve the chicken skewers with potatoes, aioli and carrot salad. Enjoy!
Tip
Tasks for kids in the kitchen: Let your kids help dice the apples. They can also pop tomatoes on the skewers. You can absolutely use more and other spices, if you fancy. Have a go with whatever you have on your shelves. Be aware, that children younger than a year shouldn't eat honey.
Share your tips and comments