High five!
The recipe has been added to your shopping list.
Chicken gratin with aubergine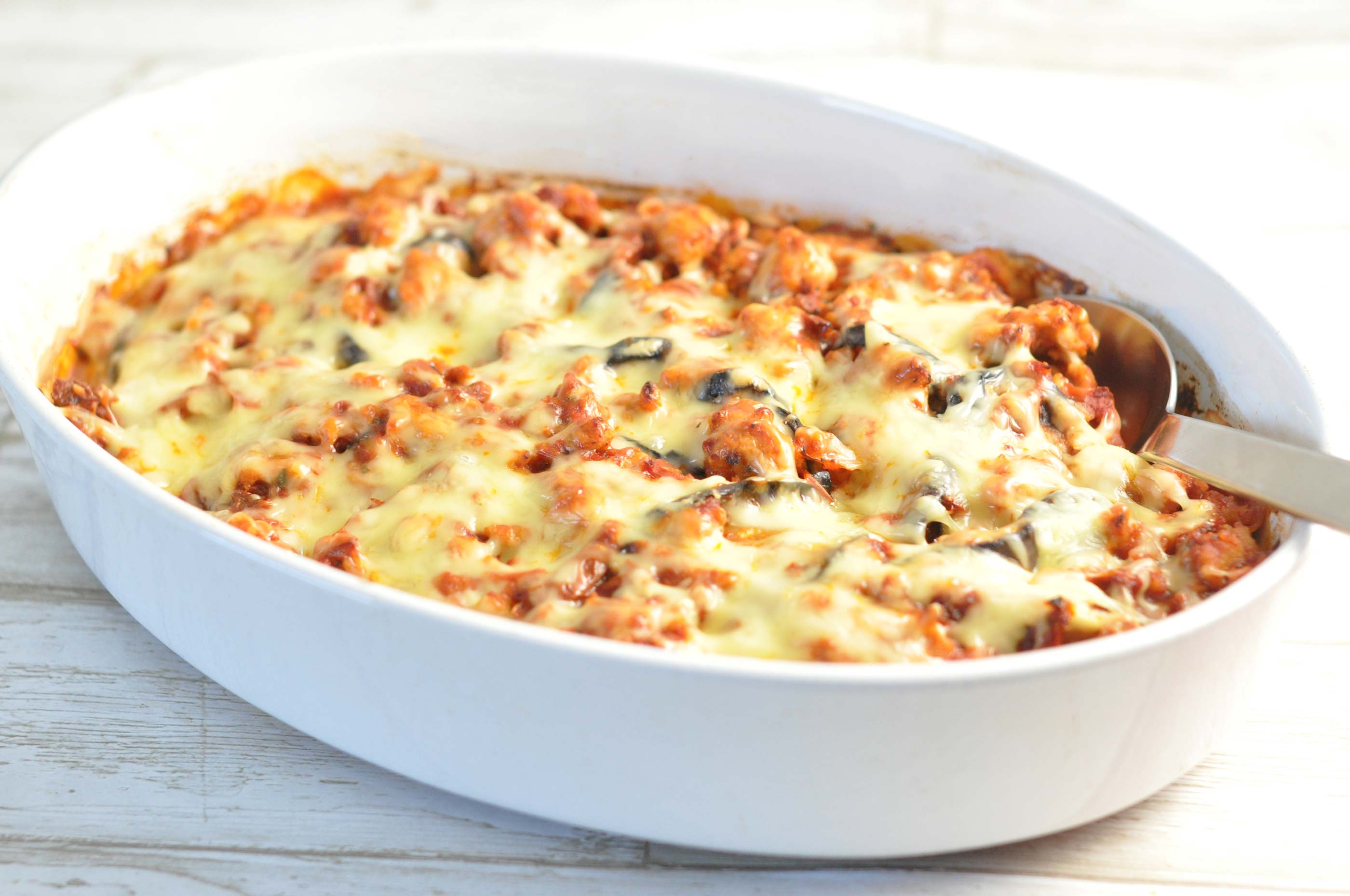 Ingredients
Freezer friendly
1

aubergine

1

onion

1 clove

garlic

400 grams

chicken mince

1 can

chopped tomatoes

1 tbsp

dried oregano

1 cube

chicken stock

150 grams

sundried tomatoes in oil

75 grams

grated cheese

300 grams

carrots

*

0.5

cucumber

olive oil

salt

pepper
ADD TO SHOPPING LIST
ADD TO MEAL PLAN
*
= Good to know - click the ingredient

= See the recipe - click the ingredient
This tasty dish with aubergines and sundried tomatoes is a cross between Italian lasagne and Greek moussaka - and yet completely its own. And better for it, as it's absolutely delicious! Enjoy!
Directions
1. Preheat your oven to 225 degrees convection.
2. Wash and slice the aubergine. Coat the slices with plenty of sea salt in a sieve and leave to sit for 5-10 minutes. This draws out some of the water in the aubergine, making them more tender. Rinse off the salt and dry it off with a dishtowel. Place the aubergine slices on a baking tray with baking parchment and brush with a bit of olive oil. Season with salt and pepper and bake for approx. 15 minutes, or until golden on top. Turn the oven down to 200 degrees.
3. Finely dice onion and garlic and cook with a bit of oil on a pan. Add chicken mince and let cook until the mince is nice and golden. Add chopped tomatoes, oregano, stock cube and sundried tomatoes (with the oil thoroughly drained) finely chopped with your best knife. Let cook for another few minutes and season with salt and pepper.
4. Place the baked aubergine at the bottom of a casserole tin. Spread the chicken on top and finish with some grated cheese. Bake the chicken dish in the oven for about 20 minutes, or until the cheese is golden on top.
5. Serve with carrots and cucumber cut into sticks for snack veggies.
6. Enjoy!
Tip
You can absolutely buy grated cheese at the supermarket, but it's much cheaper to buy a solid piece of cheese and grate it at home, cut into cheese sticks for the kids' lunch, and cut a few slices off for a nice afternoon toastie. As an added bonus, it's tastier, and doesn't contain a bunch of weird additives with mile-long numbers and names you can't pronounce. Hurray! Ideally go for a lean version.
Share your tips and comments