High five!
The recipe has been added to your shopping list.
Chicken fricassee - for two days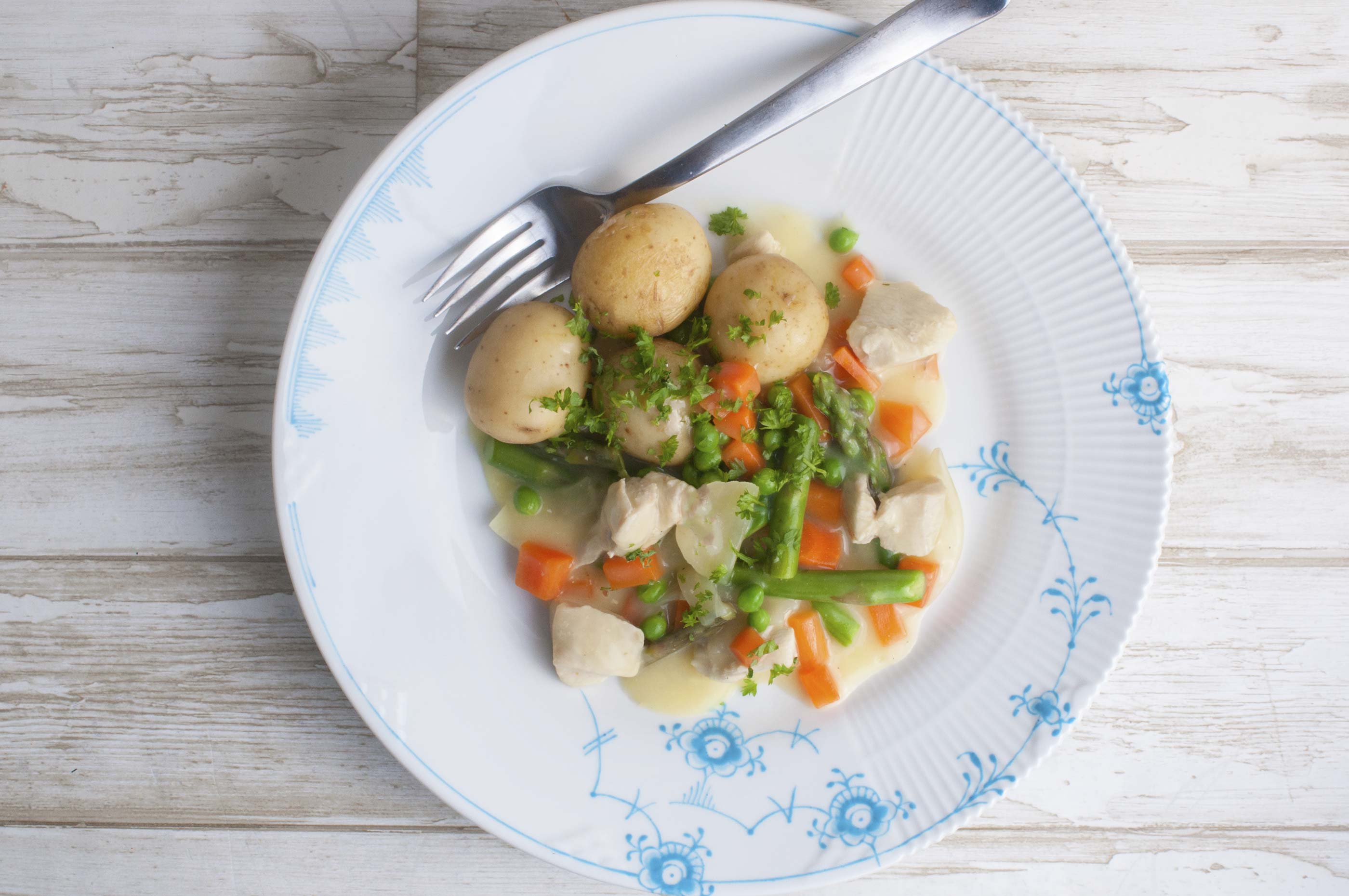 Ingredients
( 2 adults and 2 kids )
1 bunch

green asparagus

600 grams

potatoes

1

onion

400 grams

carrots

*

600 grams

chicken fillet

1 liter

water

1 cube

chicken stock

50 grams

butter

4 tbsp

plain flour

0.5

lemon

200 ml

single cream

200 grams

peas

salt

pepper
ADD TO SHOPPING LIST
ADD TO MEAL PLAN
*
= Good to know - click the ingredient

= See the recipe - click the ingredient
This chicken fricassee is super easy and delicious for spring and summer, when the asparagus and assorted veg start coming out. Normally fricassee is made from a whole chicken, but we've made the quick version. Note that this dish is designed for two days. We recommend using the leftovers in crispy tartelettes tomorrow.
Directions
1. Rinse the asparagus and snap off the bottom stringy bit. Asparagus are dead handy, because they know to snap exactly where the stringy bit ends. Blanch the asparagus in rolling boiling water for about 30 seconds - you want to leave a bit of bite in them.
2. Boil the potatoes until tender in a pot of salted water.
3. Chop the onion. Peel the carrots and finely dice them. Cut the chicken fillets into bite-sized chunks - remember to wash your hands and utensils after.
4. Pour the water into a separate pot along with the chicken stock and bring to the boil. Add onion and chicken pieces and let simmer for approx. 10 minutes, until cooked through. Skim off any impurities with a spoon. Take out the chicken and onion and save the stock.
5. Melt the butter in a pot and add the flour. Now whisk the very best you know, for a few minutes at medium heat, without letting it brown. That'll get rid of the floury flavour. Add a bit of the stock from the pot and use your superhero strength to whisk for your life - that'll save you the gym membership, too!
6. When all the lumps are gone, add more stock and whisk again, until smooth again. Repeat until the sauce has the consistency you like best. You might not need all of the stock. Add the cream and season with salt, pepper a bit of lemon juice and more stock if you like.
7. Add the chicken and onion and reheat. Just before serving, add the prepped veggies and peas. Reheat and serve with piping hot potatoes and a sprinkle of herbs if you have some handy. Enjoy!
Tip
Save the leftovers for tomorrow and served them with steamed rice.
Share your tips and comments