High five!
The recipe has been added to your shopping list.
Chicken drumsticks with roast potatoes and corn on the cob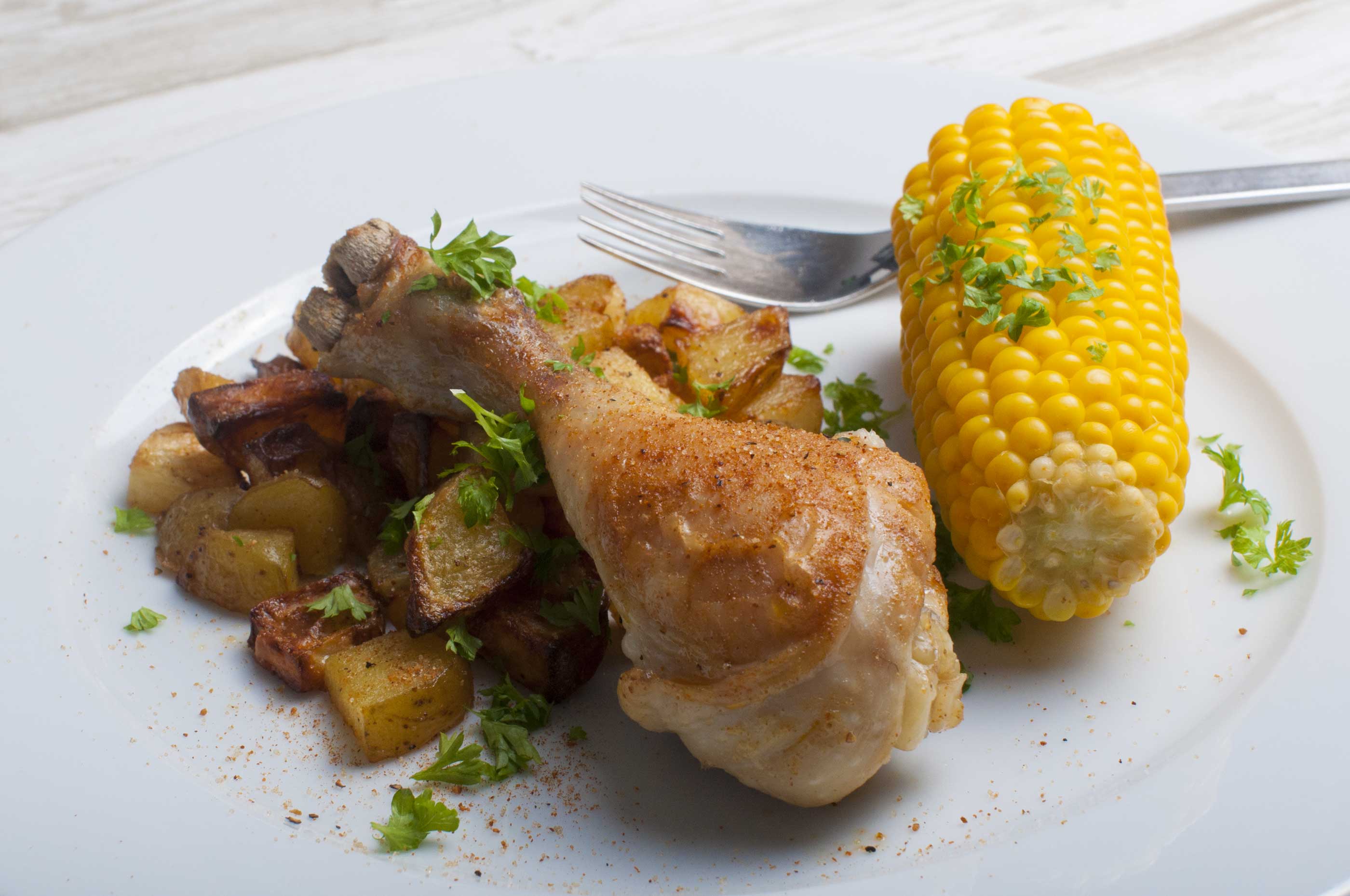 Ingredients
( 2 adults and 2 kids )
800 grams

potatoes

4

corn cob

8

chicken drumsticks

olive oil

baking parchment

all purpose seasoning

salt

pepper

butter
ADD TO SHOPPING LIST
ADD TO MEAL PLAN
*
= Good to know - click the ingredient

= See the recipe - click the ingredient
Chicken drumsticks is an easy and tasty dinner that most kids - and parents - love. Here we've served them with succulent corn on the cob and diced roast potatoes. Enjoy!
Directions
1. Preheat your oven to 225 degrees convection.
2. Scrub and rinse the potatoes - or peel them, if they're very dirty. Finely dice the potatoes and put them in a baking tray with baking parchment. Toss them in a good drizzle of olive oil and a bit of all purpose seasoning. Pop them in the oven and bake for 35-45 minutes until golden. Remember to turn them while baking.
3. Once the potatoes are in the oven, spend the next 10 minutes prepping the rest. Cut the ends off the corn cobs. remove leaves and those bloody hairs and split the cobs into smaller pieces. Bring a pot of salted water to the boil.
4. Season the drumsticks with salt and pepper and place them in a casserole tin. Pop them in the oven and turn the heat down to 210. Bake for approx. 35 minutes until the juice runs clear and the chicken is cooked through and not pink.
5. Boil the corn cobs for approx. 10 minutes and serve with a knob of cold butter as a side for the potatoes and crispy drumsticks - with some optional herb sprinkles on top (do avoid herb sprinkles for kids younger than 3).
6. Enjoy!
Tip
If the kids get a packed lunch, boil another cob of corn or two. They make a super tasty lunch!
Share your tips and comments