High five!
The recipe has been added to your shopping list.
Chicken drumsticks with ratatouille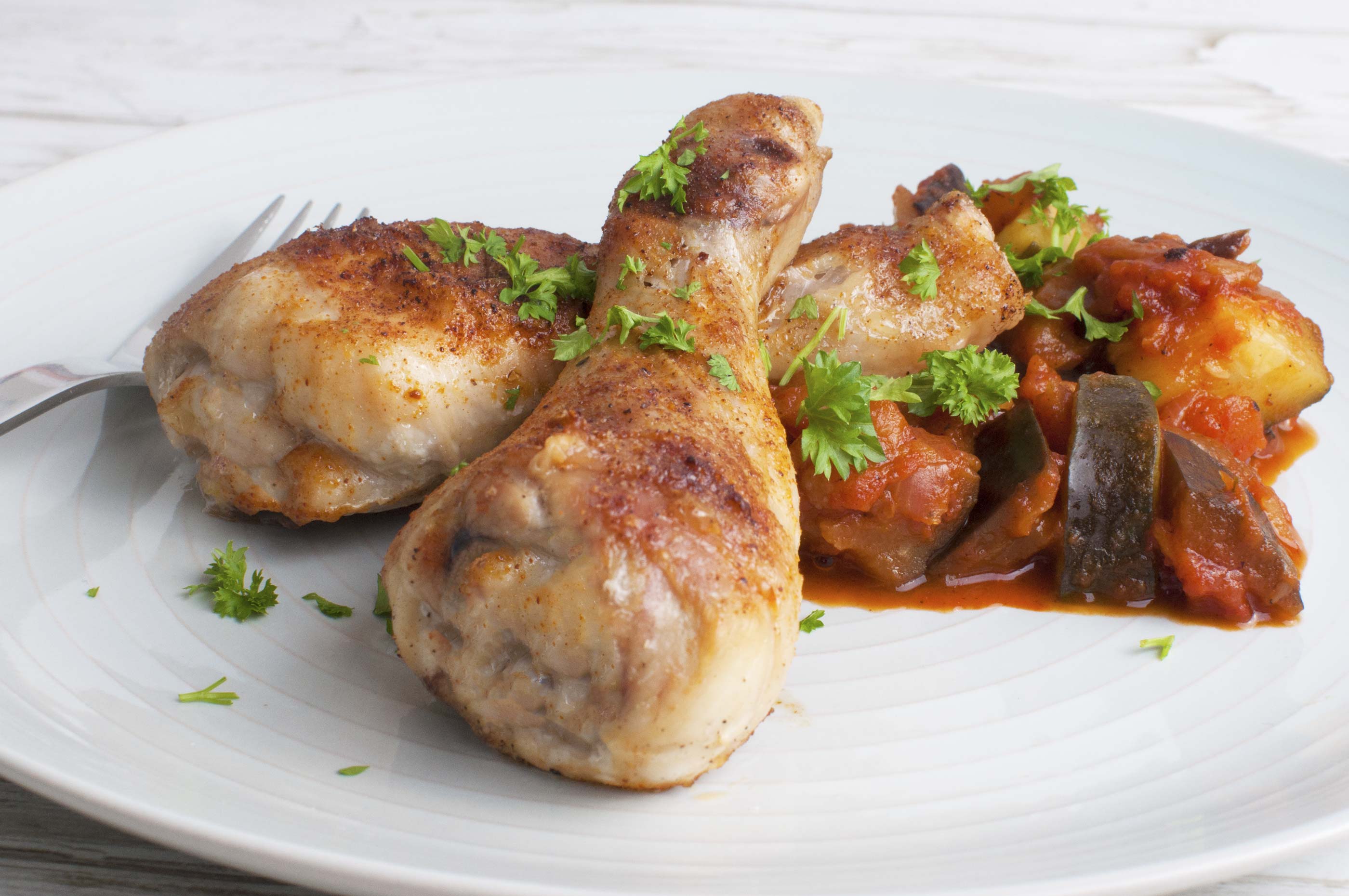 Ingredients
Freezer friendly
1

aubergine

6

chicken drumsticks

1

onion

1 clove

garlic

1

courgette

1 tbsp

dried oregano

1 can

chopped tomatoes

sea salt

pepper

olive oil
ADD TO SHOPPING LIST
ADD TO MEAL PLAN
*
= Good to know - click the ingredient

= See the recipe - click the ingredient
Drumsticks are a definite kid favourite - and a parent favourite, because it makes for a super easy dinner. Here we've served them with a yummy ratatouille. Find our tips for sides below. Enjoy!
Directions
1. Preheat your oven to 225 degrees convection. Rinse the aubergine and roughly dice it. Pop it in a sieve and sprinkle with a good handful of sea salt. Leave the aubergine off to the side while you finish up the rest - and don't worry, the salt will be getting rinsed off later. Salt just makes the aubergine soft and scrumptious when cooked!
2. Pop the drumsticks in a baking tray oiled with some olive oil or covered with a sheet of baking parchment. Drizzle the drumsticks with some olive oil and season with salt and pepper and whatever spices you fancy, if any. We suggest oregano or paprika, if you have some about. Put a dash of water in the tray to keep the drumsticks from burning.
3. Cook the drumsticks in the oven for approx. 30 minutes, until cooked through. Or chuck them on the grill if the weather permits.
4. Finely chop onion and garlic, rinse and roughly dice the courgette. Cook onion and garlic for a few minutes with a bit of olive oil in a pot. Add courgette, oregano and chopped tomatoes and stir well. Rinse the salt off the aubergine and add them in to the pot. Stir well, pop a lit on the pot and reduce the heat.
5. Let the ratatouille simmer for about 15 minutes, until the drumsticks are cooked through. The longer you allow the ratatouille to simmer, the softer the veggies will be. Finally, add salt and pepper to taste, just to make sure it's perfect. Serve the drumsticks with your delicious ratatouille. Enjoy!
Tip
If your kids aren't as big fans of ratatouille as the Little Chef from the film of the same name, then cook a bit of wholegrain rice, wholewheat pasta, or toast a piece of wholegrain bread, pop on some cream cheese and serve as a side.
Share your tips and comments