High five!
The recipe has been added to your shopping list.
Chicken drumsticks with potato wedges and strawberry salad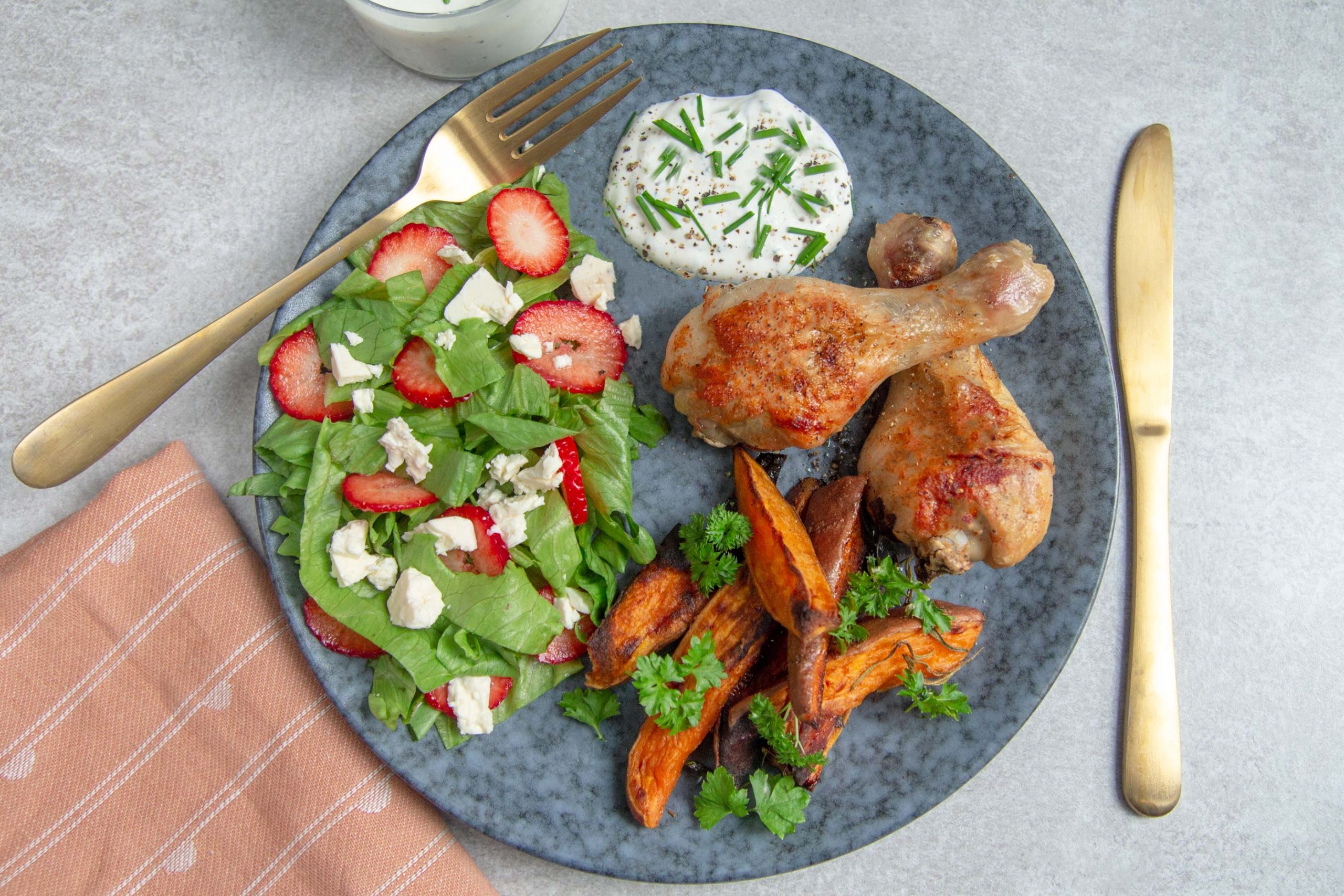 Ingredients
( 2 adults and 2 kids )
8

chicken drumsticks

750 grams

frozen potato wedges

250 grams

strawberries

lettuce of your choice

100 grams

feta cubes

200 grams

tzatziki

dressing of your choice

salt

pepper

baking parchment

olive oil
ADD TO SHOPPING LIST
ADD TO MEAL PLAN
*
= Good to know - click the ingredient

= See the recipe - click the ingredient
Chicken drumsticks are easy and yummy oven roasted or grilled, if weather permits. These ones are served with potato wedges, tzatziki and strawberry salad. Enjoy!
Directions
1. Preheat your oven to 220 degrees fan assisted – or fire up the grill, if the weather is agreeable.
2. Place the drumsticks in an oven dish and season with salt and pepper. You can also sprinkle on a bit of all purpose seasoning, paprika or the like, if you have some handy. Roast the drumsticks in the oven for about 25-30 minutes, until cooked all the way to the bone.
3. Place potato wedges on a sheet tray lined with baking parchment and coat with olive oil – or click the chefs' hat in the ingredient list to make your own. In that case, just remember to adjust your shopping list. Bake the wedges for about 30 minutes, until golden and crispy.
4. Meanwhile rinse the strawberries, remove the stems and slice. Mix strawberries with rinsed lettuce and crumbled feta.
5. Serve the drumsticks with crispy wedges, strawberry salad with dressing of your choice, and tzatziki. Enjoy!
Tip
Tasks for younger kids in the kitchen: Let your kids help slice the strawberries and mix the salad.
Share your tips and comments