High five!
The recipe has been added to your shopping list.
Chicken drumsticks with potato wedges and paprika dressing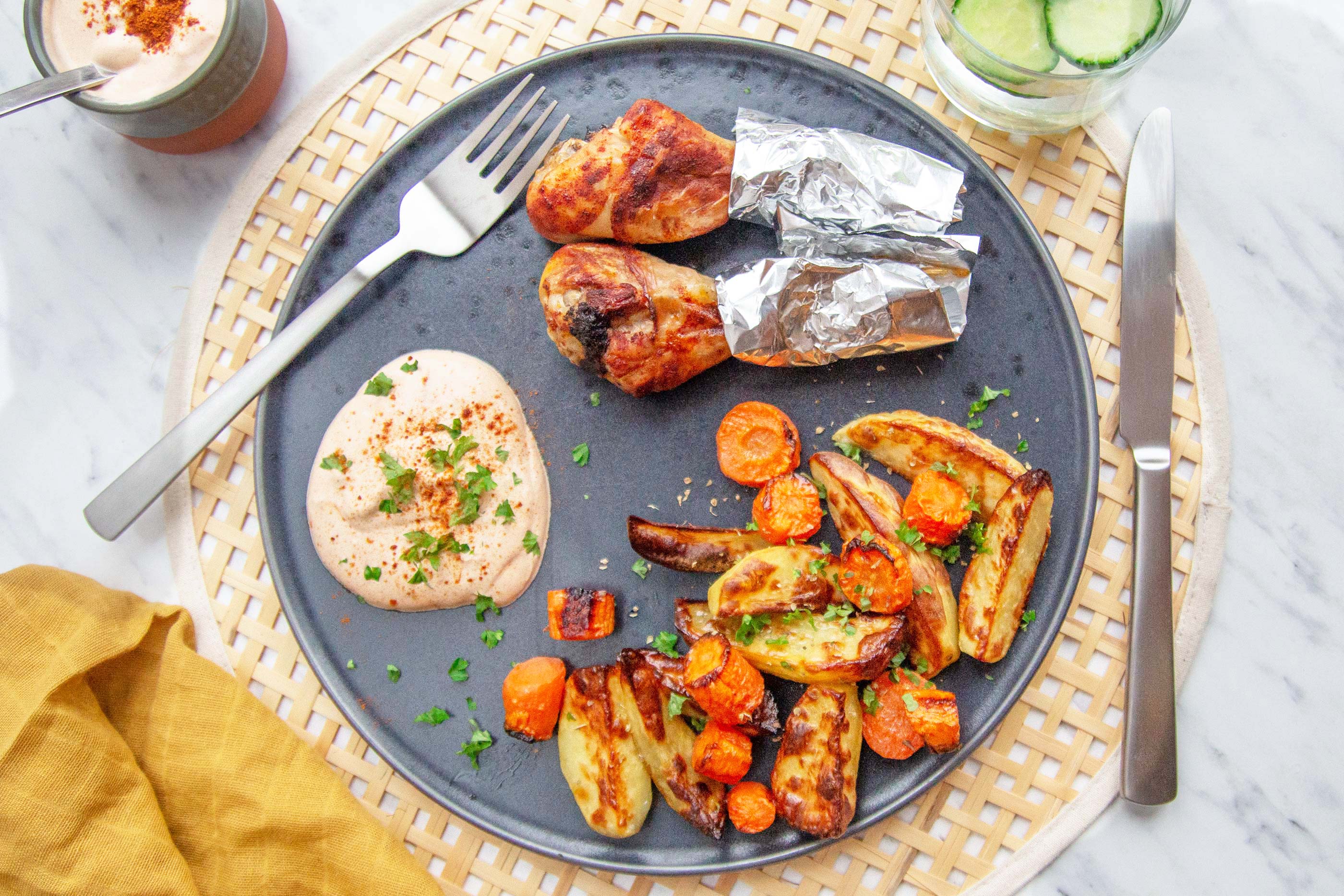 Ingredients
( 2 adults and 2 kids )
4

baking potato

600 grams

carrots

*

2 tbsp

olive oil

1 tbsp

dried oregano

8

chicken drumsticks

1 tbsp

paprika

baking parchment

pepper

Dressing

100 ml

creme fraiche 18%

0.5 tbsp

paprika

1 tbsp

ketchup

0.5 tsp

garlic powder

0.5 tsp

salt
ADD TO SHOPPING LIST
*
= Good to know - click the ingredient

= See the recipe - click the ingredient
Today is a total Greatest Hits kind of day - with chicken drumsticks, oven roasted potato wedges and carrots on the menu, all served with a yummy paprika dressing. We've made this recipe extra easy for the kids to make, so if your kids are old enough, why not give them a weekly cooking day where they make dinner? They might need some adult supervision to start with - but they learn a ton, and have a great time doing it. Enjoy!
Directions
1. Preheat the oven to 200 degrees fan assisted.
2. Clean or peel the potatoes. Halve the potatoes, and lay them flat side down on the cutting board. Now cut into wedges. Peel the carrots and cut each into 5-6 pieces.
3. Pop spuds and carrots on a baking tray lined with baking parchment, and mix with a bit of olive oil and oregano. Bake for about 30-40 minutes, or until beautifully golden and crispy.
4. Place drumsticks on a separate baking tray lined with baking parchment, and season with paprika, salt and pepper.
5. Pop the drumsticks in the oven with the spuds and carrots, and give them 30-35 minutes, until the chicken is cooked all the way through. The meat can be light or dark, but not pink. If the drumsticks are done before the potatoes, take them out and crank the oven up to 225, and give the spuds a bit longer.
6. Meanwhile, make the dressing. Mix creme fraiche, paprika, ketchup, garlic powder and salt.
7. Serve the drumsticks with your roast potatoes and carrots, and the yummy paprika dressing. Enjoy!
Tip
Tasks for kids in the kitchen: Let your kids help cut potato wedges and carrots. They can also help make the dressing and season the drumsticks.
Share your tips and comments