High five!
The recipe has been added to your shopping list.
Chicken drumsticks with crispy parmesan spuds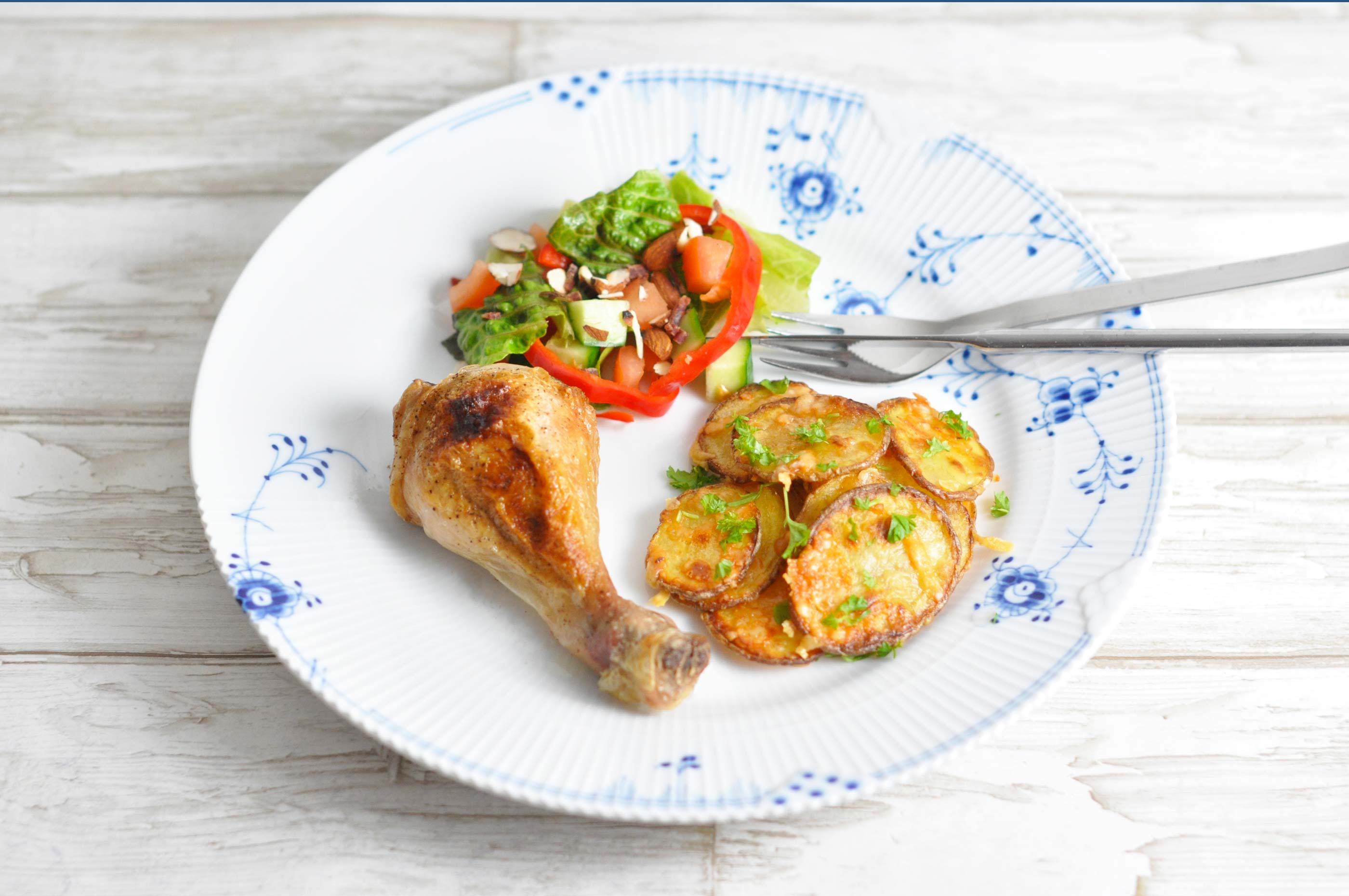 Ingredients
( 2 adults and 2 kids )
600 grams

potatoes

50 grams

grated parmesan

8

chicken drumsticks

lettuce of your choice

2

tomato

0.5

cucumber

1

red bell pepper

1 tbsp

acacia honey

*

0.5

lemon

baking parchment

olive oil

salt

pepper
ADD TO SHOPPING LIST
ADD TO MEAL PLAN
*
= Good to know - click the ingredient

= See the recipe - click the ingredient
Most kids love chicken drumsticks, and served with parmesan spuds you've got a definite hit for the dinner table. Look forward to it - this dish is easy to make, and the potatoes are highly addictive! Enjoy!
Directions
1. Preheat your oven to 225 degrees convection. Thoroughly scrub the potatoes, or peel them if they're difficult to get clean. Slice the potatoes into 1/2 cm thickness with your best and sharpest knife - or even better, with a mandolin slicer.
2. Place the potato slices in a bowl and thoroughly rinse them a few times, to get rid of the milky starch. This way the potatoes get crispier. Thoroughly dry the slices with a clean dishtowel and turn with a good dash of olive oil in a bowl.
3. Spread the spuds out into a single layer on two baking trays with baking parchment. Season with salt and pepper, sprinkle with parmesan flakes and set aside.
4. Place the drumsticks in a baking tray and season with salt and pepper. Place drumsticks and spuds in the oven and cook for approx. 40 minutes. Flip the potatoes halfway through. You want the potatoes golden and crispy, and the drumsticks cooked through and the juice running clear. The potatoes might be ready before the chicken - so keep an eye on the oven.
5. Now make a quick salad of rinsed lettuce, diced tomato and cucumber, washed bell pepper, de-seeded and sliced, and, if you have some, roasted, chopped almonds on top. Dress the salad with honey and lemon juice and serve with the juicy chicken drumsticks and crispy potatoes, sprinkled with a bit of herbs if you have any.
6. Enjoy!
Tip
You can absolutely buy grated cheese at the supermarket, but it's much cheaper to buy a solid piece of cheese and grate it at home - and much tastier.  If you like, you can opt for Grana Padano - it's not "real" parmesan, but it is the cheaper cousin and tastes almost like the real thing.
Share your tips and comments