High five!
The recipe has been added to your shopping list.
Chicken drumsticks with cornflakes and salad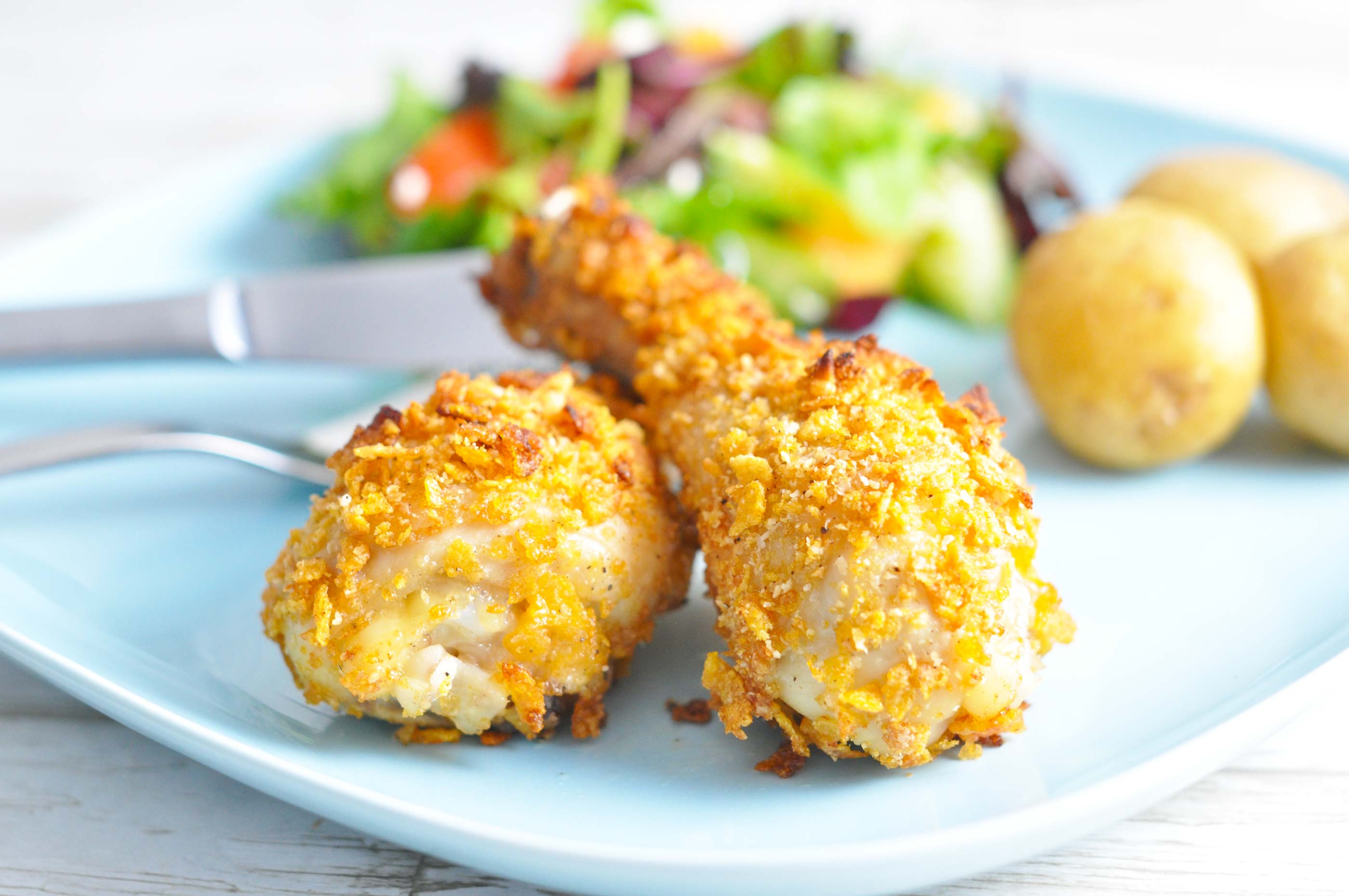 Ingredients
( 2 adults and 2 kids )
100 grams

cornflakes

50 grams

grated parmesan

8

chicken drumsticks

500 grams

potatoes

lettuce of your choice

1

apple

0.5

cucumber

2

tomato

dressing of your choice

salt

pepper

olive oil
ADD TO SHOPPING LIST
ADD TO MEAL PLAN
*
= Good to know - click the ingredient

= See the recipe - click the ingredient
Every kid likes chicken. And every kid likes cornflakes. So the combination of the two is a match made in heaven! Instead of breadcrumbs, we've coated the drumsticks in cornflakes and parmesan, and it's not bad at all! Try for yourself.
Directions
1. Preheat your oven to 220 degrees.
2. Crush the cornflakes in a bowl with your fists and mix with parmesan, salt and pepper.
3. Brush the drumsticks with a bit of oil and coat in the cornflake mix - press the drumsticks into the cornflakes proper, so it sticks. Pop them in a baking tray and if needed, sprinkle some more cornflakes on top. Ovenbake for approx. 30 minutes, or until the juices run clear, and the meat is white without a trace of pink. Remember to wash hands and utensils.
4. Boil the potatoes in a pot with generously salted water.
5. Wash the lettuce, apple, cucumber and tomatoes and cut them in bite-sized chunks. Mix together and sprinkle with dressing on top.
6. Enjoy!
Tip
This is a perfect dish to make with your kids. Let them crush the cornflakes and coat their own drumsticks in the very kid-friendly coating - just remember to thoroughly wash hands and utensils both before and after. You can absolutely buy a tub of grated parmesan, but it's much cheaper to buy a whole piece and grate it yourself. The slightly cheaper version called Grana Padano will do absolutely fine as well!
Share your tips and comments