High five!
The recipe has been added to your shopping list.
Chick pea soup with curry, pineapple and plaice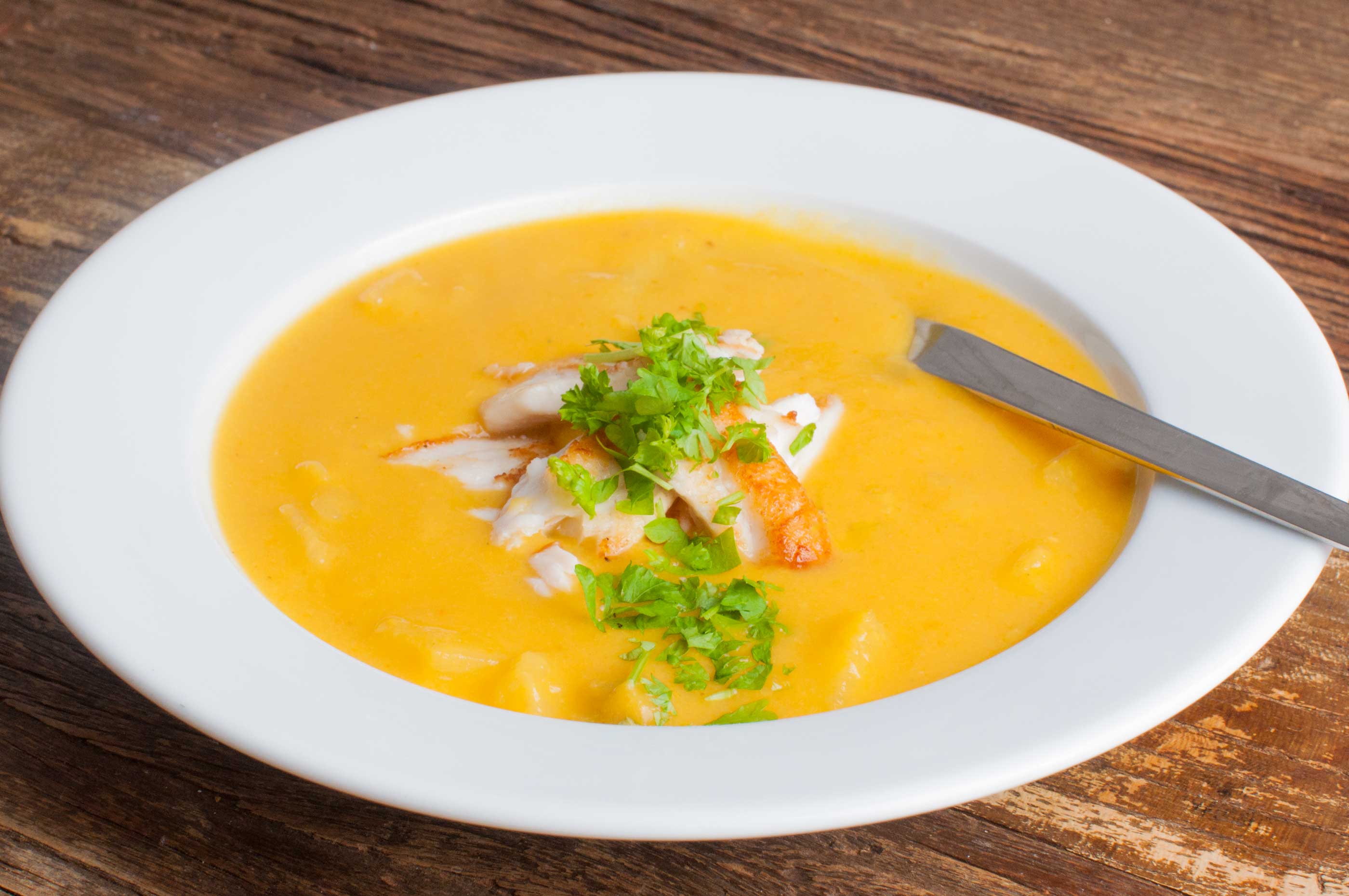 Ingredients
( 2 adults and 2 kids )
1

onion

200 grams

carrots

*

4 tsp

curry

500 ml

water

2 cube

chicken stock

1 can

chick peas

300 ml

milk

- or single cream

1 can

pineapple slices

200 grams

plaice fillets

1

wholewheat baguette

olive oil

salt

pepper
ADD TO SHOPPING LIST
ADD TO MEAL PLAN
*
= Good to know - click the ingredient

= See the recipe - click the ingredient
The combination of chick peas, curry and pineapple is absolutely divine! Here we've used those ingredients in a yummy soup that our kids adore. And they'll never notice the chick peas, as they get blended into the soup. The soup is topped with fried plaice, which is tasty and affordable. But you can easily use another fish, or forgo it altogether. Enjoy!
Directions
1. Finely chop the onion, peel the carrots and dice them. Sautée onion, carrot, and curry in a bit of oil in a pot on medium heat. Give them about five minutes, until nice and fragrant. We don't want to brown the onions, just give them until they're clear. If you have delicate palates in the family, start with half of the curry and add more to taste later.
2. Add water and crumbled stock cube and bring to the boil. Drain the chick peas and rinse with cold water in a sieve. Add them to the soup and let simmer for about 20 minutes. Add milk or cream and heat the soup back up.
3. Preheat the oven to 200 degrees convection. Drain the pineapple juice into a small bowl and dice the pineapple into small chunks. Season the fish with salt and pepper and fry it in a bit of olive oil on a pan. Pop it on a plate and cover with aluminium foil.
4. Blend the soup with a hand blender or give it a whiz in a regular blender. Add the pineapple chunks and add salt, pepper and pineapple juice to taste.
5. Warm the baguette and serve with the piping hot soup, served in bowls and topped with flakes of plaice, and optionally a sprinkle of herbs (skip herb sprinkles if the kids are younger than three).
6. Enjoy!
Tip
Remember to never fill your blender more than halfway when blending hot liquids. The liquids can "explode" when you start the blender. Start slow and carefully turn up the speed. Cover with a dishtowel rather than the lid when you blend. If you don't have a blender, a hand blender directly into the soup will do the job perfectly, just be sure to give it a proper workover!
Share your tips and comments