High five!
The recipe has been added to your shopping list.
Cauliflower soup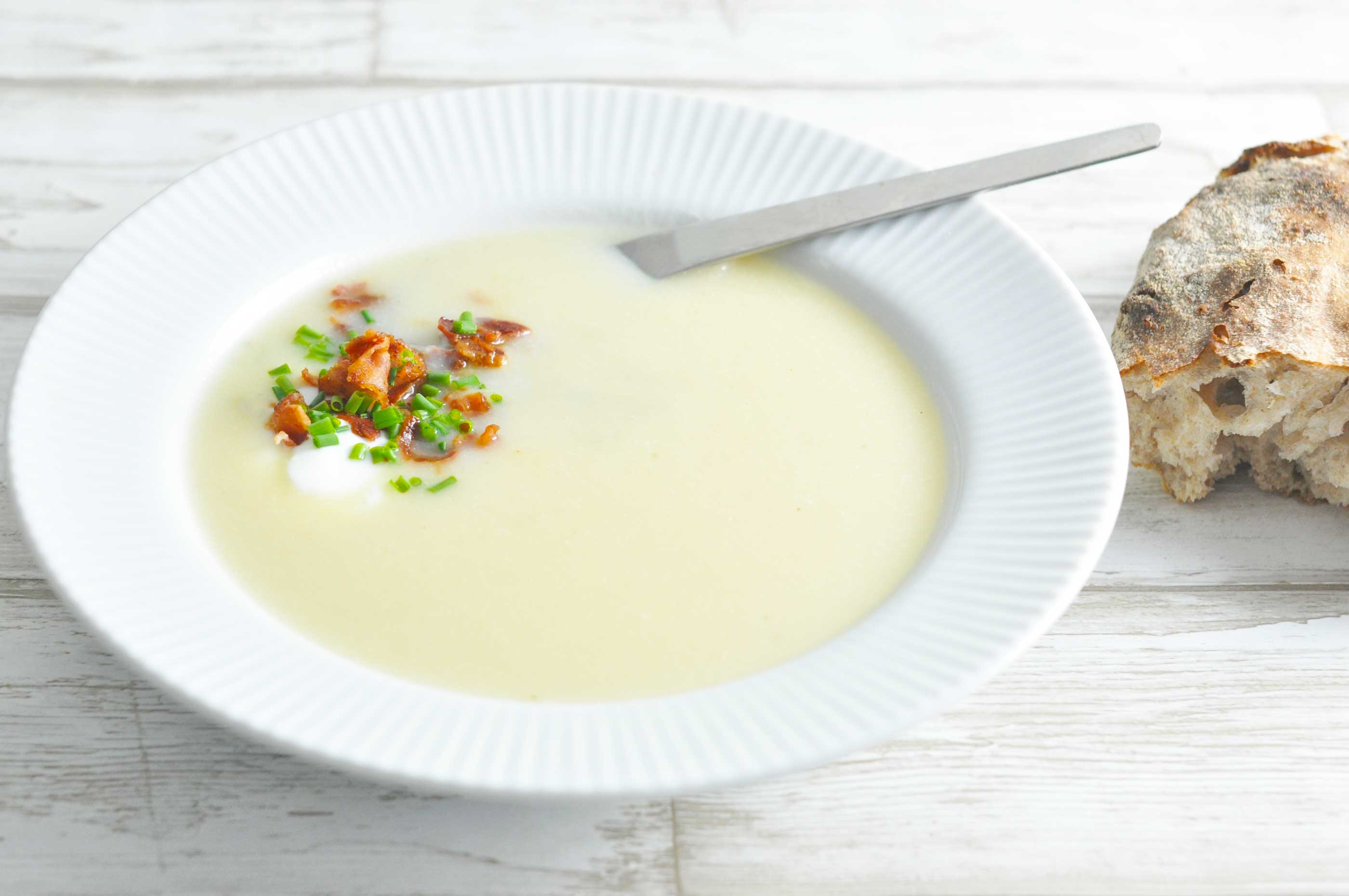 Ingredients
Freezer friendly
( 2 adults and 2 kids )
0.5

cauliflower

300 grams

potatoes

1

onion

1 clove

garlic

1.5 liter

water

2 cube

chicken stock

100 grams

diced bacon

- optional

200 ml

single cream

- or milk

0.5

lemon

100 ml

skyr

*

1

wholewheat baguette

salt

pepper

olive oil

- for frying
ADD TO SHOPPING LIST
ADD TO MEAL PLAN
*
= Good to know - click the ingredient

= See the recipe - click the ingredient
Cauliflower in soups tend to go over much better with the kids than the regular boiled version. And we promise that this soup doesn't smell like.. well, farts! If you want the dish to be 100% vegetarian, just leave out the bacon and replace chicken stock with vegetable stock. Enjoy!
Directions
1. Remove the stem and outer leaves from the cauliflower. Wash and split into little florets. Peel and roughly dice the potatoes. Chop onion and garlic and sautée in some oil, without letting it sear. Add cauliflower and let cook for another minute or so. Add water, potatoes and stock cubes and cook for 10-15 minutes until the veggies are completely tender when poked with a fork.
2. Place bacon or diced salami on a dry and cold pan. Switch on the hob and slowly bring up the heat. Sautée bacon or salami and let it drip off on a bit of kitchen roll.
3. Drain half of the vegetable water into a bowl and set aside. Pour the rest of the water into a blender along with the cooked veggies, and blend until your soup is smooth. Add a bit more vegetable water if the soup is too thick. Pour back into the pot and add cream. Season with lemon, salt and pepper.
Tip
We've used half a head of cauliflower for two adults and two kids. That's about 400-500 grams. But if you use a bit more or less, it doesn't make a huge difference! You can absolutely sub the single cream for milk, elmlea - or double cream, if you're feeling fancy! Bacon can also be replaced by parma ham, serrano or diced salami. Do remember to never fill the blender more than halfway when blending hot liquids, as they can "explode" when the blender is switched on. Start slow and carefully turn up the speed. Cover with a dishtowel instead of the lid. If you don't have a blender, just use a handblender directly in the pot. But give it a proper go! You want the soup as smooth and lump-free as possible.
Share your tips and comments