High five!
The recipe has been added to your shopping list.
Canelloni with beef and mozzarella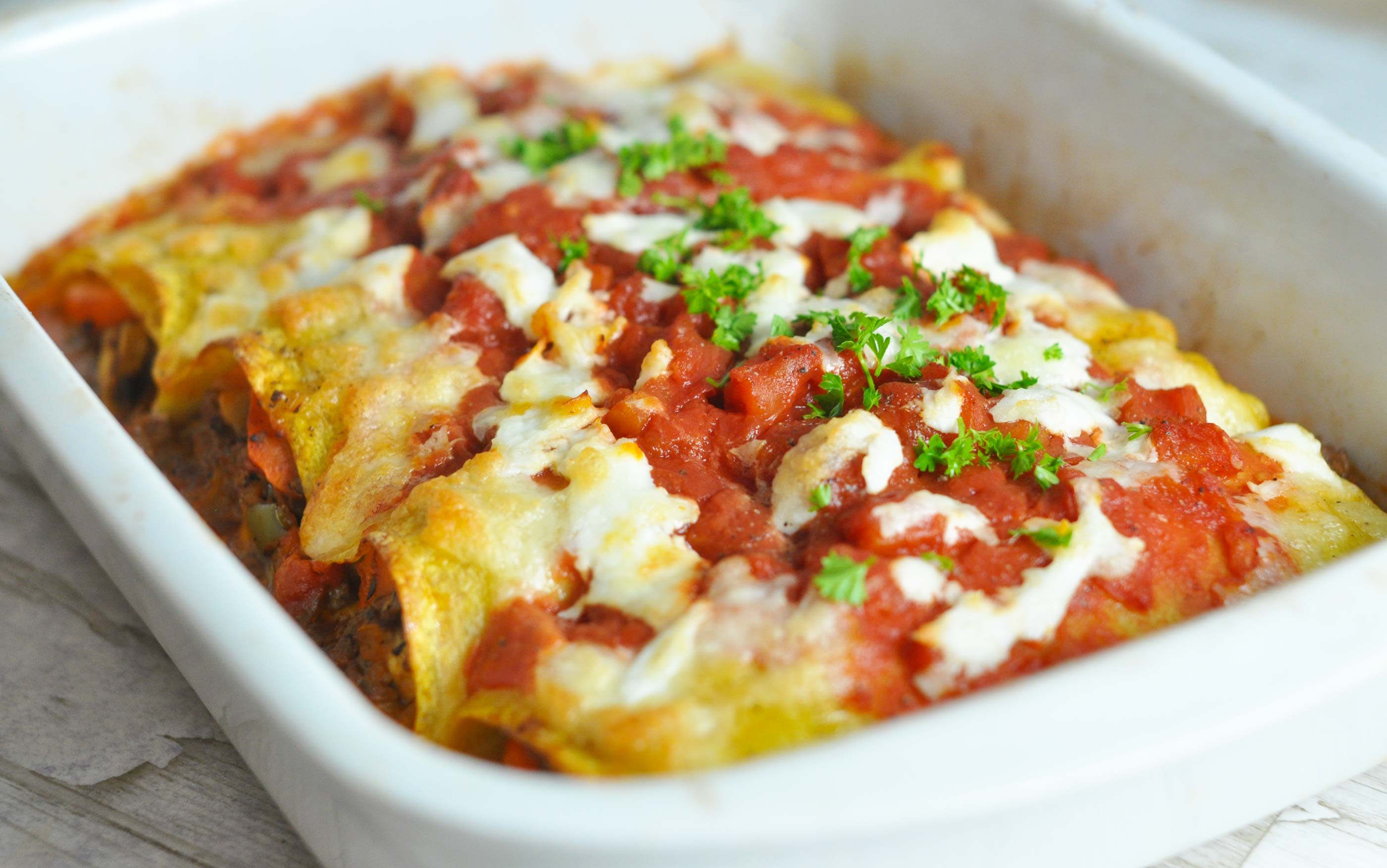 Ingredients
Freezer friendly
( 2 adults and 2 kids )
Canellonis

1

onion

1 clove

garlic

300 grams

carrots

*

1

green bell pepper

- or other bell pepper

500 grams

beef mince

2 tsp

dried thyme

2 can

chopped tomatoes

1 cube

beef stock

2 ball

mozzarella

250 grams

fresh lasagne sheets

salt

pepper

olive oil

Snack veggies

300 grams

carrots

*

0.5

cucumber
ADD TO SHOPPING LIST
ADD TO MEAL PLAN
*
= Good to know - click the ingredient

= See the recipe - click the ingredient
Canellonis are delicious pasta rolls, that can be filled with anything your heart desires. Here we've used a tasty bolognese and topped with chopped tomatoes and crumbled mozzarella. An Italian classic, Mambeno style, and a favourite with the kids. Enjoy!
Directions
1. Bring a big pot of water to the boil and preheat your oven to 200 degrees convection. Finely chop onion and garlic. Peel the carrots, wash the bell pepper, remove the seeds and dice both.
2. Cook onion and garlic with a bit of olive oil in a pot or deep pan until browned. Add beef mince and continue to cook until the meat is seared on all sides. Add carrots, bell peppers, thyme, half of the chopped tomatoes (you need the rest for topping) and beef stock. Let the bolognese simmer while you prep the pasta sheets.
3. Pop the pasta sheets into the pot of boiling water and let simmer for about 5 minutes, until soft. Carefully take them out with a ladle or spider, and place on a baking tray with baking parchment.
4. Cut the pasta sheets into smaller pieces of about 12-14 cm x 18-24 cm. It's not terribly important, as long as they're rectangular!
5. Crumble half of the mozzarella (you need the rest for topping) into the bolognese and stir well. Add salt and pepper to taste.
6. Place a trimmed pasta sheet on a cutting board, so the short side is facing you. Place a few good spoons of bolognese in a line across and roll up the pasta into a roll with bolognese in the middle. Place the roll with the seam at the bottom onto an oiled baking tray. Keep going until you're out of bolognese and pasta sheets.
7. Spread the rest of the chopped tomatoes over the rolls, season with salt and pepper and top with the rest of the mozzarella. Bake the pasta rolls for about 20 minutes, or until cheese is golden.
8. Wash the cucumber, peel the carrots and cut both into sticks for snack veggies. Serve with the warm cannelonis sprinkled with some chopped parsley or other herbs, if you have any to hand. Enjoy!
Share your tips and comments