High five!
The recipe has been added to your shopping list.
Calzone with Spanish meatballs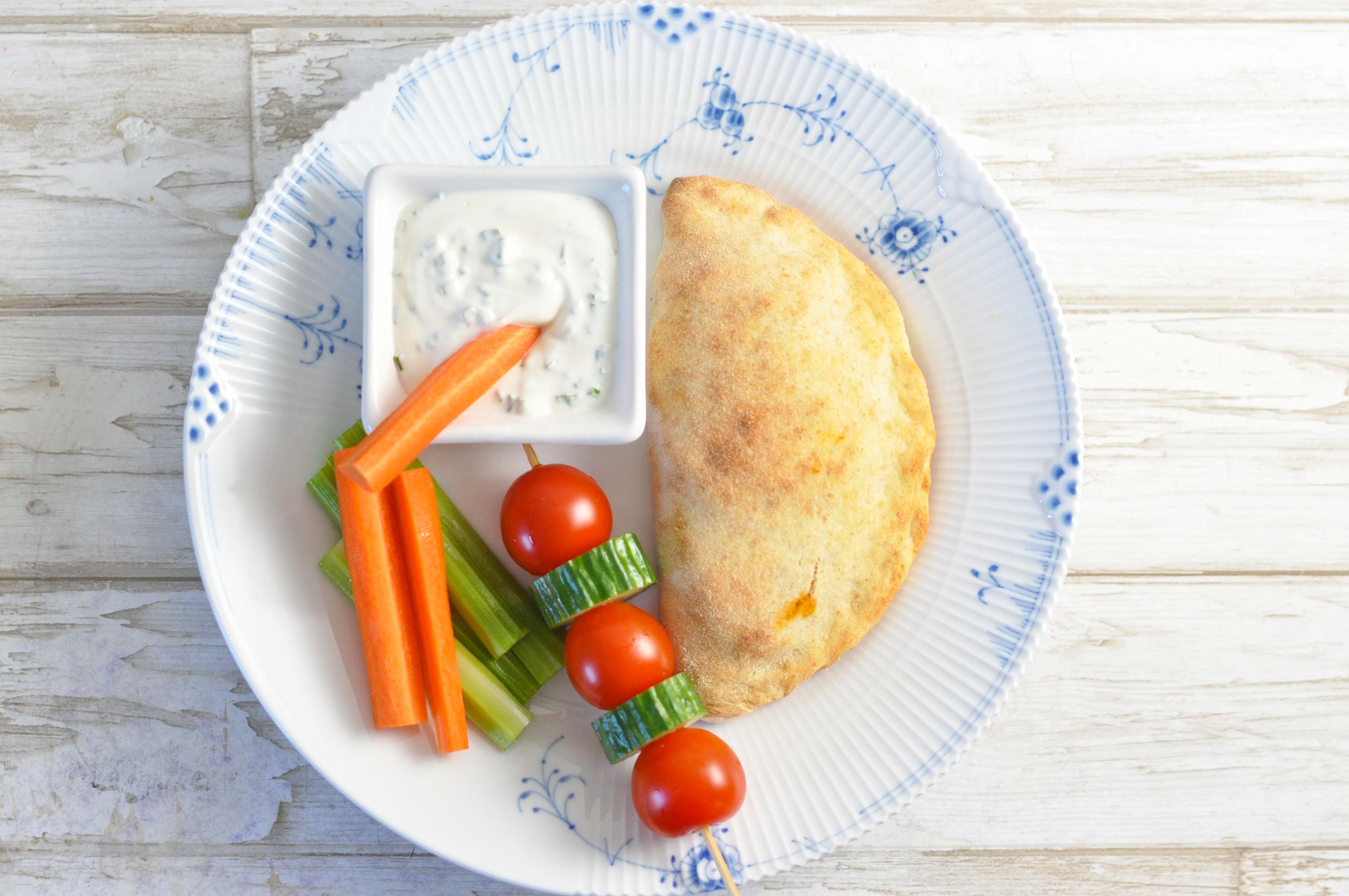 Ingredients
Freezer friendly
( 2 adults and 2 kids )
leftover Spanish meatballs

300 grams

wholewheat pasta

500 grams

pizza dough

300 grams

carrots

*

4 stick

celery

*

12

cherry tomatoes

0.5

cucumber

cream cheese dip

semolina flour

- for rolling
ADD TO SHOPPING LIST
ADD TO MEAL PLAN
*
= Good to know - click the ingredient

= See the recipe - click the ingredient
Do you love a calzone with fillings as much as we do? Then we have good news: They're super easy to make. Here we've used the leftovers from our Spanish meatballs with tomato sauce for the filling. And it's entirely up to you whether you want to buy the dough ready-made or make it yourself.
Directions
1. Preheat your oven to at least 250 degrees - ideally 275 - non-convection with a baking tray at the bottom.
2. Mush the meatballs with a fork and mix them with the tomato sauce and the cooked spaghetti. If you're using cold pasta, you can give it a quick blitz in the microwave, then it's easier to mix the lot together. Sprinkle semolina onto a clean tabletop and roll out the pizza dough for two pizza bases with a rolling pin, so they're 20-30 cm. in diameter.
3. Note: If you don't have a pizza peel to move the pizzas to the oven with, move the rolled out dough to a piece of baking parchment before you put on the spaghetti.
4. Spread the pasta mix onto one half of the bases. Leave the outermost centimeter bare, and moisten it with a fingertip dipped in water. Now fold the other half of the dough over the filling and press it closed, so you're left with a beautiful, UFO-looking calzone.
5. Move the folded pizzas to the oven with a pizza peel, or slide a cutting board under the baking parchment holding the calzones and move them to the baking tray. Bake the calzones for 10-15 minutes, or until beautifully golden on top. Serve with carrots and celery cut into sticks for snack veggies, and cherry tomatoes and cucumber on skewers, if you have some of those knocking about. And try our quick cream cheese dip, if you have time. You'll find the recipe by clicking the little chefs' hat in the ingredient list. Enjoy!
Tip
If you don't have semolina handy, just use regular plain flour. Remember to save a calzone or half of one for the kids packed lunches, if there's any left!
Share your tips and comments