High five!
The recipe has been added to your shopping list.
Calzone with spag bol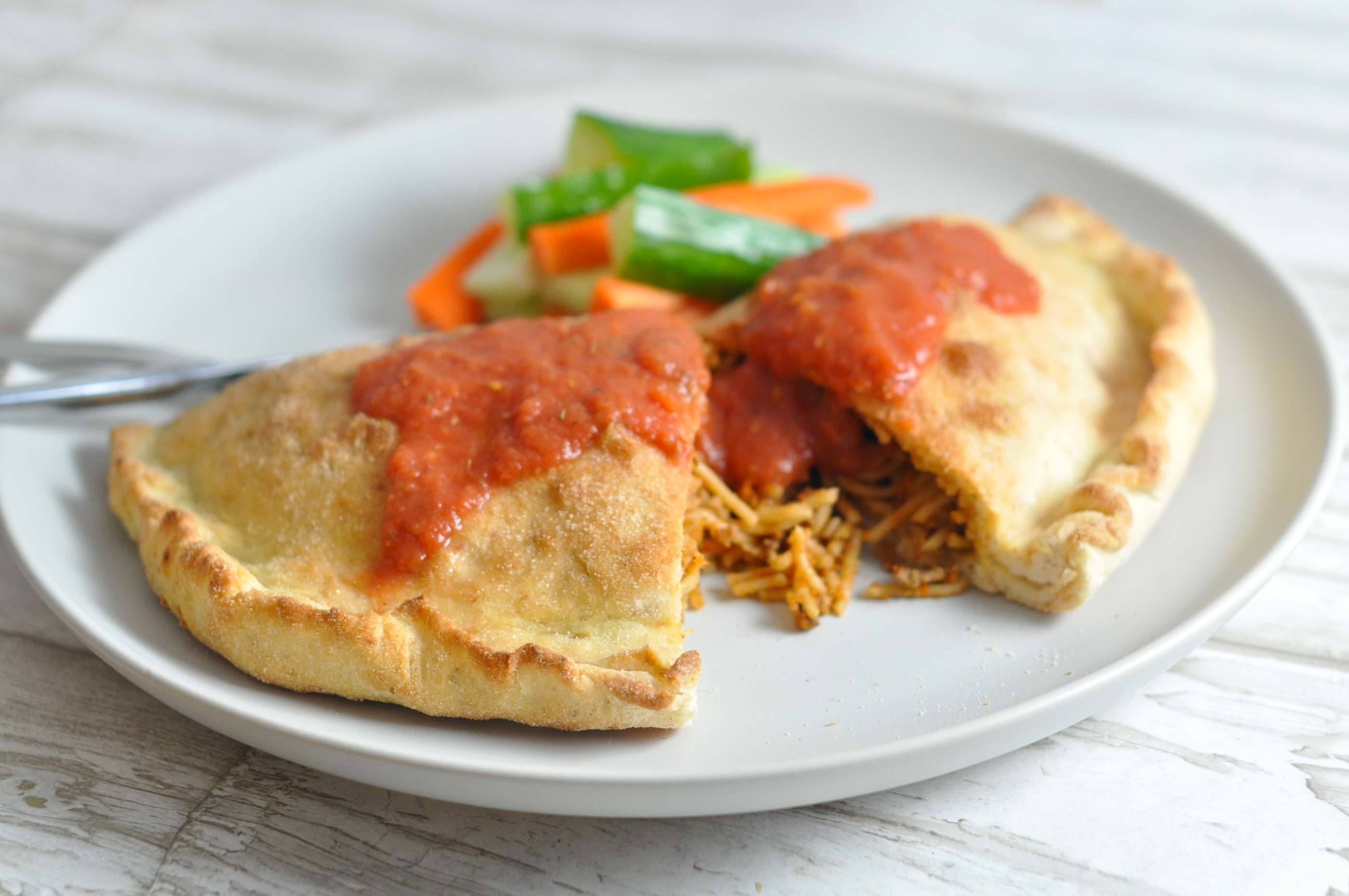 Ingredients
Freezer friendly
(2 calzones )
300 grams

cooked spaghetti

400 grams

bolognese

500 grams

pizza dough

0.5

cucumber

300 grams

carrots

*

baking parchment

pizza sauce

semolina flour

- or plain flour
ADD TO SHOPPING LIST
ADD TO MEAL PLAN
*
= Good to know - click the ingredient

= See the recipe - click the ingredient
This recipe is perfect for getting rid of the leftovers from spaghetti bolognese. Just ask the kids! A quick and easy folded pizza - or calzone - filled with the kids' favourite dish. Does it get better? Not if you ask our kids! Enjoy.
Directions
1. Preheat your oven to a minimum of 250 degrees - ideally 275 - non-convection with a baking tray on the bottom shelf. If you have a pizza stone, put that in the cold oven before you turn it on.
2. Mix the cooked spaghetti with the bolognese. It doesn't need to be heated. Sprinkle semolina flour onto a clean tabletop and roll the pizza dough out into two pizza bases until approx. 30 cm in diameter.
3. Note: If you don't have a pizza peel to move your pizzas to the oven, move your pizza bases to a sheet of baking parchment now, before you fill it with spaghetti.
4. Spread the spaghetti mixture onto one half of the bottoms. Leave the outer centimeter bare, and moisten it with a wet fingertip. Fold the other half of the dough over the spaghetti and seal thoroughly, so you have a lovely, UFO-looking calzone.
5. Move the folded pizzas to the oven with a pizza peel, or slide a cutting board underneath the baking parchment and move to the baking tray. Bake the calzones for 10-15 minutes, until golden on top. Serve with carrots and cucumber cut into sticks for snack veggies, and a bit of warm tomato sauce on top.
6. Enjoy - suddenly leftovers are fun to eat!
Tip
If you don't happen to have any semolina flour in, just use plain.
Share your tips and comments