High five!
The recipe has been added to your shopping list.
Calzone with ham and snack veggies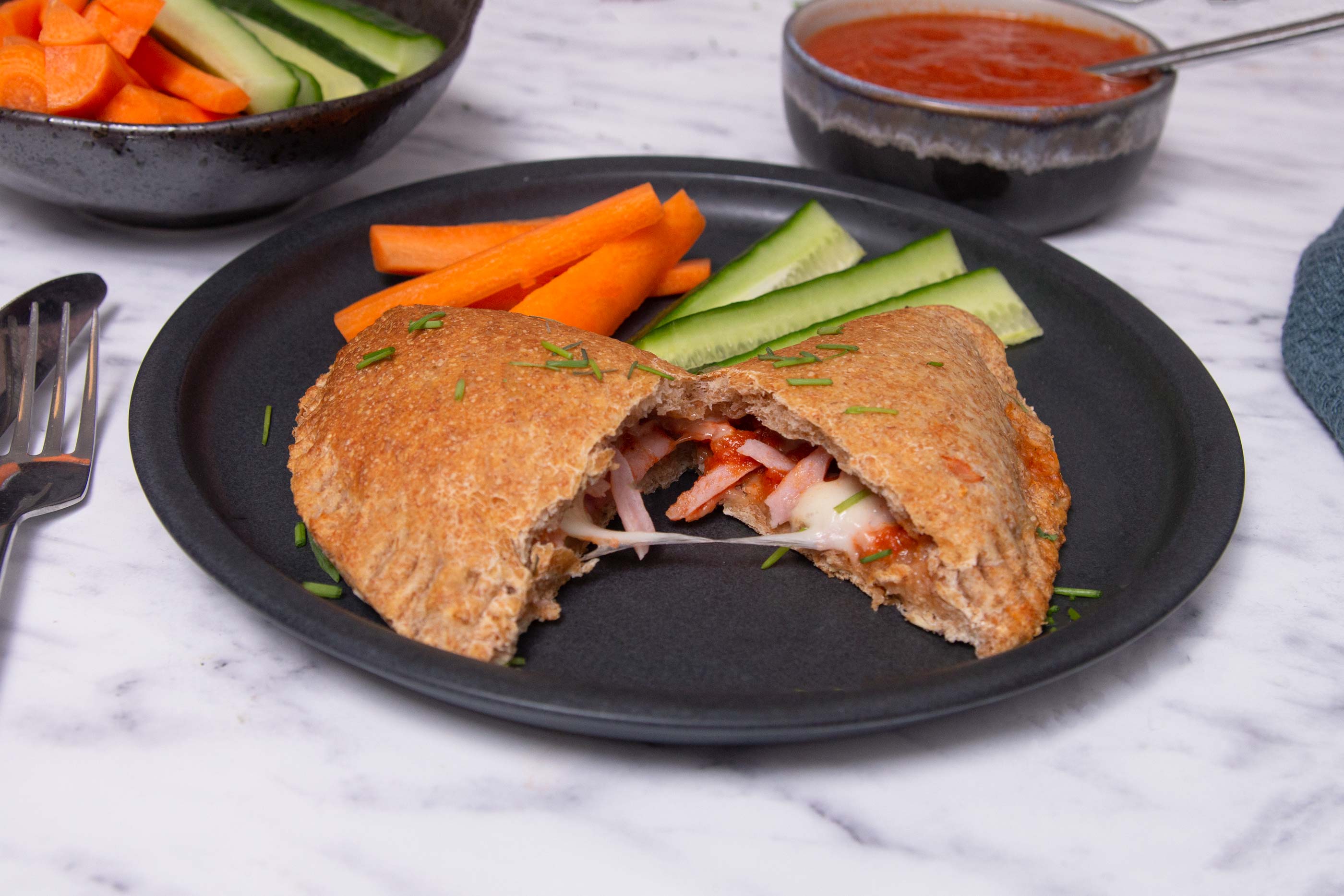 Ingredients
Freezer friendly
( 2 adults and 2 kids )
800 grams

pizza dough

200 ml

pizza sauce

350 grams

ham strips

2 ball

mozzarella

0.5

cucumber

300 grams

carrots

*

baking parchment

semolina flour

- or plain flour
ADD TO SHOPPING LIST
ADD TO MEAL PLAN
*
= Good to know - click the ingredient

= See the recipe - click the ingredient
Calzone pizzas are SUPER yummy! This here is a totally classic version, with tomato sauce, ham and mozzarella cheese. We're serving them with snack veggies. Enjoy!
Directions
1. Preheat your oven to at least 250 degrees - ideally 275 - non-convection with a baking sheet on the bottom shelf. If you have a pizza stone, place it on the baking sheet in a cold oven, before you preheat it.
2. Sprinkle semolina flour onto a clean tabletop and roll the dough into four pizza bases with a rolling pin, each about 15-20 cm in diameter.
3. Important: If you don't have a pizza peel to move the pizzas to the oven, move the bases to pieces of baking parchment with your hands before adding the filling.
4. Mix pizza sauce with the ham strips (save some sauce for serving) and spread the filling on one half of each base - keep the outermost centimetre bare. Top with flakes of mozzarella. Wet the edge with a finger dipped in a bit of water, and fold the naked half of the base over the filling. Seal the seam by squeezing with your fingers, so you have nice, UFO-shaped calzones.
5. Move the folded pizzas to the oven with a pizza peel, or slide a cutting board under the baking parchment holding the calzones, and move to the baking sheet (or pizza stone). Bake the calzones for about 10-15 minutes, or until beautifully golden on top. Serve with carrots and cucumber cut into sticks for snack veggies, and warm up some pizza sauce to use as topping/dip.
6. Enjoy!
Tip
Tasks for kids in the kitchen: Let your kids help mix the ham with pizza sauce. They can also add the filling to the pizza bases, and help cut snack veggies.
Share your tips and comments