High five!
The recipe has been added to your shopping list.
Calzone flower - the tastiest bread with pesto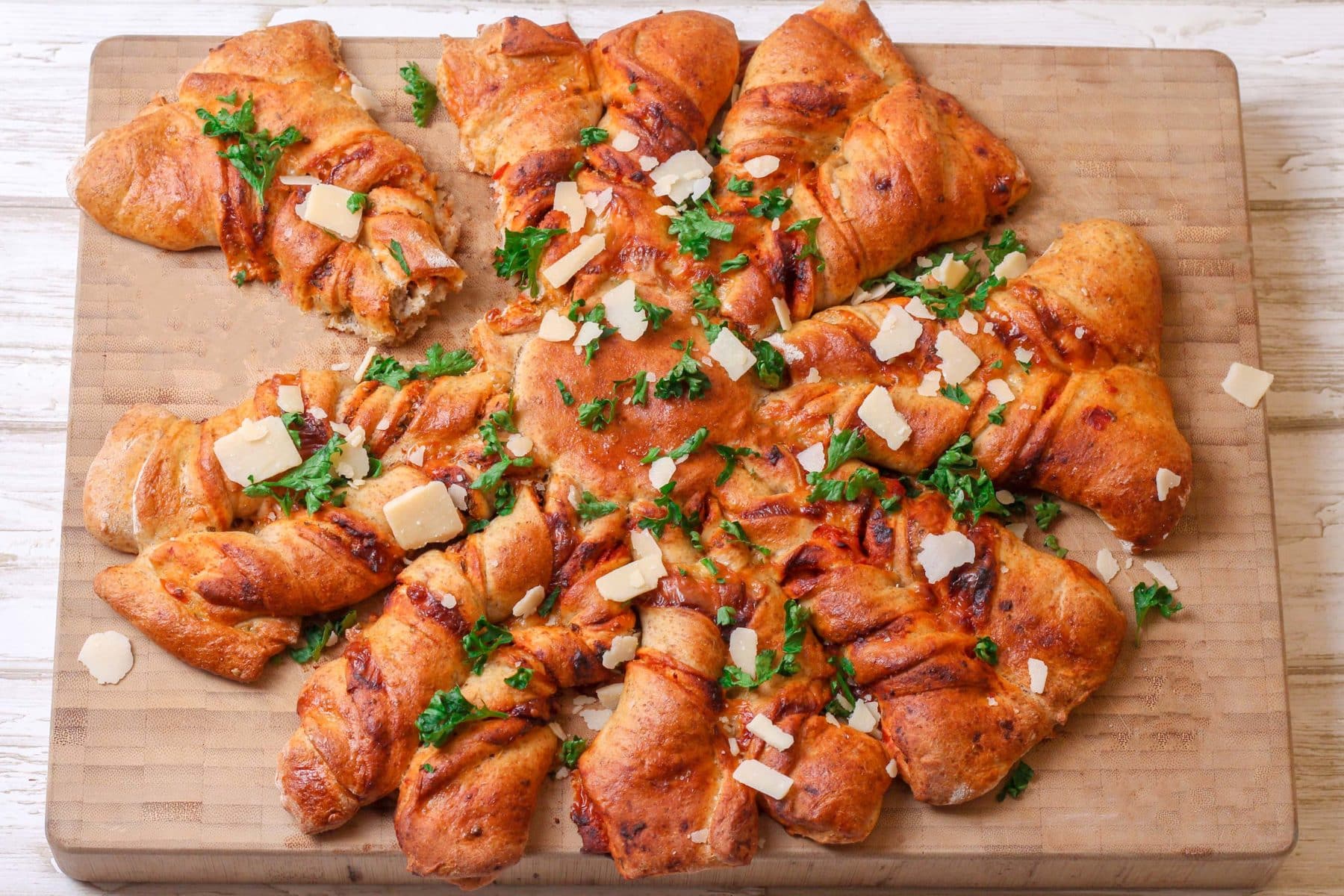 Ingredients
( approx. 30 )
400 ml

cold water

100 ml

boiling water

25 grams

yeast

2 tbsp

olive oil

200 grams

rye flour

500 grams

plain flour

2 tsp

salt

130 grams

red pesto

75 grams

grated cheese

1 tbsp

dried oregano

1

egg

baking parchment
ADD TO SHOPPING LIST
*
= Good to know - click the ingredient

= See the recipe - click the ingredient
A calzone flower - that sounds quite beautiful, aye? And it's delicious! Imagine an easy recipe for calzone pizzas, which you twist to look like a flower. It's not hard at all, and is sure to impress the kids. Remember to watch our little video showing you how to fold it. Enjoy!
Directions
1. Mix cold and boiling water in a bowl with yeast and oil. Add flour (both rye and plain) and salt and knead the dough until supple. Add a bit more flour if the dough is too tacky.
2. Halve the dough and roll out each half into a circle of about 40 cm in diameter. Place one of them on a baking tray with baking parchment. Smear on a good layer of pesto and sprinkle with grated cheese and oregano.
3. Place the other half over it, like a lid. Grab a cup and press down in the middle, so you see the round mark in the dough. Now cut 16 strips from the edge of the cup to the edge of the dough. Turn each strip of dough a couple of times, to make a twist.
4. Let them prove for 30 minutes under a cloth while you preheat the oven to 200 degrees convection.
5. Carefully brush the dough with beaten egg, and bake the calzone floower for 15-20 minutes, until lightly golden on top.
6. And munch away - enjoy!
Tip
Tasks for kids in the kitchen: Let your kids help later on the pesto and sprinkle with cheese and oregano. They can also happily help with the dough.If you want things to come together a bit quicker, you can pick up two pizza bases from the supermarket.
Share your tips and comments