High five!
The recipe has been added to your shopping list.
Burning love with a twist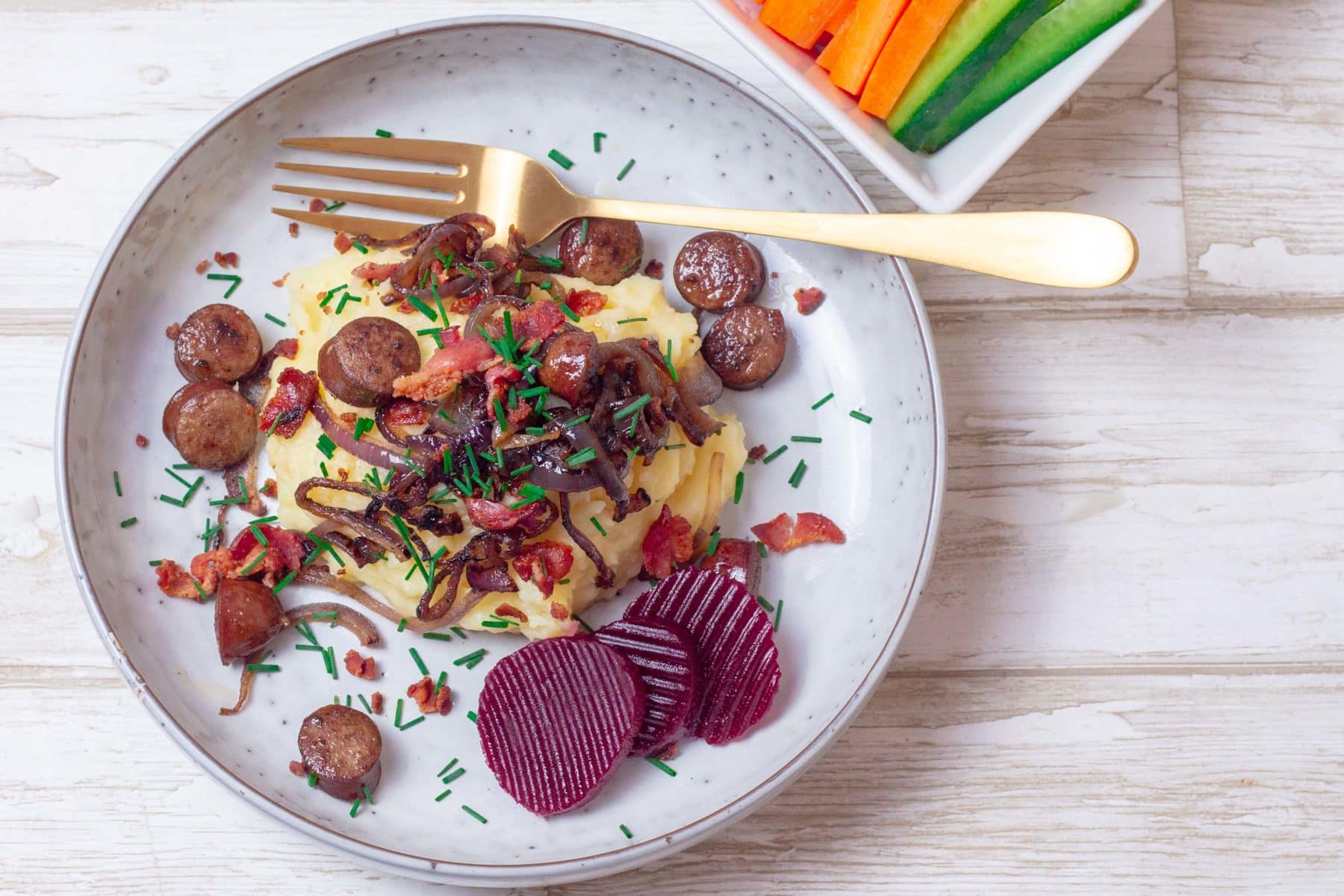 Ingredients
( 2 adults and 2 kids )
1200 grams

potatoes

400 grams

sausage

200 grams

diced bacon

2

onion

50 grams

butter

100 ml

cooking water

100 ml

milk

1 tbsp

acacia honey

*

300 grams

carrots

*

0.5

cucumber

0.5 bunch

chives

salt

pepper

pickled beets
ADD TO SHOPPING LIST
ADD TO MEAL PLAN
*
= Good to know - click the ingredient

= See the recipe - click the ingredient
Okay, we admit it! This might be a bit of a sinful round, because we're topping the mash with fried sausage and bacon. To make up for it, we're making a creamy and super tasty celeriac and potato mash. But darn it, it's yummy. And the recipe is designed for two days. Remember to save the leftover sausage, bacon and mash for burning love gratin tomorrow. Enjoy!
Directions
1. Peel the potatoes and celeriac and roughly dice both. Cook them in a pot of water - unsalted - until completely tender.
2. Cut the sausages into smaller pieces. Place the bacon on a cold pan and switch on the hob. Once the fat has rendered and begun to sizzle, add the sausage. Let cook while stirring, until lightly seared. Remove both from the pan, set aside and save half for tomorrow. Don't clean the pan, but drain off a bit of the fat.
3. Slice the onion and cook in the bacon fat until clear. Mix with bacon and the sausage and save half of it for tomorrow.
4. Pour the water from the potatoes and celeriac in a bowl - you'll need it in a minute! Mash well with a whisk, add butter and stir until melted.
5. Add the cooking water and milk, until you have a consistency like thick oatmeal, and season to taste with honey, salt and pepper. Be careful not to over-whisk it - like if you're using an electric whisk. It can make the consistency a bit strange and rubbery!
6. Peel the carrots, rinse the cucumber and cut both into sticks.
7. Serve the mash in deep plates and top with bacon, sausage, some chopped chives and plenty of pickled beets. Serve with snack veggies in sticks. Enjoy!
Tip
Tasks for kids in the kitchen: Let your kids cut the snack veggies. They can also cut the chives into small bits.
Share your tips and comments