High five!
The recipe has been added to your shopping list.
Burgers with fried eggs and pickled carrot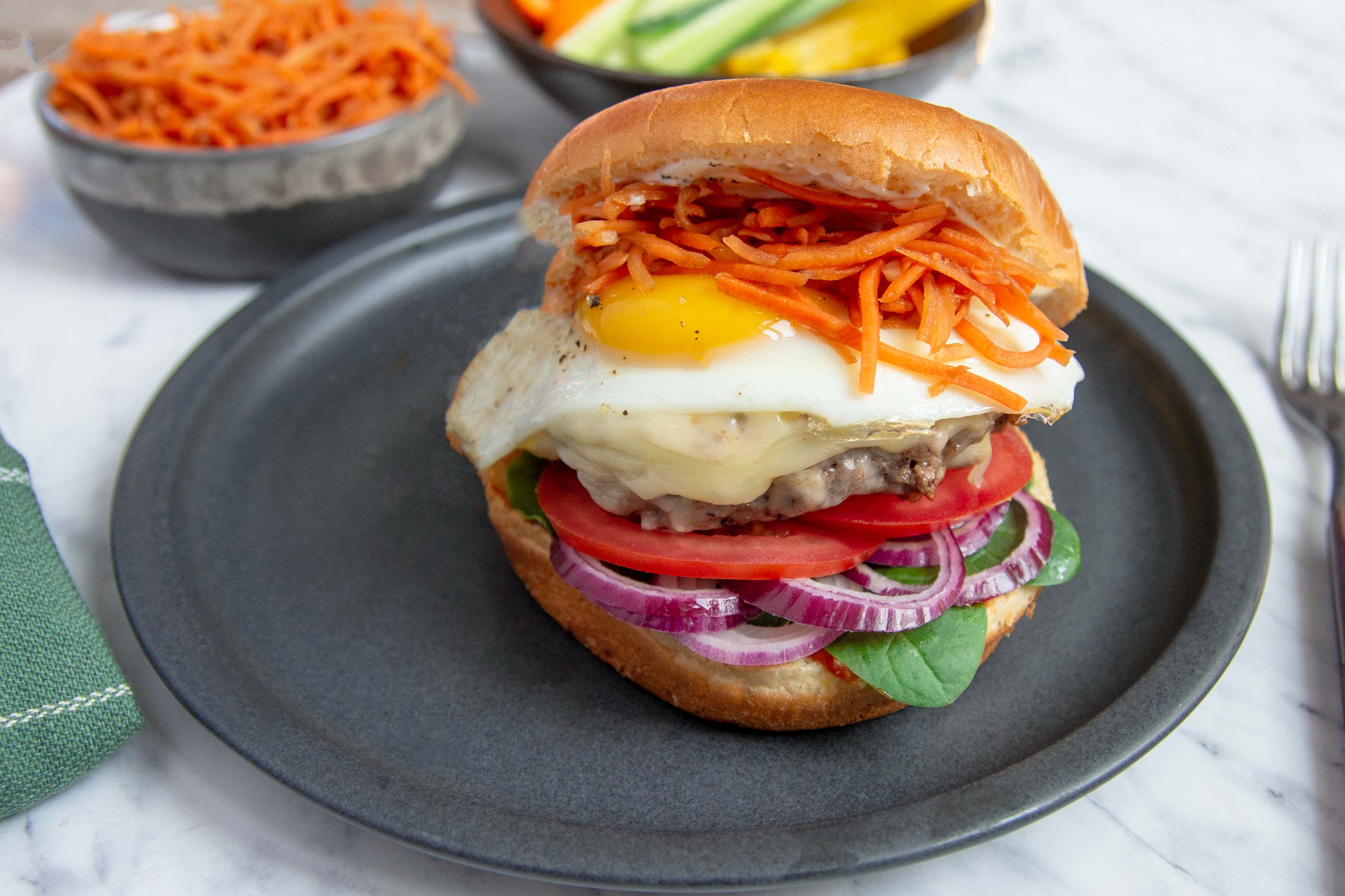 Ingredients
( 2 adults and 2 kids )
400 grams

carrots

*

3 tbsp

water

50 ml

vinegar

40 grams

sugar

0.5 tsp

salt

lettuce of your choice

4

tomato

1

onion

0.5

cucumber

1

red bell pepper

400 grams

beef mince

cheese slices

4

egg

4

burger bun

burger dressing

ketchup

pepper

olive oil
ADD TO SHOPPING LIST
ADD TO MEAL PLAN
*
= Good to know - click the ingredient

= See the recipe - click the ingredient
Today we've put together a slightly unusual burger, with fried eggs and pickled carrot keeping good company with the traditional components of patty, cheese, tomatoes, ketchup and burger dressing. And we promise: It's super delicious. Enjoy!
Directions
1. Peel and grate carrots on the coarse side of a grater. Boil water, vinegar, sugar and salt in a pot. Add the grated carrot and let boil for about 2 minutes, as you stir. Leave to soak in the brine until serving.
2. Rinse veggies and cut and slice them the way you think is proper. We suggest using half of the cucumber and bell pepper for snack veggies. If you have red onion, use them instead of white onion – they look great and are full of flavour.
3. Shape the mince into patties, season with salt and pepper, and cook in some olive oil on a pan until they're pink or cooked through. Once you've seared the patties on both sides and they're almost cooked through, pop a slice or two of cheese onto the patties of those who like it. This gives the cheese a minute to melt before serving.
4. Crack the eggs onto a hot pan with some olive oil. Season with salt and pepper and fry the eggs how you like them.
5. Warm burger buns in the oven, or chuck them in a toaster.
6. Place the lot on the table in bowls and on trays, and let the whole family assemble their own favourite burger.
7. Yum – and enjoy!
Tip
Tasks for younger kids in the kitchen: Let your kids help rinse tomatoes, cucumber and lettuce and cut into smaller pieces. They can also peel and grate the carrots – if you keep an eye on their fingers!
Share your tips and comments