High five!
The recipe has been added to your shopping list.
Bulgur meatballs with baby potatoes, tzatziki and salad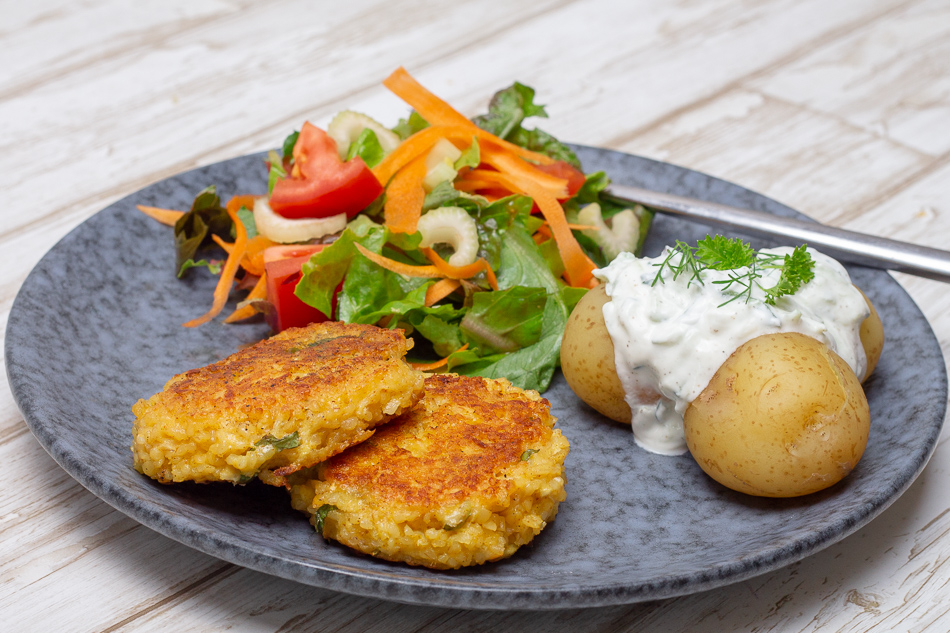 Ingredients
( 2 adults and 2 kids )
600 grams

potatoes

300 grams

cooked bulgur

2

egg

1

onion

0.5 bunch

fresh basil

1 tsp

red curry paste

1 tbsp

plain flour

1 tsp

salt

0.5

cucumber

200 ml

creme fraiche or skyr

*

1 clove

garlic

lettuce of your choice

3 sticks

celery

*

2

tomato

dressing of your choice

butter

olive oil

pepper
ADD TO SHOPPING LIST
ADD TO MEAL PLAN
*
= Good to know - click the ingredient

= See the recipe - click the ingredient
If you have some leftover bulgur, rice or cous cous from the day before, it's super easy to make our delicious vegetarian "meat"balls. We've served them with baby potatoes, tzatziki and a quick salad. Enjoy!
Directions
1. Rinse and scrub the potatoes and cook until tender in a pot of salted water. This takes about 12-15 minutes. Be careful not to overcook them.
2. Place the cold bulgur in a bowl. Add egg, finely chopped onion and rinsed and chopped basil. Add red curry paste, flour, salt and pepper and mix the lot into a smooth farce.
3. Shape nice little balls with your palm and a spoon and cook in a mix of butter and olive oil until golden.
4. Grate the cucumber on the rough side of a grater. Place the grated cucumber on a completely clean dishtowel and roll it up. Now wring the dishtowel like you'd wring out a rag, so most of the liquid from the cucumber is wrung out. Don't use your best dishtowel for this!
5. Mix the cucumber with skyr or creme fraiche and pressed or grated garlic and season to taste with salt and pepper.
6. Whip up a quick salad from rinsed lettuce leaves, rinsed and cleaned celery slices and rinsed diced tomato. If you have carrots in the fridge you can add some grated.
7. Serve the crispy "meat"balls with the quick salad and dressing of your choice.
8. Enjoy!
Share your tips and comments