High five!
The recipe has been added to your shopping list.
Bolognese with potato lid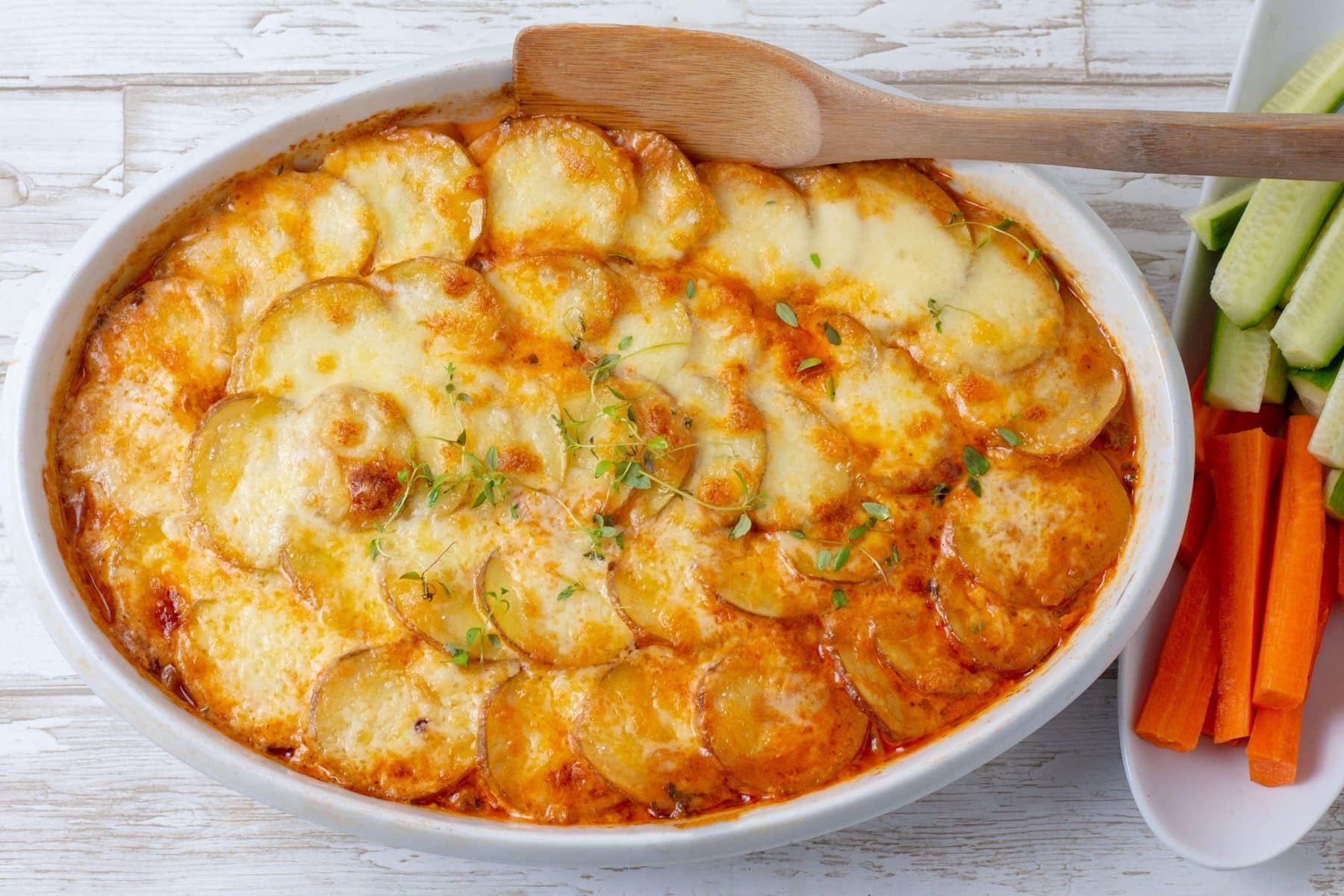 Ingredients
Freezer friendly
( 2 adults and 2 kids )
1

onion

1 clove

garlic

400 grams

beef mince

1

courgette

1

red bell pepper

1 can

chopped tomatoes

70 grams

tomato purée

150 grams

single cream 8%

1 tbsp

dried oregano

400 grams

potatoes

100 grams

grated cheese

300 grams

carrots

*

0.5

cucumber

salt

pepper

olive oil
ADD TO SHOPPING LIST
ADD TO MEAL PLAN
*
= Good to know - click the ingredient

= See the recipe - click the ingredient
This bolognese is a bit reminiscent of lasagne, where the lasagne sheets have been swapped for potatoes. And you can start getting excited, as it's delicious! If you want leftovers for easy dinner the following day, make a double portion - this is perfect for that. Enjoy!
Directions
1. Switch on your oven to 200 degrees convection.
2. Chop onion and garlic and sautée in a bit of oil in a deep pan or pot. Add the beef mince and let it sear well.
3. Rinse the courgette. Wash the bell pepper and remove the seeds. Give both a whirl in a food processor or mini chopper until finely blended. Add the veggies to the mince and stir well.
4. Add chopped tomatoes, tomato purée, single cream and oregano and stir well. Let the bolognese simmer while you prep the potatoes.
5. Scrub or peel the potatoes. Very thinly slice them, or throw them through a mandolin - but remember to watch your fingers!
6. Season the bolognese with salt and pepper and place in a casserole tin. Place the potato slice on top as a lid, and grated cheese on top. Bake the lot for about 30 minutes.
7. Serve the yummy potato bolognese with carrots and cucumber cut into sticks for snack veggies.
8. Enjoy!
Tip
Tasks for kids in the kitchen: Let your kids dice the bell pepper and cut the cucumber. You can also let them place the potato lid.
Share your tips and comments