High five!
The recipe has been added to your shopping list.
Bolognese with hidden cauliflower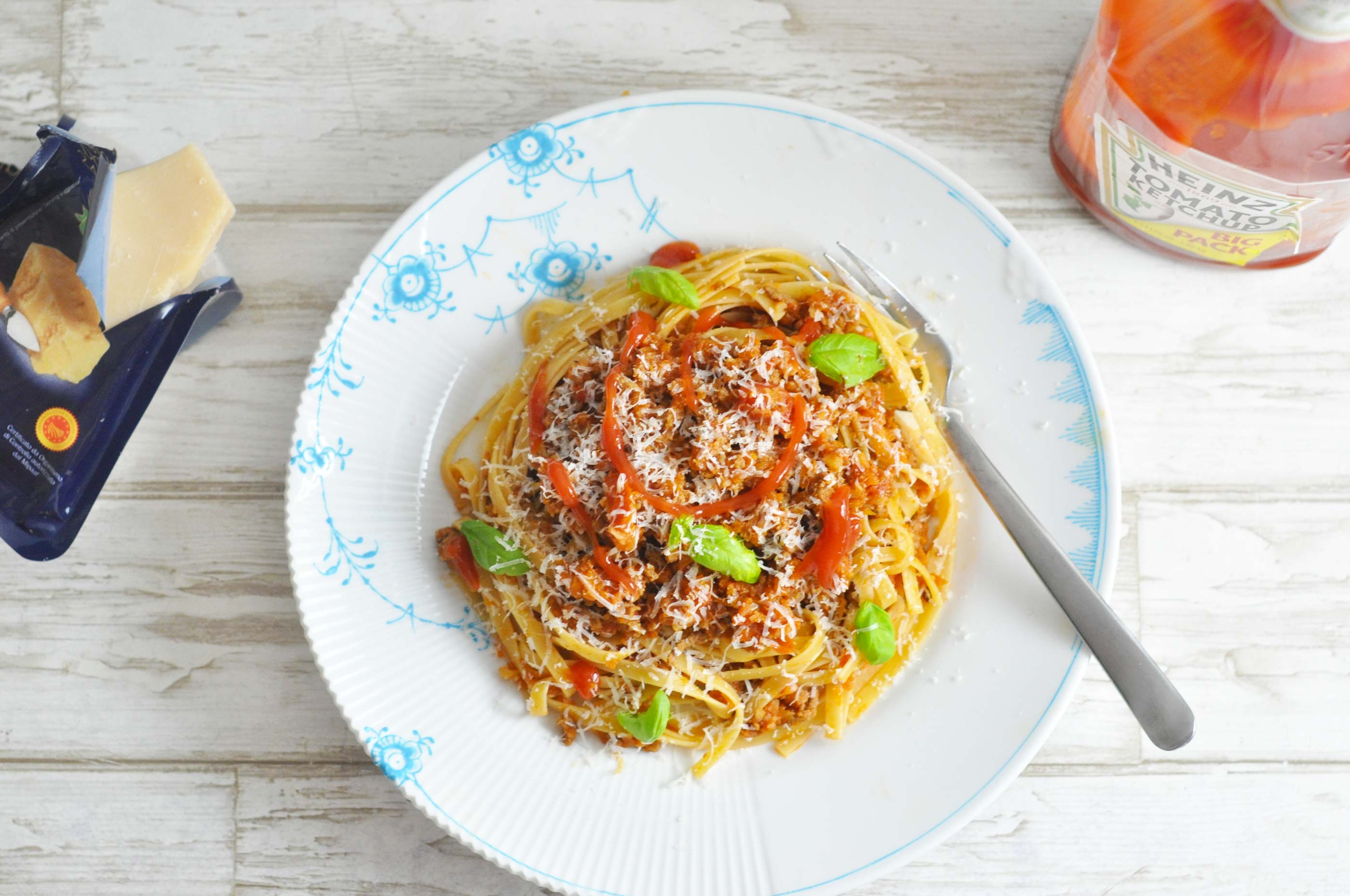 Ingredients
( 2 adults and 2 kids )
2

onion

1 clove

garlic

300 grams

carrots

*

0.5

cauliflower

500 grams

beef mince

2 can

chopped tomatoes

70 grams

tomato purée

1 cube

beef stock

1 tbsp

dried oregano

0.5 tbsp

dried thyme

300 ml

water

wholegrain pasta

50 grams

grated cheese

- f.x. parmesan

salt

pepper

olive oil

ketchup
ADD TO SHOPPING LIST
ADD TO MEAL PLAN
*
= Good to know - click the ingredient

= See the recipe - click the ingredient
This is one of our kids' favourite pasta dishes - even though they're not big fans of cauliflower! But hidden in a gorgeous bolognese they go down a treat. So if you struggle to get your kids to eat their veg, this recipe is perfect. And best of all: It's dinner for two days!
Directions
1. Finely chop onion and garlic. Peel the carrots and grate on the rough side of a grater. Thoroughly rinse the cauliflower, remove the leaves and stem, so you're just left with the florets, and give them a proper whizz in a food processor or mini chopper, until it's finely milled - almost like snowflakes. If you don't have a suitable appliance, you can just as well grate it on your trusty old grater or chop it with a big knife. Watch your fingers!
2. Sautée onion and garlic in olive oil for a few minutes. Add the grated carrots and cauliflower and sautée for another couple of minutes. Add the meat and let it brown. Add chopped tomatoes, tomato purée, stock, dried oregano, dried thyme and water and let simmer for 15 minutes or longer, if you have time. Add salt and pepper to taste.
3. Boil the pasta in plenty of salted water and serve with bolognese and grated cheese on top - and of course kecthup! And if you have a bit of basil or other herbs knocking about, you can use a bit for garnish.
4. A cauliflower-classic is born (believe it or not) - enjoy!
Tip
Remember to save the leftover bolognese for dinner tomorrow - and maybe a bit of pasta and bolognese for the kids' packed lunches.
Share your tips and comments