High five!
The recipe has been added to your shopping list.
Bell pepper soup with pull-apart rolls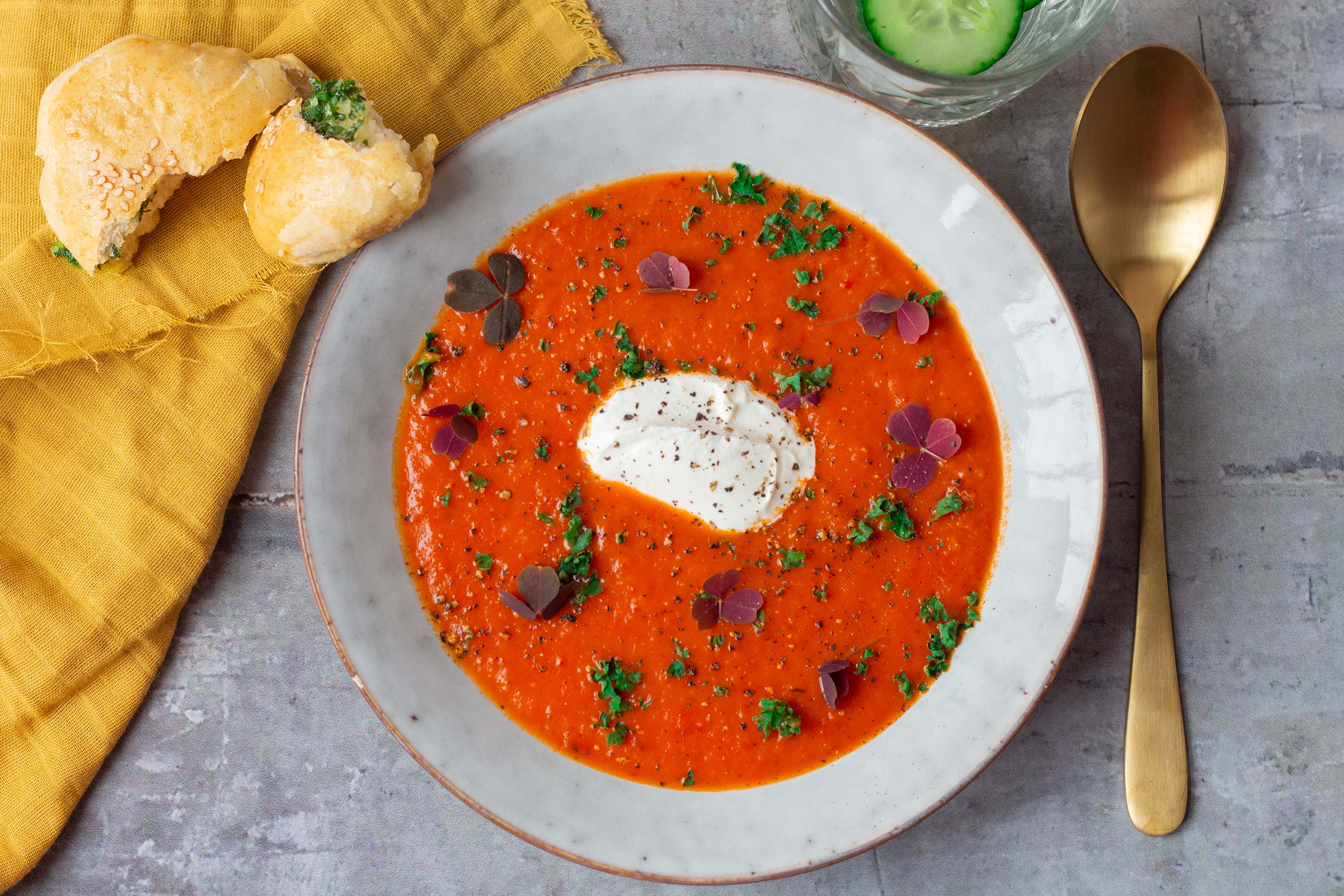 Ingredients
Freezer friendly
( 2 adults and 2 kids )
2

onion

1 clove

garlic

3

mixed bell peppers

300 grams

potatoes

0.5 tbsp

dried oregano

1 can

chopped tomatoes

70 grams

tomato purée

1 cube

vegetable stock

400 ml

water

1

pull-apart rolls

0.5 tbsp

acacia honey

*

200 ml

creme fraiche 18%

salt

pepper

olive oil
ADD TO SHOPPING LIST
ADD TO MEAL PLAN
*
= Good to know - click the ingredient

= See the recipe - click the ingredient
Bell pepper soup is a mild and flavourful soup most kids like. We've served it with a homemade pull-apart rolls, but if you're in a rush, you can just grab a baguette from the supermarket. Enjoy!
Directions
1. Roughly chop onion, garlic, and the cleaned bell peppers. Sautée the lot in olive oil in a large pot, until slightly browned.
2. Peel the potatoes and cut into smaller pieces.
3. Add potatoes, oregano, chopped tomatoes, tomato purée, vegetable stock and water, and let simmer for 20-25 minutes - until the potatoes are tender.
4. Meanwhile, warm the bread in the oven or toaster.
5. Blend the soup smooth with a hand blender. You can also use a regular blender, but remember to only fill it halfway, as hot liquids can "explode" when blended. We suggest taking the lid off, and placing a clean dishtowel over instead.
6. Season to taste with salt, pepper, and optionally a dash of honey, if the flavour is too bitter.
7. Serve with a dollop of creme fraiche, warm bread, and optionally a sprinkle of herbs if you have some.
8. Enjoy!
Tip
Tasks for kids in the kitchen: Let your kids help roughly dice the bell pepper. They can also cut up the potatoes.
Share your tips and comments